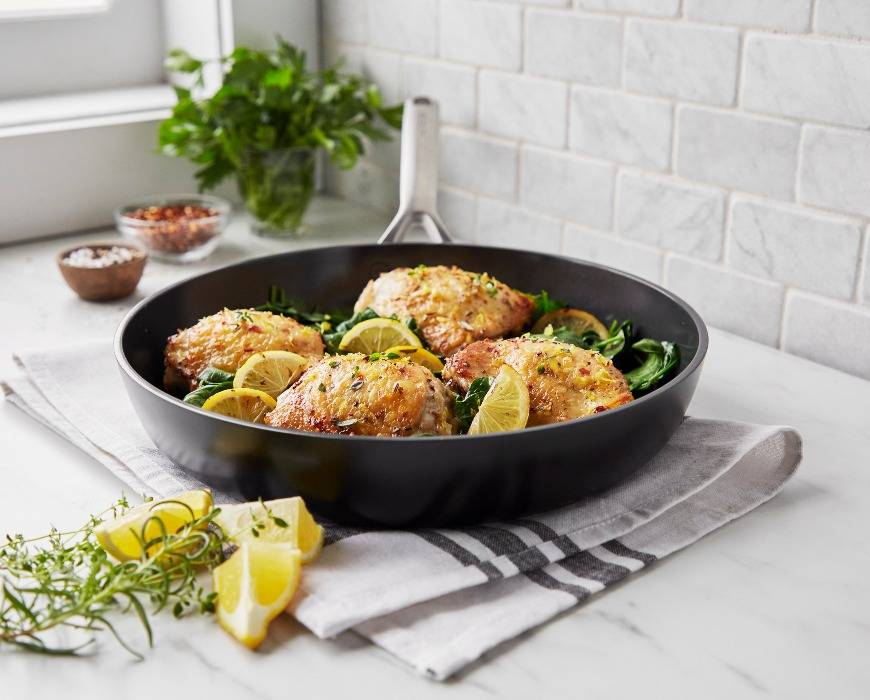 Pan-Seared Lemon Chicken Thighs with Sautéed Spinach
Yields: 4 servings
Time: 10 minutes prep, 30 minutes marinating, 35 minutes cooking, 1 hour 15 minutes total
 
INGREDIENTS:
For the chicken
4 bone-in, skin-on chicken thighs
2 tablespoons olive oil
2 cloves garlic, minced
Juice and zest of 1 large lemon
1 tablespoon fresh thyme leaves
1 tablespoon chopped fresh rosemary
1 teaspoon salt
1/2 teaspoon black pepper
For the spinach
1 pound fresh spinach
1 to 2 tablespoons olive oil
2 cloves garlic, minced
1 teaspoon salt
1/2 teaspoon black pepper
PREPARATION INSTRUCTIONS:
Prepare to cook—Preheat oven to 400°F. Set a rack at the highest position in oven.
Make the marinade—In a medium bowl, stir together olive oil, garlic, lemon juice, zest, thyme, rosemary, salt, and black pepper.
Marinate the chicken—Add chicken to marinade and turn to coat evenly. Cover and refrigerate for at least 30 minutes or up to 2 hours.
Bake the chicken—Place chicken in skillet and drizzle with remaining marinade. Bake in preheated oven on the top rack for about 35 to 40 minutes, until the internal temperature reaches 165°F. Remove from heat and transfer chicken to plate to rest. Drizzle chicken with pan drippings.
Sauté the garlic—Use a paper towel to wipe skillet used to bake chicken. Add olive oil and place over medium-high heat. When oil is shimmering, add minced garlic and sauté, stirring constantly, for 1 minute.
Sauté the spinach—Add spinach, salt, and pepper and stir to coat with oil. Cover skillet and cook for 2 minutes. Uncover skillet and increase heat to high. Cook, stirring constantly, until spinach is wilted—another minute or so.
Finish and serve—Return chicken to skillet and serve hot. Add lemon wedges for drizzling, if desired.
TIPS:
No Lid? No Problem! Simply cover the skillet with a baking sheet, another skillet, or even aluminum foil.
Eat Your Greens—Our versatile recipe works with all kinds of leafy greens, from kale and Swiss chard to collard greens. Tougher leaves will take longer to cook, so adjust time accordingly.
Featured Product
GP5 Infinite8 Ceramic Nonstick 12" Frypan
Our Most Advanced Collection This 12" frypan makes it effortless to craft one-pan dinners, sear family-sized steaks, and make a full spread of crispy veggies. No matter what you're making, you can use less oil and get more contact with...