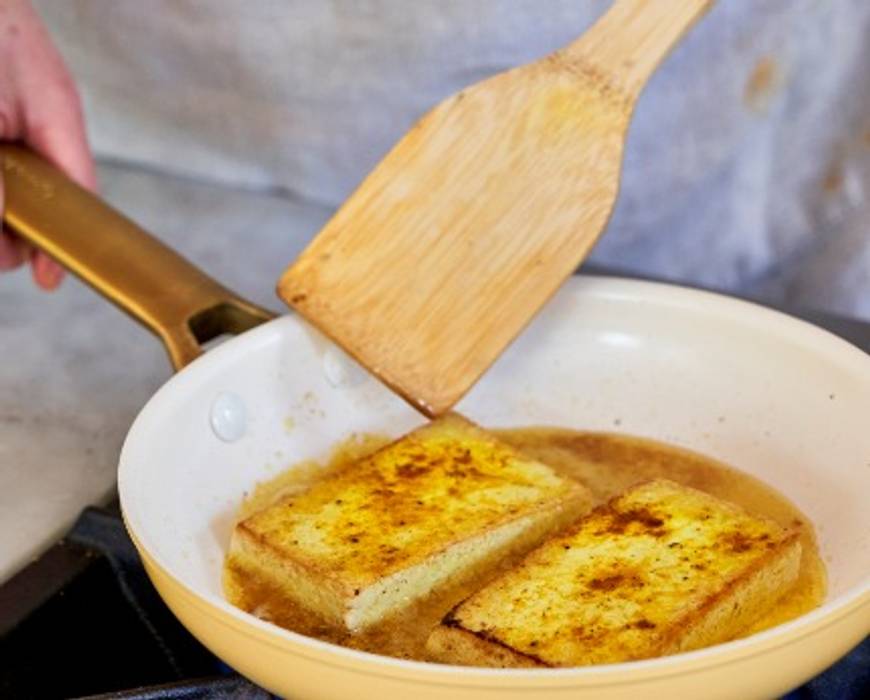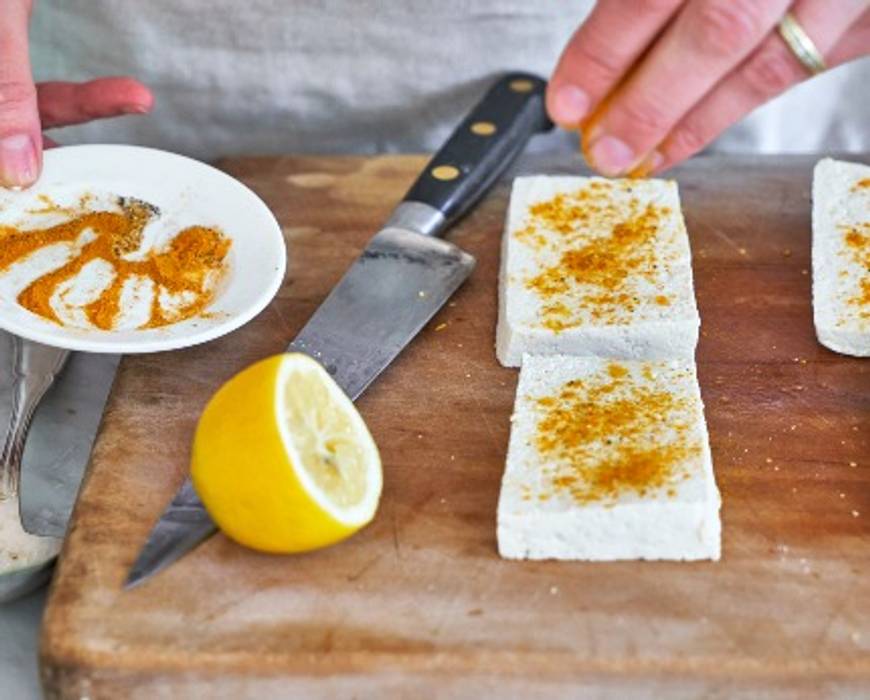 Ultimate Vegan Breakfast Sandwich with Secret Sauce
Yields: 6 sandwiches
Time: 15 minutes prep, 15 minutes cooking, 30 minutes total
INGREDIENTS:
For the tofu egg
1 (14-ounce) container extra-firm tofu, drained and pressed
2 teaspoons freshly squeezed lemon juice
1/4 teaspoon sea salt
1/4 teaspoon freshly ground black pepper
1/4 teaspoon ground turmeric
2 teaspoons Earth Balance vegan butter
For the secret sauce
3 tablespoons ketchup
3 tablespoons Follow Your Heart Vegenaise
1 teaspoon freshly squeezed lemon juice
1 teaspoon maple syrup
1 tablespoon nutritional yeast
1/8 teaspoon sea salt
1/8 teaspoon freshly ground black pepper
For serving
6 vegan English muffins, split
6 slices Follow Your Heart Dairy-Free American Cheese Slices
1 tomato, cut into 1/4-inch-thick rounds
1 ripe avocado, peeled and sliced thin
PREPARATION INSTRUCTIONS:
Prepare to toast muffins—Preheat oven to 350°F.
Cook the tofu egg—Cut tofu block in half, then slice into 6 (1/4-inch-thick) rectangles. Transfer tofo slices to a plate and drizzle each side with lemon juice and sprinkle with sea salt, pepper, and turmeric. Heat a griddle or large skillet over medium heat and add butter. When butter melts, add tofu slices (work in batches, if needed). Cook on each side for 3 to 4 minutes or until golden brown. Set aside.
Meanwhile, toast the muffins—Place sliced muffins on a nonstick baking sheet and cover half of each muffin with cheese. Transfer to preheated oven and bake until muffins are golden and cheese is melted, about 8 to 10 minutes.
Make the secret sauce—In a small bowl, add ketchup, Vegenaise, lemon juice, maple syrup, nutritional yeast, salt, and pepper. Whisk until well blended. Set aside. Note: this can be made ahead and kept covered in fridge.
Assemble the muffins—Place 1 piece tofu, 1 slice tomato, and a few avocado slices on top of the sides with cheese. Spread the plain sides with secret sauce and close sandwiches. Serve warm.
TIPS:
Spice it Up! For moms who prefer food with a little more heat, sub in Follow Your Heart Chipotle Vegenaise and Dairy-Free Pepper Jack Slices.
Why We Love Follow Your Heart—With their amazing variety of dairy-free cheese, Vegenaise, salad dressings, and more, it's super-easy to incorporate all your favorite flavors into a plant-based diet.
Featured Product
Reserve Ceramic Nonstick 10-Piece Cookware Set | Sunrise with Gold-Tone Handles
World-class performance meets eye-catching contrast in GreenPan Reserve. But it's more than good looks: the duoforged hard anodized construction makes this set extra tough. This set makes it simple to find your style at home.