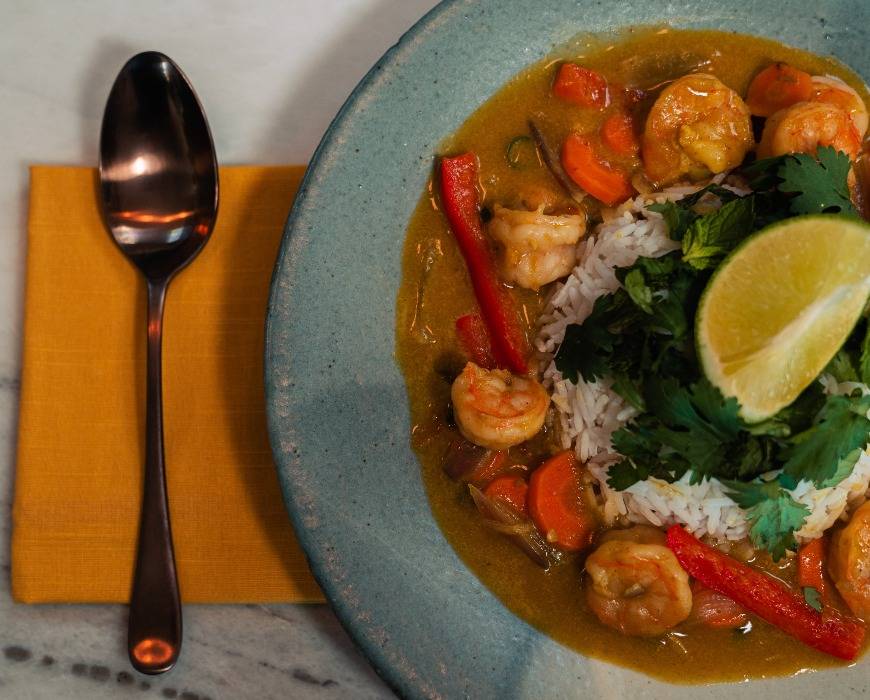 Yields: 4 servings
Time: 15 min prep, 45 minutes cooking, 60 minutes total
INGREDIENTS:
2 tablespoons coconut oil
1 cup sliced shallots
2 carrots, peeled and thinly sliced into 1/4-inch rounds
1 red bell pepper, cut into 1/4-inch strips
1 tablespoon minced garlic
1 tablespoon minced ginger
1 teaspoon minced Thai/bird's-eye chili
3 tablespoon Thai yellow curry paste (add more or less to taste)
2 cans (13.5 oz) coconut milk
1 cup water
1 to 1 1/2 pounds medium-to-large shrimp, peeled and deveined
1 tablespoon fish sauce
salt and freshly ground black pepper, to taste
2 cups cooked white rice
1/4 cup hand torn cilantro and mint leaves for garnish
lime wedges for garnish
PREPARATION INSTRUCTIONS:
Select the Soup mode on the Essential Smart Skillet, set the temperature to 220°F and the timer for 40 minutes.
Melt the coconut oil in the pan and then add the shallots, carrots, and bell pepper. Cook for 8 to 10 minutes until the shallots start to brown and the vegetables just start to soften.
Add in the garlic, ginger, and chili, cooking for 3 to 4 minutes until they all become very aromatic.
Stir in the curry paste, cooking for another 3 to 4 minutes until the color darkens and the smell of the spices intensifies.
Pour in the coconut milk and the water and stir to combine. Allow the curry sauce to come to a simmer, about 3 to 4 minutes.
Place the shrimp in the sauce in an even layer, stir to combine and ensure the shrimp are submerged as much as possible in the curry. Cover, and cook the shrimp for 8 to 10 minutes.
Remove the cover and stir in the fish sauce. Let the sauce reduce, uncovered, for about 3 minutes. Taste the curry and adjust with salt and pepper as needed.
Serve the curry over white rice and top with cilantro, mint and a lime wedge.
TIPS:
Take Flavor to New Depths – Instead of tossing everything into the pot, we like cooking ingredients in stages to build up layers of flavor.
Avoid "Fresh" Shrimp – Seafood stacked on ice at your local supermarket has most likely been frozen and thawed and is rapidly losing freshness. Just go with frozen.
Featured Product
Elite 6-Quart Essential Smart Skillet | Premiere Stainless Steel
Whether you're searing a steak, perfecting a complex stew, or simply making rice, this family-sized 6-quart skillet gives you room for any meal. The high sides eliminate splatter and make it easy to toss your ingredients without worry.