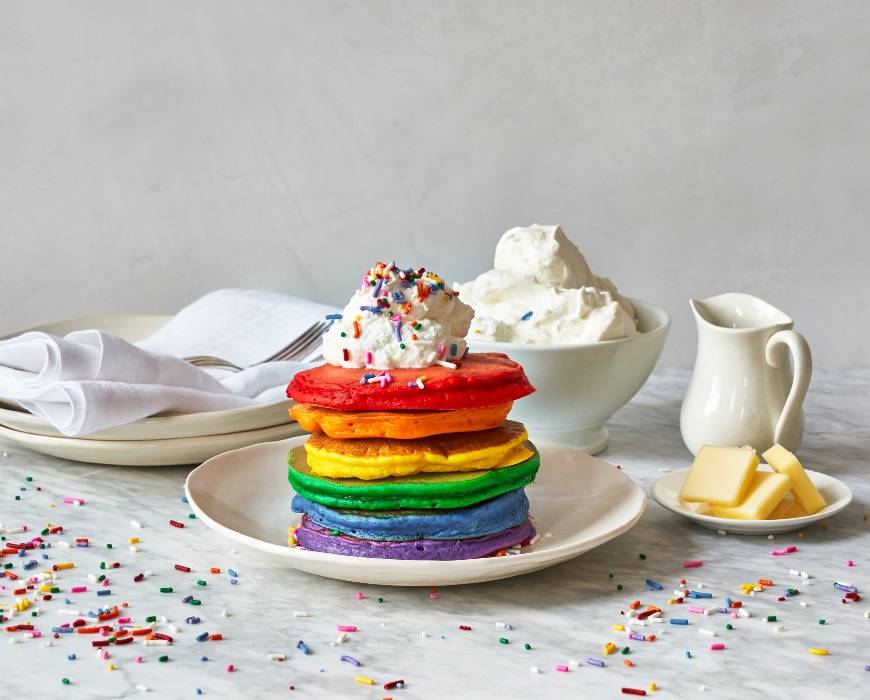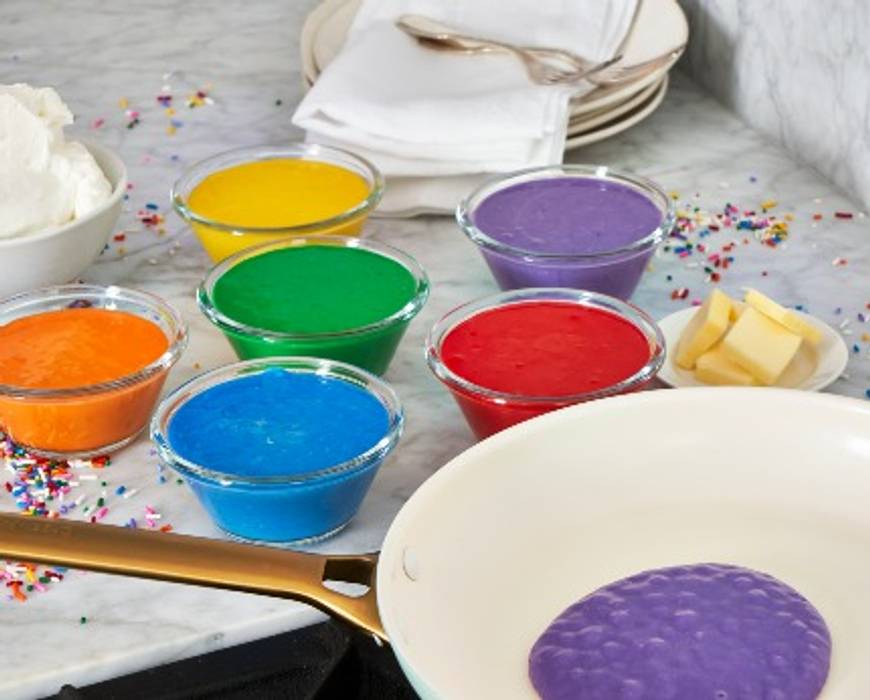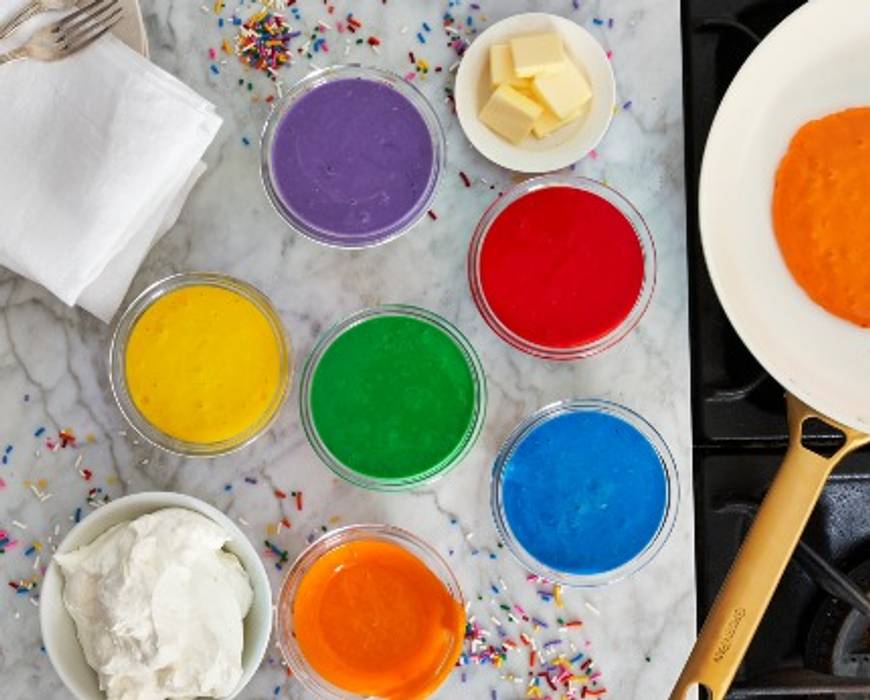 Yields: ~18 pancakes
Time: 10 minutes prep, 20 minutes cooking, 30 minutes total
INGREDIENTS: 
For the pancakes
2 cups all purpose flour
1/4 cup granulated sugar
4 teaspoons baking powder
1 teaspoon salt
2 large eggs
2 cups milk
1/4 cup canola or other neutral oil
Red, orange, yellow, green, blue, and purple food coloring, preferably gel
For serving
Whipped cream
Rainbow sprinkles
Butter, room temperature for easier spreading
Warm maple syrup
PREPARATION INSTRUCTIONS:
Prepare to cook—Preheat oven to 200°F to keep pancakes warm.
Mix the pancake batter—In a large bowl, whisk together flour, sugar, baking powder, and salt. In a small bowl, whisk together eggs, milk, and oil. Pour wet mixture into dry mixture and blend with wooden spoon or spatula. Batter will be lumpy—resist the urge to over-mix.
Color the batter—Divide the batter evenly between 6 small bowls. Stir in food coloring to create red, orange, yellow, green, blue, and purple batters.
Prep the pan—Place a large, nonstick skillet over medium heat. When a drop of water sizzles on pan, it's good to go.
Meanwhile, make the pancakes—Working with one color at a time, ladle approximately 1/4 cup of batter in skillet for each pancake. Leave plenty of room for pancakes to spread out—depending on the size of your pan, you may get 2 or 3 at a time. When the batter bubbles all over, flip pancakes, and cook for an additional minute or two. Transfer to a cookie sheet in preheated oven to keep warm.
Assemble and serve—Make stacks of pancakes with purple on bottom, then blue, then green, then yellow, then orange, then red. Top with whipped cream and plenty of rainbow sprinkles. Take pics for Instagram, then divide between individual plates and serve with butter and warm maple syrup.


TIPS:
Color Commentary—We like using gel dyes that are available in a rainbow of hues. But if you're working with liquids in primary colors, stir yellow and red together to make orange and red and blue to make purple.
Small Wonder—For an even more fun-to-eat treat, stack mini rainbow pancakes on skewers and serve with sidecars of syrup for dipping.
Featured Product
Reserve Ceramic Nonstick 10-Piece Cookware Set | Julep with Gold-Tone Handles
World-class performance meets eye-catching contrast in GreenPan Reserve. But it's more than good looks: the duoforged hard anodized construction makes this set extra tough. This set makes it simple to find your style at home.