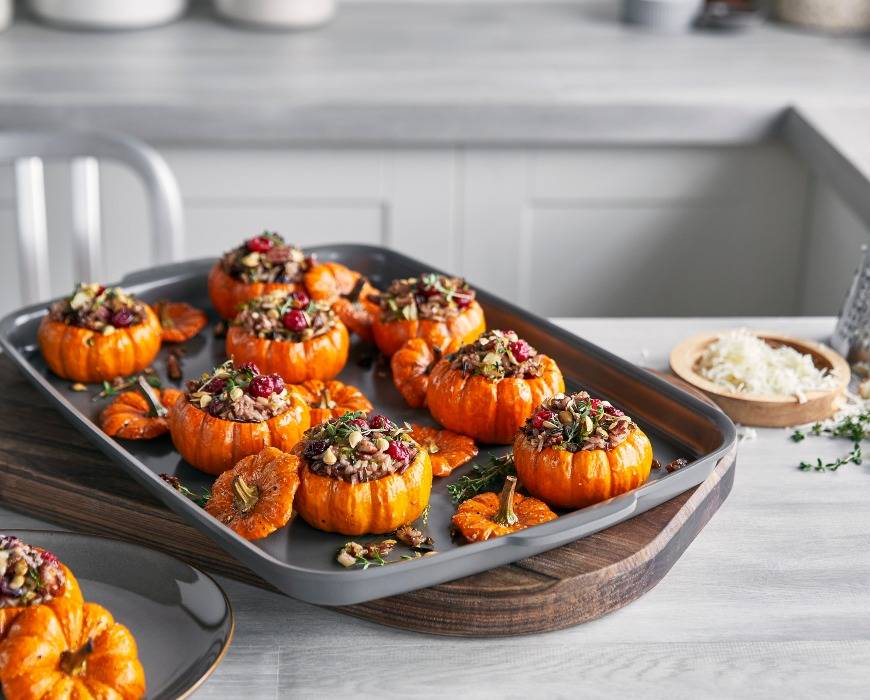 What do we love about October? Pumpkin spice and everything nice! Tis the season to add scrumptious pumpkin flavor to everything from pancakes and holiday pies to risotto and pasta dishes. Read on to learn more fun facts and fresh ideas for using pumpkin this fall.

Fun Facts about Pumpkins
First found in North America about 9000 years ago and cultivated by Native Americans as an important food staple, pumpkins made an appearance at the first Thanksgiving feast in 1621.
Pumpkin pie recipes originated in the colonies, but sadly without the flaky pastry crust—they filled gutted pumpkins with milk, honey, and spices and baked them.
Morton, Illinois, AKA the "Pumpkin Capital of the World" is home to Libby's, which produces about 80% of the world's canned pumpkin.
The U.S. produces more than 1.5 billion pounds of pumpkins each year. One guess which month 80% of them ripen.
Irish immigrants brought the Jack-o-lantern tradition to the U.S. Turns out, pumpkins provided a larger, easier-to-carve canvas than the original turnips and potatoes.
Pumpkins are technically a fruit—they're in the same family as melons and cucumbers (yep, also fruit).
 Deliciously Healthy
No nutritionist on earth would try to pass off pumpkin pie as healthy, but pumpkin purée? You bet! A cup of unsweetened pumpkin has less than 100 calories and hardly any fat. Plus, it's packed with vitamin A (thanks, beta-carotene!), boasts more potassium than bananas, and delivers even more filling fiber than kale. Plus, you'll get more iron in 1/4 cup of pumpkin seeds than in 5 cups of spinach. Popeye, take note!
A Tale of Two Pumpkins
While you can technically eat any pumpkin, you're not going to be thrilled with a pie made out of Jack-o-lantern innards. For cooking, select a smaller variety (about 2 to 5 pounds) known as sugar pumpkins. With firm, dense flesh and a naturally sweet flavor, these great-tasting gourds complement both desserts and savory dishes.
How to Pick 'Em
Whether carving or cooking, use the same criteria for pumpkin selection. First, check for an intact stem that's dark green and firm. Anything brown or dried out will be past its prime. Look for a pumpkin that has good coloring from top to bottom and check for deal-breaking soft spots (especially on the bottom). Finally, put your ear next to the pumpkin and knock the opposite side with your knuckles. Sound hollow? And loud? You've got a good one!
Handle with Care
Sure, the stem looks like the perfect handle. It. Is. Not! Lift your pumpkin from the bottom if you don't want to drop or break it, leaving your floor splattered with pumpkin guts.
Store + Décor
It wouldn't be wise to leave zucchini out of the fridge for weeks on end, but pumpkins can keep at room temperature that long. Feel free to use them as Halloween or Thanksgiving décor till you're ready to cook with them.  
Pumpkin Prep 101
After washing and drying the outside, cut pumpkin in half from top to bottom. Scrape out the seeds (save them for roasting!) and stringy bits with a large metal spoon. Remove the thick outer skin and cut into cubes for roasted pumpkin. Or if making purée, place both halves (cut side up) on a nonstick baking tray and bake at 375°F until soft—about an hour.
Think Outside the Can
Love the convenience of canned pumpkin purée? We're not judging! But if you have extra time, discover how amazing DIY purée can be. Scoop flesh from your baked pumpkin and purée it in a food processor or blender. Too thick? Add a little water. Too thin? Strain with cheesecloth.
How to Roast Pumpkin Seeds
Crispy, crunchy roasted pumpkin seeds taste great with sweet or savory flavorings—think cinnamon-sugar, ranch, or everything bagel. Plus, prep is super simple: Rinse and dry 1 cup pumpkin seeds. Toss with 1 tablespoon melted butter, 1/2 teaspoon kosher salt, and whatever seasonings you like. Spread onto a nonstick baking sheet and roast at 350°F, stirring occasionally, till seeds are golden brown—about 20 minutes.
Pumpkin Spice Everything
Caution: Create this magical spice mix, and you'll want to add it to everything from banana muffins and zucchini bread to fruit pies and streusel toppings. Add 2 tablespoons ground cinnamon to a small glass container along with 2 teaspoons ground ginger, 1 teaspoon each ground cloves and allspice, and 1/2 teaspoon ground nutmeg. Add lid, shake vigorously to combine, then store till ready to use.
Our Favorite Sweet & Savory Ways to Use Pumpkin
Sweet
Pie (traditional or chiffon)
Pancakes or waffles
Bread or muffins (with cream cheese frosting)
Cinnamon rolls
Cheesecake
Scones or biscuits
Bread pudding or French toast
Pumpkin butter
Savory
Roasted pumpkin seeds
Soup
Curry
Hummus
Roasted stuffed pumpkins
Italian dishes—from ravioli and gnocchi to carbonara and lasagna
Featured Product
Premiere Ovenware Ceramic Nonstick 13" x 9" Quarter Sheet Pan
Crafted from ultra-tough cast aluminum, this pan is our go-to for sides, veggies, and hundreds of other smaller things. The rolled edges make it extra sturdy and warp-resistant to prevent food from cooking unevenly.