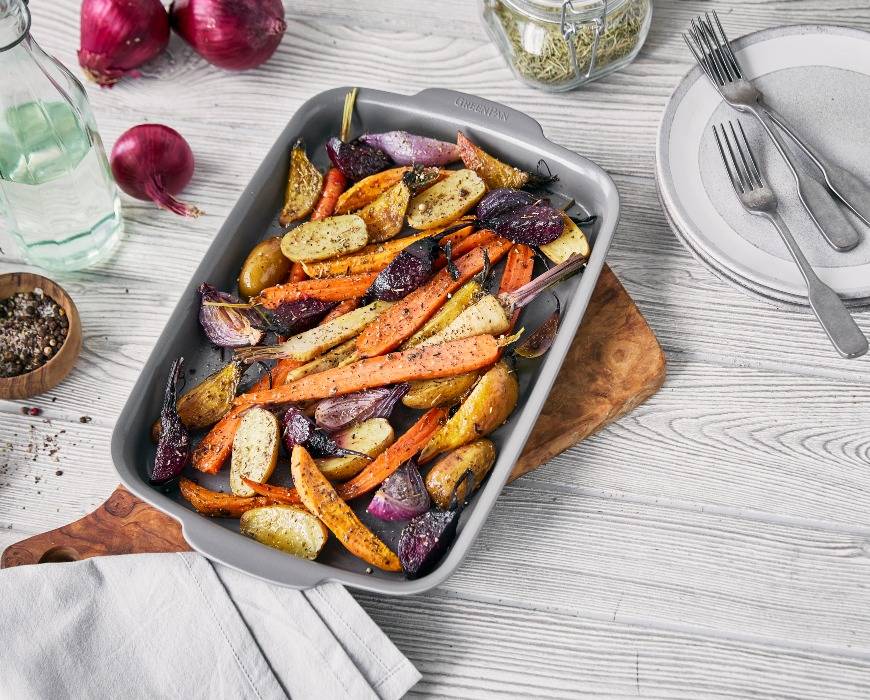 Fall Root Vegetables Guide
Move over zucchini and summer squash! As soon as we're snuggling in our favorite cozy sweaters, we start to crave the comfort of root vegetables. Forget the flashy flowering plants that grow above ground—now's the time to go searching for buried treasure.
How do we love root vegetables? Let us count the ways: roasted, mashed, fried, grilled, simmered in soups, tossed in salads, baked in gratins, and so many more. Root vegetables grow and thrive beneath the soil, soaking up an array of vitamins and nutrients. While they're usually available year-round, they're at peak freshness right now, delivering a deeper, sweeter flavor. Read on to discover our favorite root vegetables and how to make the most out of these autumn gems.
Deliciously Healthy
Low in calories and high in fiber and antioxidants, root vegetables are some of the most nutrient-rich vegetables you can eat. They're packed with essential vitamins and minerals, including vitamins A, B, and C, iron, potassium, and more. While they sometimes get a bad rep for being starchy and carb-heavy, they actually deliver complex carbs that take longer to digest, helping you feel full and avoid the roller coaster of blood sugar spikes.
How to Pick 'Em
Don't bother sniffing rutabagas or looking for vibrantly colored sweet potatoes—the main thing to look for in root vegetables is firmness. You want them harder than a calculus exam you didn't study for. Avoid any with bruises or mushy bits, and if the leaves are attached, pass on any that look wilted and sad.
Storage Tips
It's 2022, so chances are you don't have a root cellar and even if you do, you've most likely stashed wine in it. Not to worry. Root vegetables store well in any cool, dark, and humid place. That could be a basement, garage, or even your crisper drawer (inside paper or plastic bags.) Remove any greens from root vegetables before storage, or they'll steal moisture (aka freshness).
A Few of Our Favorite Root Vegetables (and How to Use Them)
Sweet Potatoes
First, let's end the confusion: yams and sweet potatoes aren't the same thing. Sweet potatoes are the elongated (sometimes weirdly shaped) tubers with brown skin and orange flesh. With a moist texture and naturally sweet flavor, they're incredibly versatile. Soups and stews? Of course! Casseroles and pies? You bet! French fries and chips? Oh yeah!!
Beets
Got a sweet tooth? Give beets a chance! They have the highest sugar content of any vegetable and roasting caramelizes the earthy flavor. Like red wine, purple beets are full of antioxidants and tend to leave stains wherever they go. Choose golden beets if you're looking for something milder, sweeter, and less likely to send you to the dry cleaner.
Turnips
Cousin to potatoes and radishes, turnips have a subtle flavor that plays well with other vegetables. Put a fresh spin on dinner by using them in place of potatoes in everything from stir fries to creamy soups. Or enjoy them raw in salads and crudité platters.
Parsnips
This deceptive veggie may look like an albino carrot, but it has a sweeter, nuttier, spicier flavor—plus it cooks up with the creamy consistency of potatoes. We like them best in savory dishes like stews, casseroles, or gratins. Or purée boiled parsnips with garlic and heavy cream if you want to get chef-y about it.
Rutabagas
Sort of like a turnip on steroids, rutabagas are actually a cross between turnips and cabbages (hence the jumbo size). With a slightly sweet, earthy flavor and a rich, buttery quality, these underrated veggies shine best when roasted or mashed. Bump up the flavor by pairing with fresh herbs (especially dill) or Indian spices.
Celery Roots
Yes, they're gnarly looking and ever so slightly intimidating, but peel away the rough exterior and discover a veggie that's easy to love. Incredibly versatile, celery root adds crunch to salads, creaminess to puréed soups, and makes a tasty lower-carb alternative to mashed potatoes.
Daikon Radishes
Popular in Asian cuisines, daikon radishes feature crisp white flesh with a sweet and slightly spicy flavor. A favorite for pickling, they're great on sandwiches (hello bahn mi!). Raw daikon adds a crispy element to salads and slaw. Plus, they sub for potatoes to make healthy-ish fries and chips.
Carrots
Last, but certainly not least, carrots are probably the best known and most popular root vegetables around—enjoyed raw or cooked. Heck, even toddlers eat them—willingly! You can make them Into. A. Cake! And pretend it's a healthy breakfast. What's not to love?
How to Roast Root Vegetables
Preheat oven to 425 degrees and cut up 1 1/2 pounds of your favorite root vegetables into similar-size pieces (peel first, if needed). Place them in a nonstick baking pan, drizzle a couple tablespoons of olive oil on top, and toss to coat. Add a generous sprinkling of salt and pepper. Roast until tender and caramelized, about 45 minutes, stirring every 15 minutes and adding more oil if they look dry. Remove from oven and garnish with fresh, chopped herbs.
Featured Product
Premiere Ovenware Ceramic Nonstick 13" x 9" Quarter Sheet Pan
Crafted from ultra-tough cast aluminum, this pan is our go-to for sides, veggies, and hundreds of other smaller things. The rolled edges make it extra sturdy and warp-resistant to prevent food from cooking unevenly.