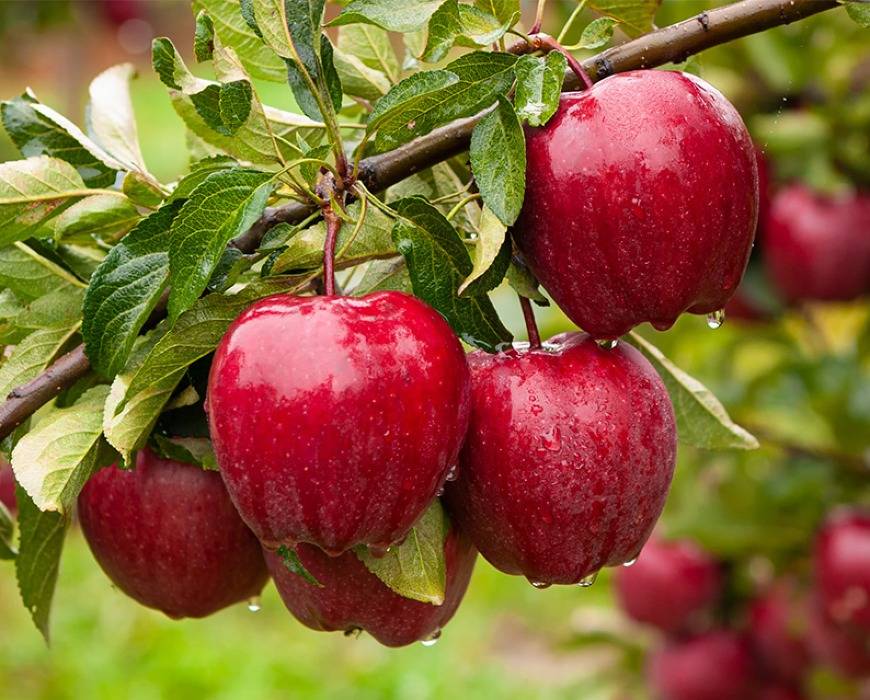 Deliciously Healthy
Eating an apple daily may not cure everything that ails you, but it wouldn't hurt to try! A medium apple has just 80 calories with zero sodium, cholesterol, or fat. Keep the peels on because that's where you'll find most of the antioxidants, along with the fiber that helps keep the hanger away.
How to Pick 'Em
You can't judge an apple by its color! They come in all shades of reds, yellows, greens, and even dual tones. Unlike many fruits, apples arrive on market shelves ripe and ready to eat. So you're looking for apples that are still firm when pressed lightly. Avoid any that are soft, bruised, or wrinkled.
Cold Storage
Stash unwashed apples in the crisper drawer of your fridge, and you'll be surprised how long they keep—up to a couple of months. If you don't like them chilled, arrange a few in a fruit bowl. Keep them in a prominent place to encourage healthy snacking.
Wax On, Wax Off
Washing apples after picking removes their natural protective wax, so many apples you find at the grocery store will be covered with a thin layer of wax. This shiny coating protects apples as they travel, extends shelf life, and makes them look extra appealing. Want to remove it? Just wipe off the wax with a towel dipped in apple cider vinegar, then rinse.
Browning: Good for Meat, Bad for Apples
It's inevitable: slice up an apple and by the time you add it to fruit tray it's already turning brown. Not an appetizing look. Conventional wisdom calls for soaking slices in water spiked with lemon juice, but any fruit juice high in vitamin C will do—think orange, lime or even pineapple. Drain and pat dry before using.
 

Slice of Life
Want to take a sliced apple for work lunch or a kid's snack? Try our favorite trick for keeping slices contained without browning. Core and slice an apple, then place a large piece of cling wrap on countertop. Reassemble apple on cling wrap pressing pieces toward center. Wrap tightly and you're good to go.
Our Favorite Apples for Snacking
Unhand that Red Delicious—only one of those descriptors is true. Try one of these tasty varieties and discover new depths of apple flavor.
Honeycrisp
Pink Lady
Fuji
Gala
Jonagold
Braeburn
Cameo
Our Favorite Apples for Baking
We like to use a mix of two or three apple varieties for pies, cakes, or savory treats. You can't go wrong with any of these:
Granny Smith
Golden Delicious
Honeycrisp
Braeburn
Jonagold
Rome
10 Foods that Taste Better with Apples
Cinnamon rolls
Pizza or flatbread
Salad or slaw
Savory (or sweet!) crepes
Bruschetta
Stuffing
Latkes
Chutney
Tuna or chicken salad
Paninis or grilled cheese
Featured Product
Valencia Pro Ceramic Nonstick 10" Frypan
This 10" frypan is ready for searing steaks, sautéing veggies, whipping up omelettes, and so much more. Extra tough and endlessly versatile, this pan is crafted from hard anodized aluminum for maximum strength and scratch resistance.