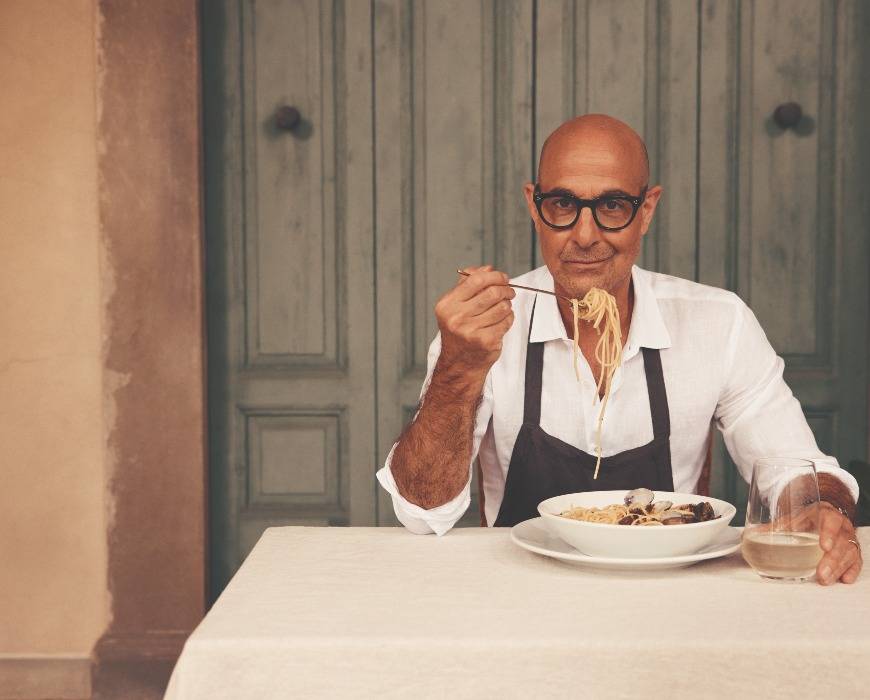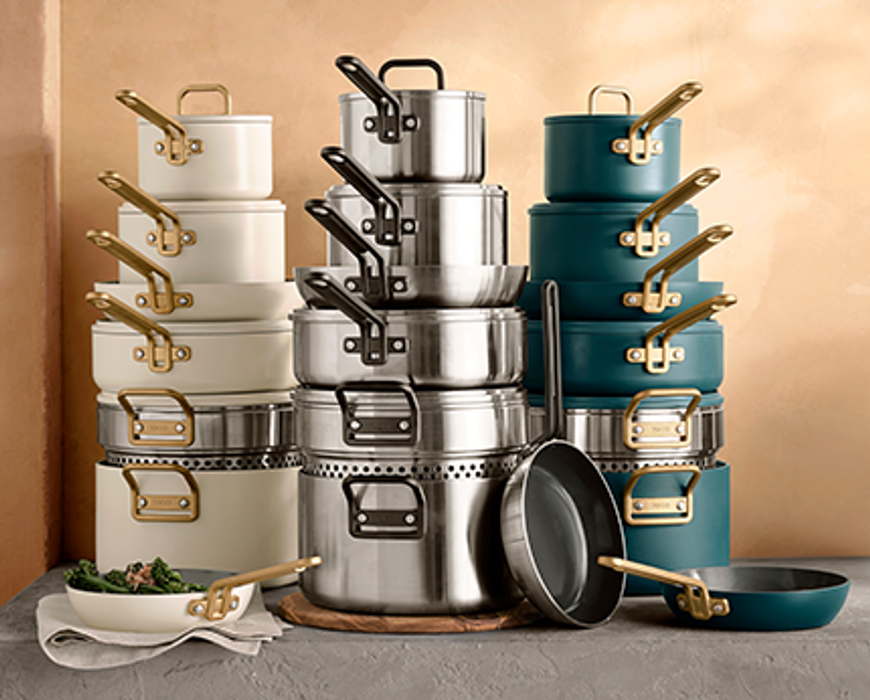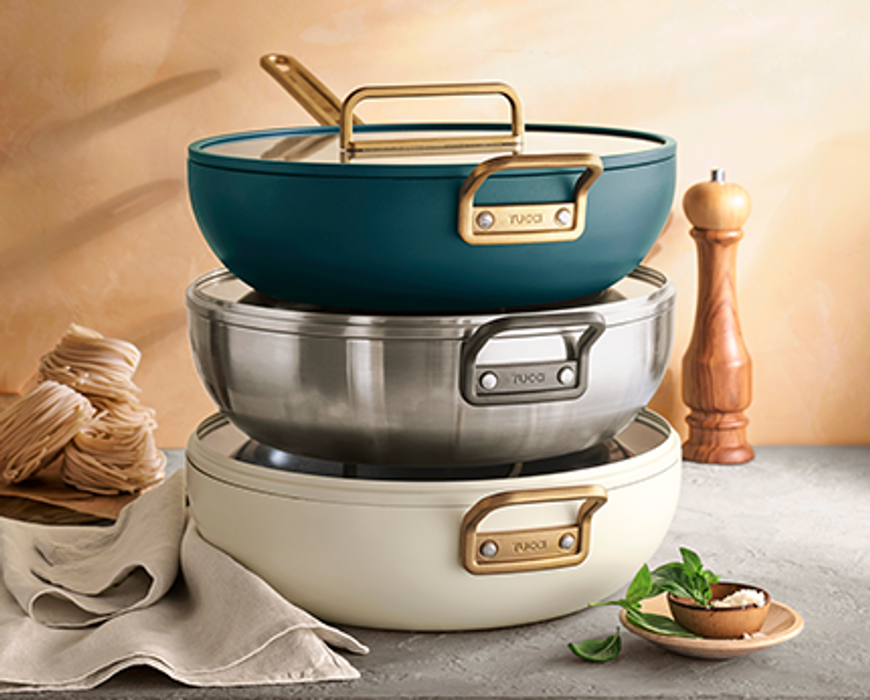 GreenPan Stanley Tucci Collection: The Reviews Are In
Stanley Tucci knows Italian cooking. Growing up in an Italian American family meant spending time together in the kitchen and at the dining table was part of daily life. Inspired by his love for Italy, Stanley Tucci and GreenPan have partnered to create an expansive cookware line with innovations that take culinary feats to the next level. With aluminum and stainless steel collections, this professional-grade cookware line is carefully crafted to make each cooking step faster, easier, and healthier.
The entire Stanley Tucci ™ Collection was produced in Italy. It is a locale that holds a special place in Stanley's heart. When asked by Esquire about the decision to manufacture this cookware line in Italy, Tucci explained the importance of keeping production in his home away from home.
"It's not something I need to do, right? It's something I really wanted to do, and I really liked the people at GreenPan. I thought, well, if we can make this work, we can make it work. I mean, anything that we can do to keep manufacturing, in essence at 'home.' I'm just a big believer in that."
In the Esquire interview, Stanley explains he approached the design process with the GreenPan team as a consumer.
"I went to the factory in Italy. We talked about designs. I want[ed] them to be contemporary, but they really have to be functional. Right?" Tucci explains. "I really love the way these came out. I love the angularity, and I love the negative space of the handle. I'm just a guy who knows how to cook. That's it. I'm not a chef. But I'm a person who loves cookware. I know what I want it to look like, but I need it to work."
Read the full Esquire article.
The team at Epicurious also weighed in on the Stanley Tucci™ Collection. The article explains how this line stands out amongst other cookware collections.
"At first glance, the Tucci by GreenPan collection was pretty much what I expected: A variety of high-end ceramic-coated pots and pans seemingly on par with the brand's Reserve line but with a few well-considered bonus features. The pasta pot, for example, is big enough to boil a whopping two pounds of pasta and comes with a nesting colander for easy straining." Epicurious wrote.
They also gave rave reviews on the spacious powerhouse: The Stanley Pan. "The size is what drew me to this one. Though I'd be lying if I said the sophisticated color options and gold-toned cast stainless steel handles didn't woo me too," they wrote. "The Stanley Pan is perfect for tossing an entire pound of pasta in red sauce, or in eggs and butter and cheese."
They were impressed by the look and design of this pan and it turns out their guests were too.
"Everyone who's walked into my kitchen lately has gasped and asked, "What's that pan?!" They get even more excited when I tell them it's from Stanley Tucci's new cookware line."
Read the full Epicurious article:
Aside from growing up around delicious food, Stanley explains in an interview with Architectural Digest that other factors contributed to his cookware endeavor.
"I always [travel with my own cookware]. I learned years ago; a lot of times in England, you can rent these fancy, cool old houses and then you go into the kitchen, and you're like, 'What is that? Are you supposed to cook with that?'" Tucci explains.
"I'm such a nerd about this stuff, which is part of the reason I wanted to do this," he says. "Because sometimes when you're cooking you just think, A guy who never cooked made this."
When asked what he wanted to accomplish with this line that he felt was missing from the market, Tucci states that form and function were equally important.
"A lot of the contemporary stuff would be really beautiful, but not necessarily great when it came to functionality, so I wanted to make that happen. I wanted something that wouldn't be ridiculously expensive if you were to buy a set of it, or even if you were to buy an individual piece, it's not crazily expensive like some cookware is," Tucci says.
Read the full Architectural Digest article:
EatingWell had a chance to test out of the line firsthand. One of their food writers tested the 11-Piece Cookware Set and their review was nothing but positive. The first thing they noticed, of course, was how great it looked.
"As soon as I started unwrapping them, I noticed just how genuinely beautiful they were," they said. "The interior sparkled just as much as the stainless steel on the outside, and the handles are very sleek and sharp. They also felt very durable and good quality," They wrote.
The 11-piece set includes an 8" frypan, a 10" frypan, a 2QT saucepan with lid, a 4QT saucepan with lid, a 4QT sauté pan with lid, and an 8QT stockpot with insert and lid.
After using this do-it-all set, they were thoroughly impressed with the nonstick performance.
"Literally nothing sticks to them," the reviewer raved. "I love that I can use them on the stove and in the oven, since I make dishes like shakshuka often."
Read the full EatingWell article.
Food & Wine provided their gleaming review of this collection, calling it "nothing short of chic and timeless in design."
The publication's writer reviewed the Stanley Tucci™ Collection's 11-Piece nonstick stainless steel cookware set, describing each piece as featuring "…a deep almost blue-ish black nonstick interior that I found sparkles in the light, with a shiny, stainless steel outer layer."
"Whether you choose the black and silver, a Carrara white and gold, or a Venetian teal and gold, all of the colors and shapes remind me of a lot of mid-century kitchen designs," the writer explains. "Regardless of what color you choose, each piece of cookware will make most kitchens chicer just by sitting on the stovetop."
The writer also exclaimed, "In terms of cleaning, these are some of the easiest nonstick pans to clean that I've ever owned. It takes minimal swipes with the soft side of my sponge to get any food off of the surface, even once they're cool."
Read the full Food & Wine article.
Encore! Encore! Want to read more? Check out additional features below and see how Tucci by GreenPan is elevating home cooking. Shop the GreenPan Stanley Tucci ™ Collection now at Williams Sonoma.