Place an Order, Plant a Tree
This Earth Month let's make the world a little greener, together! In partnership with EARTHDAY.ORG, we will be planting a tree for every order placed all month long - making it easier than ever to give back to our planet. Each tree will be planted along the North Bank of the River Gambia which is home to over 220,000 people. With your help, we can restore degraded land while providing food and jobs to the people of Gambia. GreenPan is committed to doing our part in the fight against climate change. Let's grow our beautiful planet one tree at a time. 
What is EARTHDAY.ORG? 
EARTHDAY.ORG improves our shared environment by planting trees across the globe. Since 2010, EARTHDAY.ORG has planted tens of millions of trees worldwide to reforest areas in need of rehabilitation. Did you know that the world's forests have lost about 20% of their coverage and roughly half of Earth's tropical forests are already cleared? EARTHDAY.ORG recognizes that planting trees across the world is one of the best and most cost-effective ways of tackling the climate crisis. 
Where Will Your Trees Be Planted? 
The Gambia is a small West African country that runs along the River Gambia, bordered by the Atlantic Ocean on the West and surrounded by Senegal on all other sides. The nation is classified as a Least Developed Country and one of the most affected by the ongoing climate crisis. The people of Gambia rely on agriculture for their livelihood, but because of high temperatures and several droughts, it has become harder and harder to farm. That's where we come in. Each tree that is planted, will be part of the Great Green Wall—a line of trees that will run along the Southern border of the Sahara Desert and across all of Africa. The Great Green Wall will be 8,000 kilometers of gorgeous greenery that will not only further prevent desertification but will help provide food and jobs for the people of local communities.   
Why Mangrove Trees? 
Mangrove trees work hard to benefit the planet. Not only do these trees grow extremely well along the banks of rivers, but they filter pollutants and provide nurseries for many species of fish and crustaceans. Mangrove forests also sequester large amounts of carbon dioxide because of their extensive below-ground root systems. These root systems create large stores of carbon and nutrients while anchoring the trees. Mangrove forests also help stop some of the damage that can be done by severe weather events by stabilizing the coastline, reducing erosion from storm surges, currents, waves, and tides.
Reduce, Reuse, Reforest  
Since the beginning, GreenPan has been dedicated to making the world greener any way we can. So, to celebrate Earth Month, we're ready to build The GreenPan Forest! Not only do forests act as carbon sinks, but they also provide vital habitat for animals and ecological services for humans, such as purifying the air we breathe and regulating local temperatures. With the power of reforestation, we can stabilize land from erosion or natural disasters, improve soil health and groundwater recharge, promote native and endemic fauna, and provide economic development for nearby communities. With every order you place, you can help us fight against climate change and watch the world grow.  
Start Planting Now!


Planting trees is just one way GreenPan gives back to our planet. We strive to help the environment in any way we can - from using recycled materials in our products and packaging to powering our factories with solar energy. Check out our sustainability page and learn more about our efforts to limit environmental impact and reduce our carbon footprint. 


Check Out Our Sustainability Page!
Featured Collection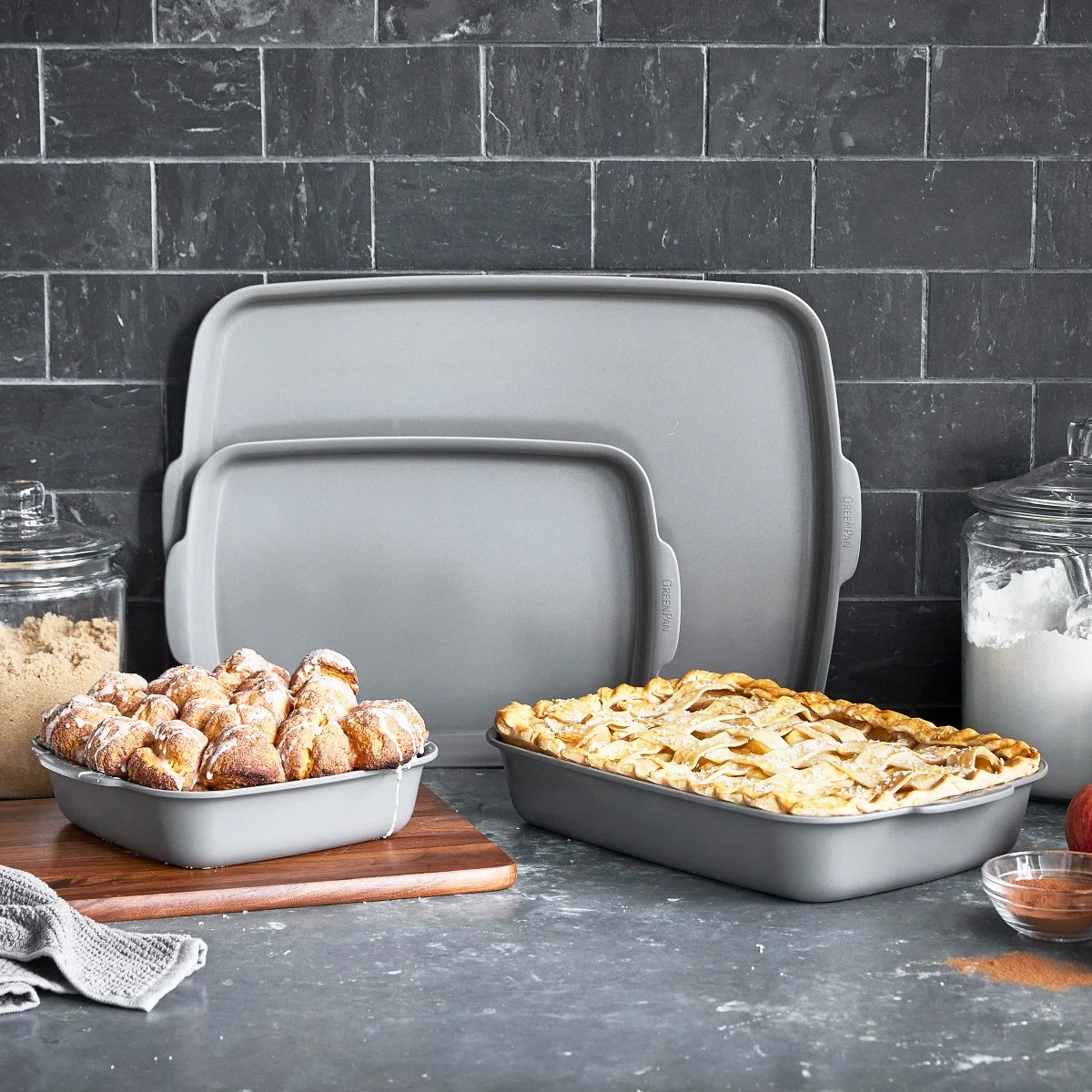 Bakeware
Start baking better with our high-quality GreenPan ovenware collection and the colorful bakeware collection from our sister brand GreenLife. These ceramic nonstick pans deliver slide-out-of-the-pan results that will make your savory baked goods and sweet treats even better.