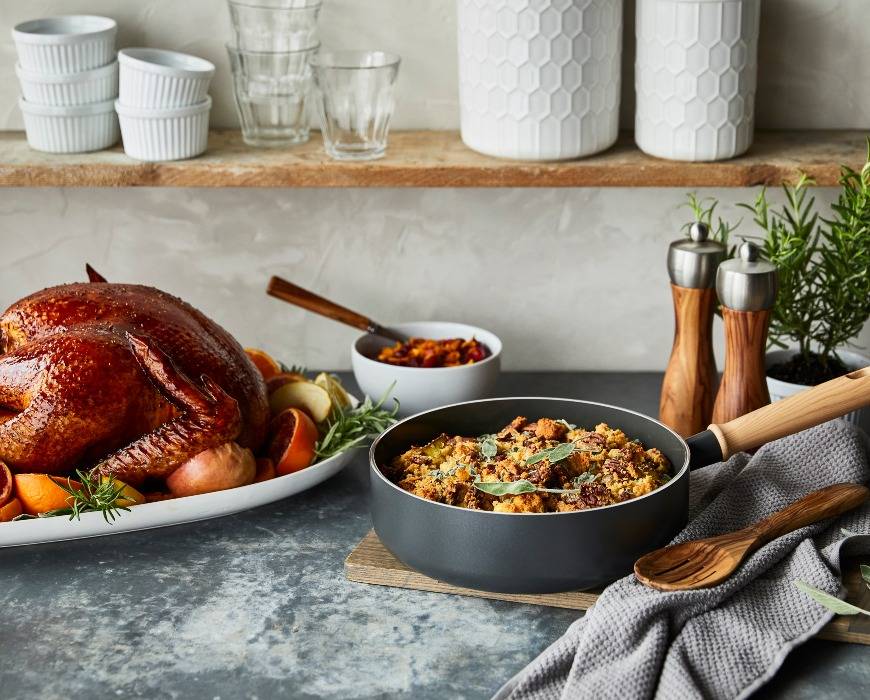 No-Stress Thanksgiving Prep Guide
This Thanksgiving, act like a Boy Scout. Nope, we're not suggesting you run off to the woods and avoid family for the weekend (though that's an option…). We simply mean: Be Prepared. Our handy guide helps you plan what to do and when to do it so you can actually relax and enjoy Thanksgiving as much as your family and guests (or almost, anyway).
3 Weeks Ahead
Plan your menu
Stock up on wine or liquor
If opting for a fresh turkey, order it now—2 pounds per adult will ensure plenty of leftovers
Make sure you have all the cookware, gadgets, serving dishes, and linens you need
2 Weeks Ahead
Clean out freezer
Make and freeze dinner rolls, cranberry sauce, homemade turkey stock, and gravy
Check spices: Most lose flavor after a year—if you can't detect aroma, toss it
1 Week Ahead
Make your shopping list
Come up with a cooking plan
Clean out fridge
Make and freeze pie dough or baked apple or pecan pies
5 Days Ahead
Buy non-perishable groceries—canned goods, veggies that store well, and paper products
Make sure you have containers to store leftovers
Start making extra ice, if needed
Make and freeze any soups
4 Days Ahead
Thaw turkey in fridge: Allow 1 day for every 4 pounds—a 20-pound bird = 4 days
Clean the house—or at least the areas guests are likely to see
Wash any china or glassware that's been gathering dust
2 Days Ahead
Dry out bread for stuffing
Prepare any salad dressings
Shop for fresh vegetables
Pick up turkey if you've ordered a fresh one
Thaw frozen sauces, stock, or soups in fridge
1 Day Ahead
Set the table—place glasses upside down to keep them dust free
Chill wine—in cooler or tub if fridge space is at a premium
Assemble stuffing and casseroles—refrigerate unbaked and covered with foil
Brine turkey, then dry and leave it uncovered in the fridge overnight
Make and refrigerate any custard pies
Peel potatoes and store covered in water in fridge
Do any chopping or peeling tasks
Run the dishwasher so you'll have room to stash tomorrow's dishes
Thanksgiving Day
Cook turkey—allow about 15 minutes per pound, plus 30 minutes resting
Prepare side dishes while turkey roasts
Take rolls out of freezer and thaw at room temperature
Reheat frozen pies
Bake stuffing and sides
Warm rolls and gravy
The Day After
Repurpose turkey & trimmings with our leftover ideas
Make turkey stock
Rest and relax
Featured Product
Hudson Ceramic Nonstick 4-Piece Cookware Set
For the ultimate starter kit, look no further: this 4-piece set is bringing all the tools you need to simmer soups, sear fish, and flip omelettes with ease. Each pan is equipped with quick-heating aluminum bodies and healthy ceramic nonstick coating for...