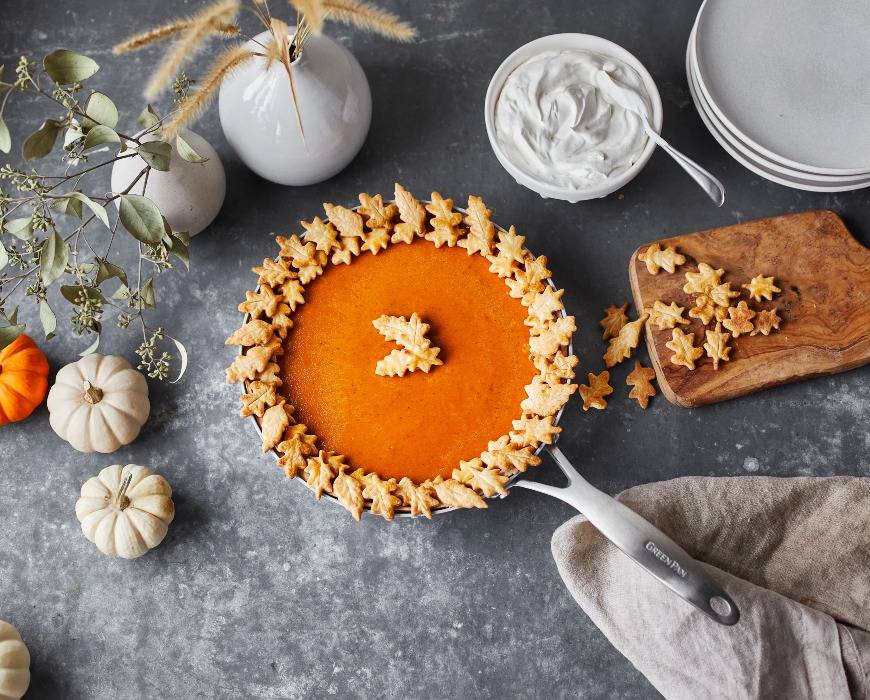 8 Thanksgiving Sides & Desserts You Can Make in a Frypan
Oh the perils of cooking Thanksgiving dinner! There's never enough oven space—or casserole dishes. What's a cook to do? Worry not! We've come to the rescue with 8 delectable dishes you can make in a fry pan. Some come together on the stove top, some need a little oven time, but all of them will help make holiday cooking easier.
Nutty, roasted acorn squash paired with tart cranberries and the sweetness of caramelized onions. Caution—if you think of vegan food as dull and flavorless this will change your world view.
2. Sautéed Green Beans with Walnuts and Cranberries
Bored with green bean casserole? Try our fresh take on a Thanksgiving favorite starring toasted walnuts and a touch of tartness from lemon juice and dried cranberries. Hello, new tradition.
3. Tri-Color Honey-Glazed Carrots
Enjoy the sweet earthiness of roasted carrots without taking up precious oven real estate on Thanksgiving Day. Glazed in a fry pan on the stovetop, they come together in just minutes so you can finish up the other 81 things on your holiday to-do list.
 
4. Gruyere and Cauliflower Gratin
Move over mashed potatoes and make room for a vegetarian side with more personality. Nutty cauliflower roasts up golden brown in a creamy sauce made with Gruyere and Parmesan. Yum!
 
5. Fall Vegetable and Herb Galette
Our rustic galette delivers a tangy herb filling and a medley of caramelized root vegetables, all cradled in a crispy, golden brown crust. So comforting, it's like a hug on a plate, but not in an awkward way.
Spice up Thanksgiving this year! Swap traditional dinner rolls for cornbread packed with cheddar cheese and a kick of heat from jalapenos. A generous pat of butter on top isn't optional. Not today.
Sure, a perfectly crimped lattice-top apple pie looks amazing on Instagram, but when you don't have time for that (in between wrangling the kids and trying to keep the dog from making off with the Thanksgiving turkey), our rustic skillet delivers maximum flavor with minimum fuss. You're welcome.
 
8. Pumpkin Pie with Fall Leaves Crust
Pumpkin spice and everything nice—that's what this pie is made of. Creamy pumpkin purée and a cinnamon-forward spice mix pairs with crispy crust rimmed in crunchy autumn leaves. So beautiful they might not believe you baked it yourself. But. You. Did!
Featured Product
Venice Pro Ceramic Nonstick 11" Frypan
Crafted from ultra-tough, multilayer stainless steel, this 11" pan is ideal for a wide variety of tasks—from sautés to bakes and fluffy scrambled eggs to fall-apart tender salmon. Finished with our healthy ceramic nonstick coating, cleanup is effortless.