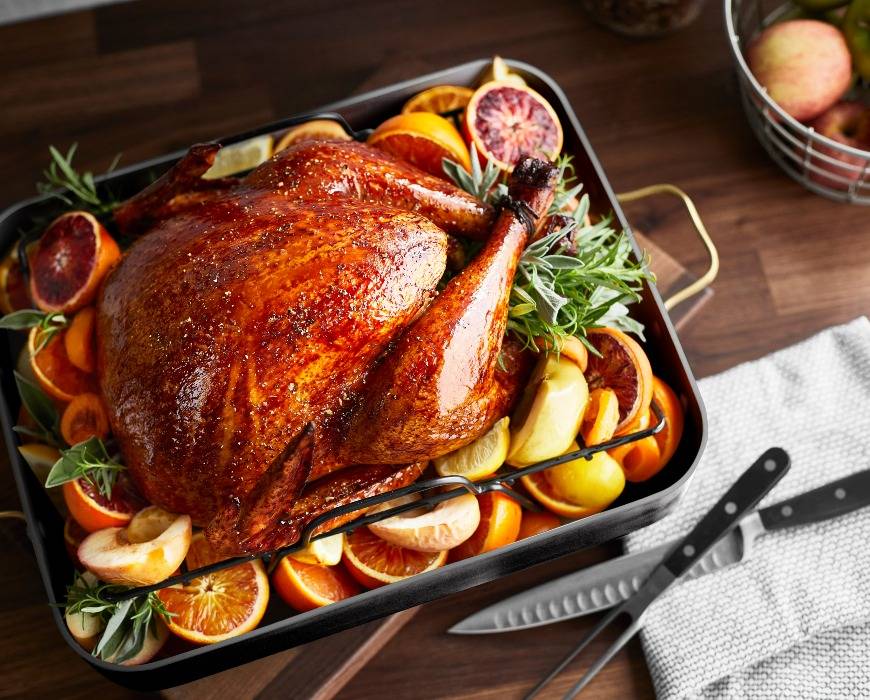 Thanksgiving Shopping: What to Buy & When to Buy It
Planning Thanksgiving dinner can strike fear (or dread) into the heart of even the most experienced cooks. Especially these days when you have to take everybody's food restrictions into account. You've gotta whip up some tasty keto-friendly appetizers, vegan sides, and a gluten-and-dairy-free dessert. Ack! We feel you. That's why we've put together a handy guide that lets you know what to buy and when to buy it so you won't be scrounging for a gravy boat 10 minutes before dinner. Keep calm. You've got this!
3 Weeks Ahead
Order fresh turkey
Wine or liquor
Roasting pan
Turkey baster
Instant read thermometer
Casserole dishes
Pie plates
Gravy boat
Carving set
Serving platters
Disposable food containers for to-go leftovers
Any other cookware, gadgets, and linens
5 to 7 Days Ahead
Frozen turkey, if not using fresh
Veggies that store well (potatoes, sweet potatoes, carrots, garlic, onions, etc.)
Spices
Canned goods for recipes
Pantry staples (flour, sugar, baking soda, cooking oil, etc.)
Turkey, chicken, or vegetable stock
Bread for stuffing
Butter
Nuts
Apples
Beer, soda, cider, or other beverages
2 to 3 Days Ahead
Milk
Cream
Eggs
Cheese
Perishable veggies (green beans, Brussels sprouts, fresh herbs, etc.)
Fresh cranberries
Dinner rolls
Featured Product
Reserve Ceramic Nonstick Roaster with Rack
World-class tech meets eye-catching style in GreenPan Reserve. This hard anodized roaster is designed for effortless oven cooking—flavor-packed roasts, crispy veggies, and family-sized lasagnas are just the beginning.