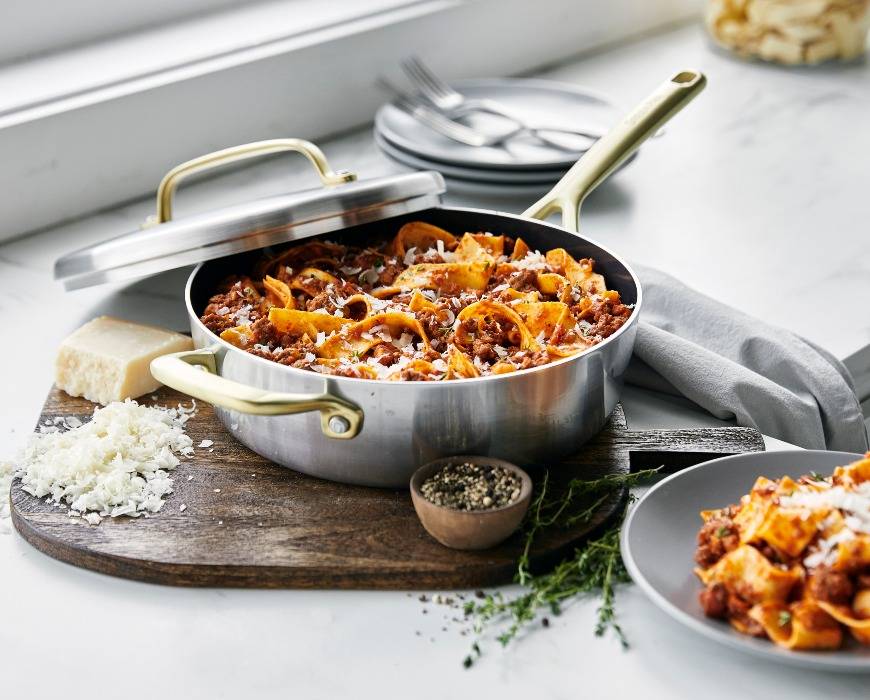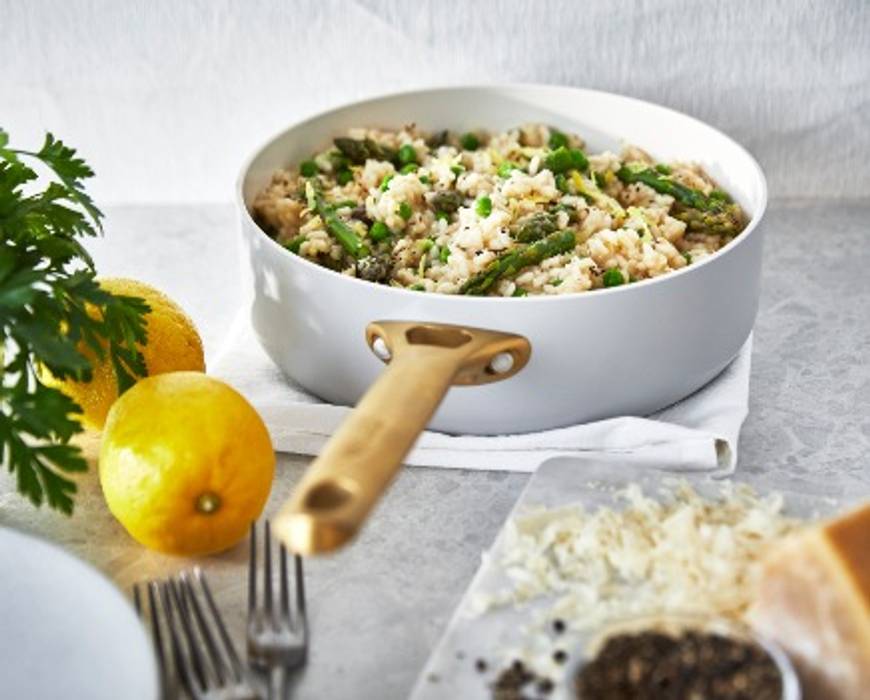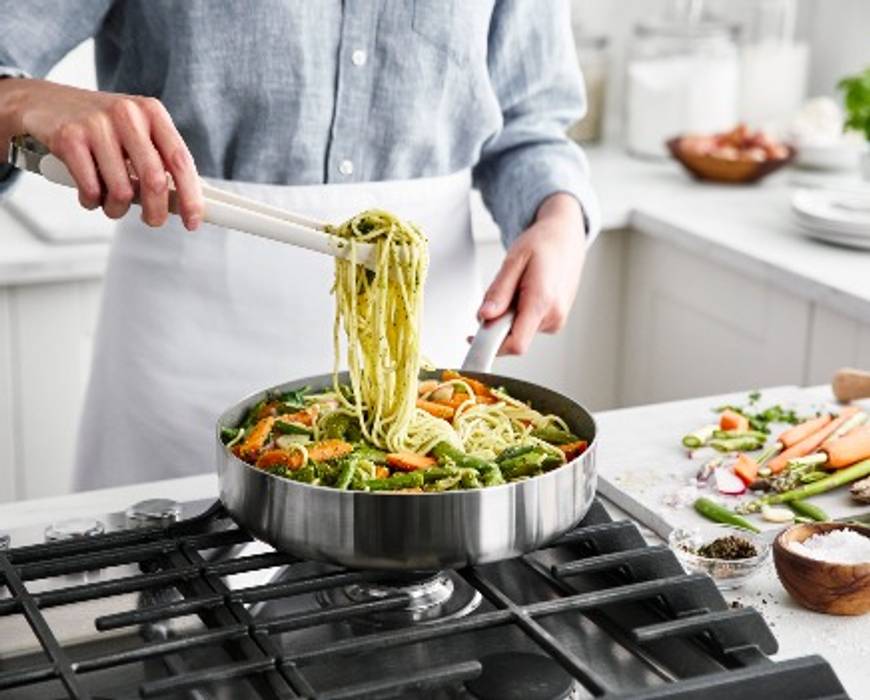 When you hear "sauté pan", only one word should come to mind: essential. From browning meats for stews and casseroles to cooking risottos, sauteing vegetables, or reducing sauces, the incredible versatility of sauté pans makes them the perfect go-tos in the kitchen. You could call sauté pans the renaissance men of pans. They're able to perform a wide variety of different tasks, and speaking for everyone here at the GreenPan kitchen, being able to use one pan for several jobs saves you time, space, and most of all, stress.
Now you might ask, isn't a sauté pan just a fancy frypan? Although frypans and sauté pans are similar, sauté pans have straight, high walls to give you more capacity for saucier dishes, as opposed to a frypan's sloped sides. The straight sides on a sauté pan help keep your food within the pan and prevent spilling when you're stirring or flipping – making cleanup even easier. Thanks to its intentionally large surface area, a sauté pan is ideal for dishes that require a lot of ingredients, building flavor early on for soups and stews, or making sauce-based dishes and braises. Pop on one of our durable lids and seal in all the heat, moisture, and flavor.
Now that you're on the hunt for the perfect sauté pan, we'll make your search even easier. Read on to learn about our high-performance sauté pans from all our cutting-edge collections. Whether you're looking to turn your kitchen into a five-star restaurant or just need a reliable pan for everyday meals, a sauté is always the way.
GP5 Stainless 4-Quart Sauté Pan with Lid
Sauté pans are already versatile tools all on their own, but our best-in-class GP5 Stainless 4-Quart Sauté Pan is the one pan your kitchen needs for next-level cooking. Crafted from 5-ply stainless steel, this pan features two layers of stainless steel with a three-layer aluminum core, a combo that brings out the best in both metals and results an incredible stovetop experience. The multi-layer stainless steel body is finished with our groundbreaking Infinite8 coating for years of effortless performance. Our healthy ceramic nonstick coating is also free of PFAS, PFOA, lead, and cadmium for safer, worry-free meals. The versatility continues with this metal utensil safe, oven safe, and induction ready pan. The silhouette rivets create a smooth interior and eliminate food traps to make cleaning simple. Or place this sauté in the dishwasher for those days where cleaning isn't on the agenda (sometimes it's every day). Looking for a way to feed the family without dirtying a million dishes? Indulge in our spring vegetable pot pie and get everything done in one spot.
Valencia Pro Ceramic Nonstick 4.5-Quart Sauté Pan with Lid
Made of ultra-tough hard anodized aluminum, our Valencia Pro Ceramic Nonstick 4.5-Quart Sauté Pan is ready to cook pastas, sear fish, sauté veggies, roast chicken, or boil soups – all day,
every day. Metal utensil safe, the duoforged armored body is pretreated before it's hard anodized for extra strength and scratch resistance. This pan features our diamond-infused ceramic nonstick coating which provides quick and even results with an effortless cleanup. Thanks to our unique Magneto Induction Base, this Valencia Pro sauté pan delivers uniform heat distribution and sears like a dream on all cooking surfaces, including induction. This spacious sauté is oven safe, dishwasher safe, and comes with a tempered glass lid so you can watch all the action without releasing any heat. From breakfast to dinner and everything in between, this pan is perfect for whipping up large meals all in one place. Your night to host? You'll need a quick appetizer that feeds everyone, like these vegetarian skillet enchiladas from our GreenPan recipes.
Chatham Stainless 3.75-Quart Sauté Pan with Lid
If you're looking for everyday power that you can count on, add the Chatham Stainless 3.75-Quart Sauté Pan to your routine. With our diamond-enhanced ceramic nonstick coating and the tri-ply stainless steel construction, this do-it-all sauté pan is built for daily durability and heats all your meals quickly and evenly. The chip-free edges keep this pan looking brand-new so you can bang your spoon on the edge or stack pans on top without damaging the coating. Made for every kitchen, the Magneto Induction Base makes it suitable for all stovetops, including induction.
Featured Collection
Sauté Pans
From one-pan meals to simmering sides, this pan comes with a lid to keep big portions warm. Sauté means "jumped" in French, so it always has a lid to keep everything from jumping out. It's the ideal pan for getting down to business....