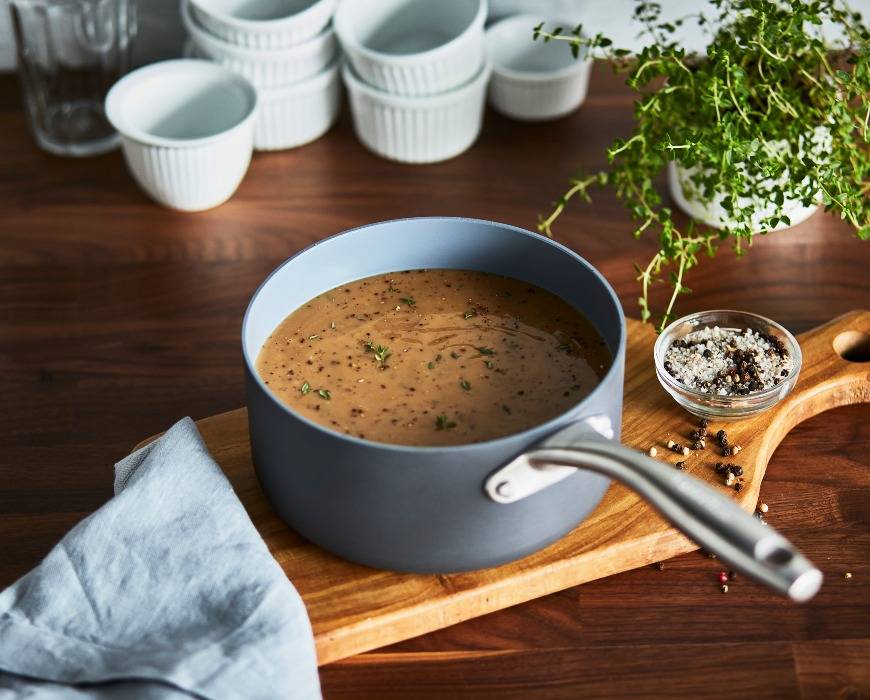 How to Make Foolproof Gravy
Yields: 10 servings
Time: 10 minutes prep, 15 minutes cooking, 25 minutes total
INGREDIENTS:
3/4 cup poultry drippings
3 cups milk
1 cup water
3/4 cup all-purpose flour
1/2 teaspoon salt, plus more to taste
1/2 teaspoon freshly cracked black pepper, plus more to taste
Fresh thyme, for garnish
PREPARATION INSTRUCTIONS:
Prep the ingredients—Whisk milk and water together in a medium bowl. Set aside. In a small bowl, whisk together flour, salt, and pepper. Set aside.
Start the roux—Add poultry drippings to a medium saucepan over medium heat and cook until nicely browned. Sprinkle in flour mixture, whisking continuously, until browned and smooth, about 3 to 5 minutes. Bring roux to a boil, reduce heat to low, and pour in liquid mixture, while continually whisking. 
Finish the gravy—Continue cooking, whisking frequently, until gravy thickens, about 5 to 10 minutes. Taste and add additional salt and pepper as needed. Sprinkle garnish with fresh thyme and serve warm. 
TIPS:
No Drippings? No Problem!—Just sub in equal parts butter or olive oil when making the roux and proceed with the rest of the recipe.