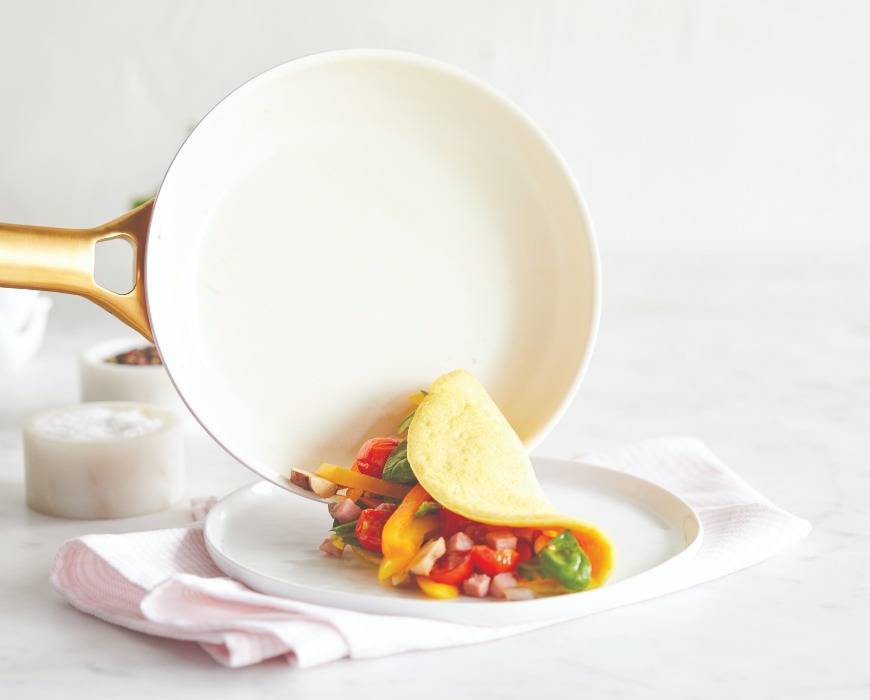 We've been breaking a few eggs (or dozens) in the GreenPan kitchen mastering the art of the perfect omelet. Read on to discover our best tips and techniques for creating a quick, easy, and oh-so-delicious meal that's sure to satisfy morning, noon, or night.
Pick the Right Pan
Even if we didn't make nonstick cookware, we'd tell you that when it comes to cooking omelets, nothing else will do. When you consider that egg whites were used as glue for centuries, it's a no brainer. 
Size Matters
Omelets are like Goldilocks—they're looking for a pan that's just right. Go too big and your fluffy eggs will quickly turn rubbery. Go too small and omelets could be runny on the inside. We like an 8-inch skillet for 2-egg omelets and 10-inch for 3-egg omelets. Serving eggs for a crowd? Omelets with 4 or more eggs can be downright unruly! Either make individual omelets to order or consider a frittata instead.
Chill Out
Straight-from-the-fridge eggs tend to cook more slowly and don't turn out quite as tender as their room-temperature compatriots. If you didn't plan ahead (same!), just soak them in a small bowl of hot, but not scalding, tap water for about 5 minutes. This trick also works great when you need room temperature eggs for making baked goods.
Better with Butter
There are countless techniques for making omelets, but 99.9% of them start by adding butter to the skillet. This was our go-to method before we learned a tip from Cook's Illustrated that forever changed our omelet-making adventures: add cold, diced butter to the beaten eggs instead of the pan. They say this technique coats the egg proteins with fat, preventing those tight bonds that turn omelets into something you could bounce off the floor. They recommend frozen butter for even better results, but our fridge-cold butter worked like magic. 
Less is More
Try not to go overboard with fillings lest your omelet fold improperly and end up looking a mess. Aim for no more than 1/2 cup for a 2-egg omelet. If you want more than that (and, yep, sometimes we do!), serve the extra filling ingredients on top of or alongside the omelet.
Be Prepared
Food writers tend to over-inflate the importance of mise en place (because we like to use French words?). Most times, you have a little leeway for prepping ingredients as you go. Not so with omelets. They cook FAST. If you don't have all your filling ready and waiting on the stovetop, it's better to embrace the naked omelet, than to scramble around trying to gather ingredients. Pro tip: inspect your shredded cheese for mold before adding to omelet—yep, we learned this one the hard way.
Try This at Home? Nope!
Sure, restaurant chefs look really cool when they shake and flip omelets into submission. And Julia Child would tell you, "When you flip anything, you just have to have the courage of your convictions." We say, unless you want a sticky mess all over your stovetop, you also need to have an ever-so-humble silicone spatula.  
Don't Overdo It
Eggs continue cooking even off the heat, so remove your omelet from the pan as soon as you fold it. Excess time on the stove will evaporate moisture and cause proteins to contract, leading to a rubbery, chewy, totally unappetizing waste of the chicken's time. Respect the chicken, please! 
INGREDIENTS:

2 large eggs
About 1/2 tablespoon cold butter, diced
Flaky sea salt and freshly ground black pepper to taste
Fillings of your choice

PREPARATION INSTRUCTIONS:
Prep the skillet—Place an 8-inch nonstick skillet over medium-high heat.
Prep the eggs—In a small bowl, beat eggs vigorously with a fork or whisk until the whites become one with the yolks. Stir in diced butter.
Cook the omelet—Gently pour egg into hot skillet. Turn heat down to medium (or low if you're patient). The bottom of omelet will start to set in seconds. Use the spatula to push the edges of omelet toward the middle, letting the liquid eggs flow into the skillet. Repeat till eggs are almost set, but still seem a bit liquid on top. This will only take minutes, so don't step away to check Instagram. Seriously.
Season and fill—Quickly sprinkle salt and pepper across the surface of omelet and add fillings to one half.