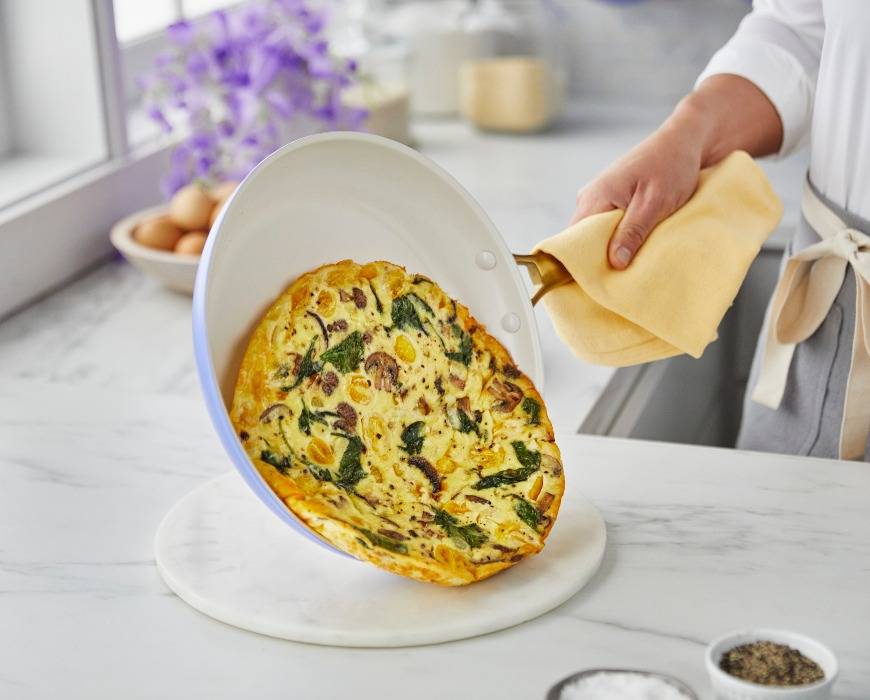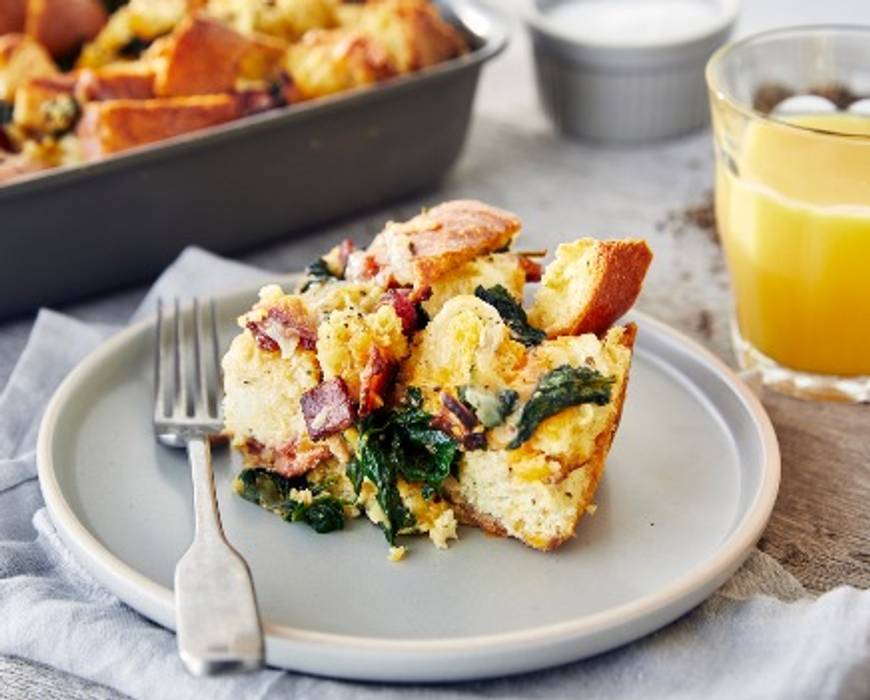 11 Tasty Egg Recipes to Celebrate National Egg Day
Our version features sautéed mushrooms and leeks layered with fresh spinach, mini tomatoes, and plenty of cheese. Yum!


2. Avocado Toast with Fried Egg
The always delicious avocado toast is served up with bright and fresh flavors of lemon, sumac and fresh herbs.  Topped with beautifully cooked egg, it's the perfect meal to start any morning with!


3. Spinach, Cheese and Bacon Strata
Our take on savory bread pudding (AKA strata) stars spinach, bacon, ciabatta cubes, and a pair of perfectly melted cheeses. 


A warm, crispy corn tortilla filled with black beans, fried egg, diced tomatoes, cotija cheese, and avocado slices with a sprinkling of cilantro and a dash of hot sauce—our hearty breakfast treat satisfies everyone from ranchers to desk jockeys.


5. Chilaquiles with Eggs & Homemade Enchilada Sauce
We coat crisp tortillas in homemade ancho chile sauce, then layer with two kinds of cheese, and broil to melty perfection. Add sunny-side-up eggs and perhaps a splash of tabasco, and spice up any morning.


Discover your new favorite French bistro: Chez Vous! Our recipe makes it easy to recreate the classic ham and Gruyère cheese sandwich that's layered with a creamy bechamel, broiled to crispy perfection, and topped with a fried egg, Bon appetit!


You'll love our Italian-inspired twist on eggs Benedict featuring the fresh flavors of a Caprese salad.


8. Skillet Cheesy Hash Browns & Eggs
Crispy and cheesy, this is the perfect breakfast recipe for busy mornings. Make sure you use pasture-raised eggs and butter for extra freshness.


9. Breakfast Strata with Sausage
Delicious, comforting and packed full of rich flavors, this sausage strata is one of our favorite recipes to make any weekend at home!  With the ability to cook fast or slow, and change ingredients to your taste, it's a versatile dish sure to be one you make again and again. 


10. Chorizo Potato Hash with Fried Egg
A classic breakfast or brunch never quite seems complete without a fried egg.  In this fun take on a potato hash, a perfectly cooked egg sits atop a flavorful mix of Mexican chorizo, lime, garlic and cilantro. 


11. Skillet Frittata
Eggy, cheesy, and packed with plenty of sautéed veggies, frittatas make a deliciously simple one-pan meal—morning, noon, or night. Incredibly versatile, our recipe makes it easy to showcase your fresh farmers market finds—or clean out your crisper drawer.
Featured Product
Reserve Ceramic Nonstick 8", 10" and 12" Frypan Set | Wisteria with Gold-Tone Handles
Featuring a deep, captivating finish, this frypan trio is more than good looks: the duoforged hard anodized construction makes it extra tough and scratch-resistant. The meal possibilities are endless—flavorful frittatas, seared salmon, and so much more.