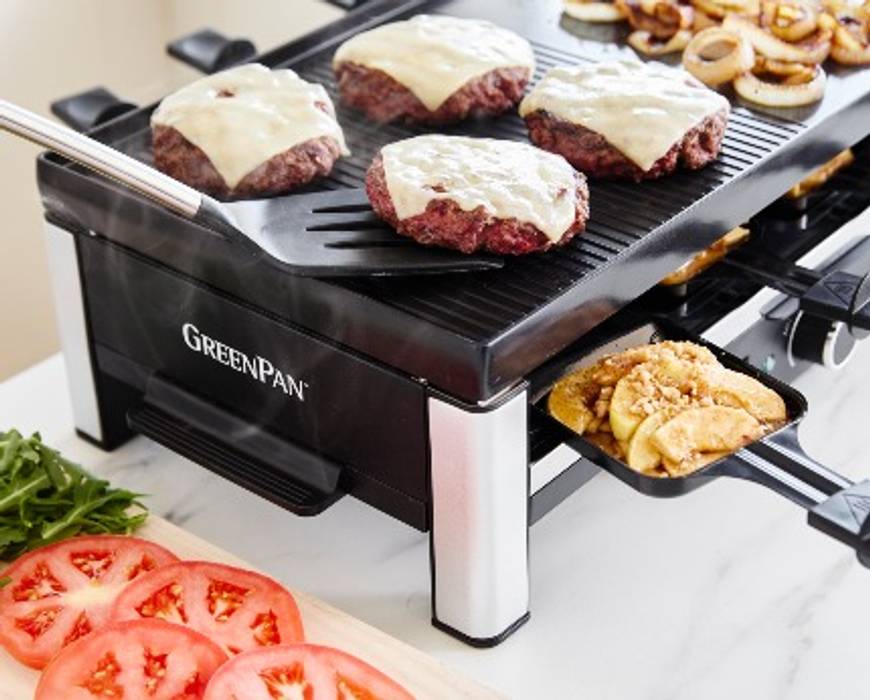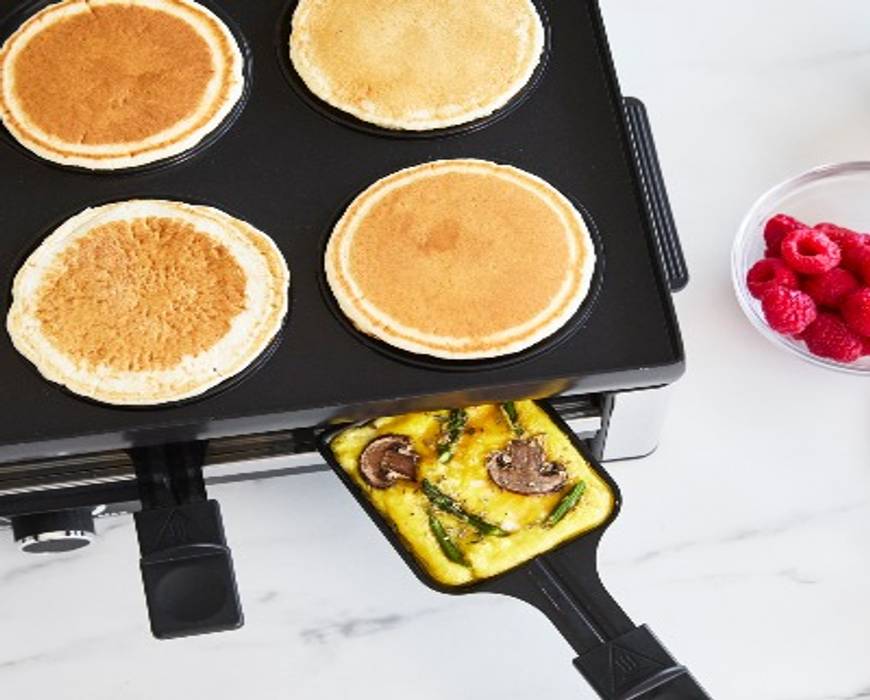 The Super-Fun Small Appliance Every Hostess Needs
After all, there's a reason why you try to sit around the table (versus eating on the couch in front of the TV!). We love your efforts! And we think we can help. Say hello to the Ultimate Gourmet Grill, which has a nonstick coating that's free from PFAS, PFOA, lead, and cadmium. Keep reading and we'll explain.
The Ultimate Gourmet Grill allows you to do a few things at once: melt, grill, and griddle. It features a reversible cast aluminum plate that has a grill and griddle on one side—for eggs, bacon, and more—and pancake rings on the other. (The plate performs like cast iron but is lighter and heats faster and more evenly for delicious results that will bring flavor to the party.) Then there are eight mini nonstick pans, crafted from durable carbon steel, for all your melting needs. And every inch of cooking surface features our premium Thermolon™ Volt ceramic nonstick coating. It's toxin-free and diamond-infused, so it's extra durable and scratch-resistant against metal utensils. This coating also cleans up easily, which means more family time and less clean-up time.
This thing is great for family meals and even parties—give everyone their own pan and spatula and see what they can come up with. Need some ideas? We have a few. These are three of our favorite ways to use the Ultimate Gourmet Grill. Note: We encourage mixing things up and making swaps wherever you see fit!
Gourmet Burgers
Raining on burger night? Bring the backyard party inside! It'll be even better with the Ultimate Gourmet Grill because you can easily toast your buns and caramelize mushrooms and onions for the most umami-y topping ever. Snowing on burger night? Ditto. With this machine—and our stellar recipe—you can have burger night all year round.
Fruity Dessert Bar
Think of this as a chocolate fountain without the mess—and lots of extra goodness. You'll grill skewers of pineapple chunks, watermelon cubes, and fresh strawberries. You'll grill pound cake. You'll dip all of the above into warmed cherry pie filling, peach pie filling, and fudge sauce. You'll have so much fun!
Easy Breakfast
Instead of making breakfast for everyone this weekend, you can make breakfast with everyone this weekend! We've got instructions to help a crowd whip up some toast, hash browns, eggs, and bacon. Yes, all on the Ultimate Gourmet Grill.
Featured Product
Ultimate Gourmet Grill
Ideal for parties, family dinners, entertaining, and everything in between—this gourmet set is the perfect way to bring everyone to the table. This set features a cast aluminum plate with one grill and griddle side that reverses to individual pancake...