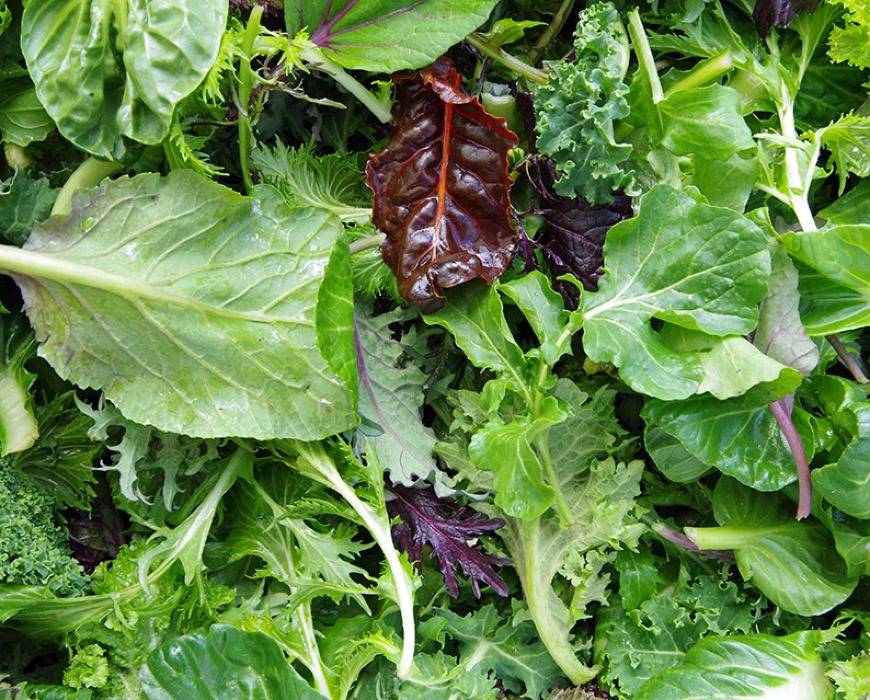 Spectacular Salads
Skip the pre-made grocery store salads—DIY versions are so much fresher and tastier. Grab your favorite salad greens, make a quick vinaigrette, and experiment with unique toppings:
Pomegranate seeds
Artichoke hearts
Shaved fennel
Roasted pepitas
Pickled peppers
Fried onion crisps
Toasted nuts
Think Outside the Salad Bowl
Can't eat another salad? We've been there. Try a few new uses for greens:
Dress up any sandwich
Go gluten-free—sub lettuce for buns
Make spinach pesto or pasta
Grill endives for a side dish
Add greens to soups, pasta, casseroles, pizza, etc.
Smooth Operator
Transform your typical green smoothie into a tropical treat:
1 cup fresh spinach
1 cup unsweetened coconut milk
1/2 cup frozen pineapple
1/2 cup frozen mango
1 banana
Add protein powder, if you like, and blend till smooth.
DIY Kale Chips
Take 1 bunch kale—washed, dried, and torn into bite size pieces—and place on a nonstick baking sheet. Drizzle with 1 tablespoon olive oil, toss to combine, and spread in an even layer. Sprinkle with 1 teaspoon sea salt and bake at 300°F till edges brown—about 20 minutes. Yum!
Take it for a Spin
If you wash salad greens on the regular, a salad spinner is a must have. It's easy to soak leaves in the bowl of the spinner, then remove the basket and pour out the water. Then it's time for the fun part—pull the cord and watch the leaves spin dry.
Grow Your Greens
Nothing's fresher than greens from your own backyard, and spring's the perfect time to get planting. Start with lettuce, chard, or kale—some of the easiest greens to grow.
Fight Slime
Ever brought home a brand new package of greens and discover that it's packed with slimy leaves? Yep, us too. Ick! Moisture is the culprit. Keep greens fresh longer by lining an airtight container with paper towels. Loosely fill it with greens, top with another paper towel, then snap on the lid, and stash in the fridge.
Tip of the Iceberg
Explore the vast world of greens that extends beyond iceberg, romaine, and 50/50 spring mix. Experiment with new-to-you varieties—dandelion leaves, bok choy, collard greens, Swiss chard, or endive, perhaps? Discover more delicious ways to add leafy greens to your life.