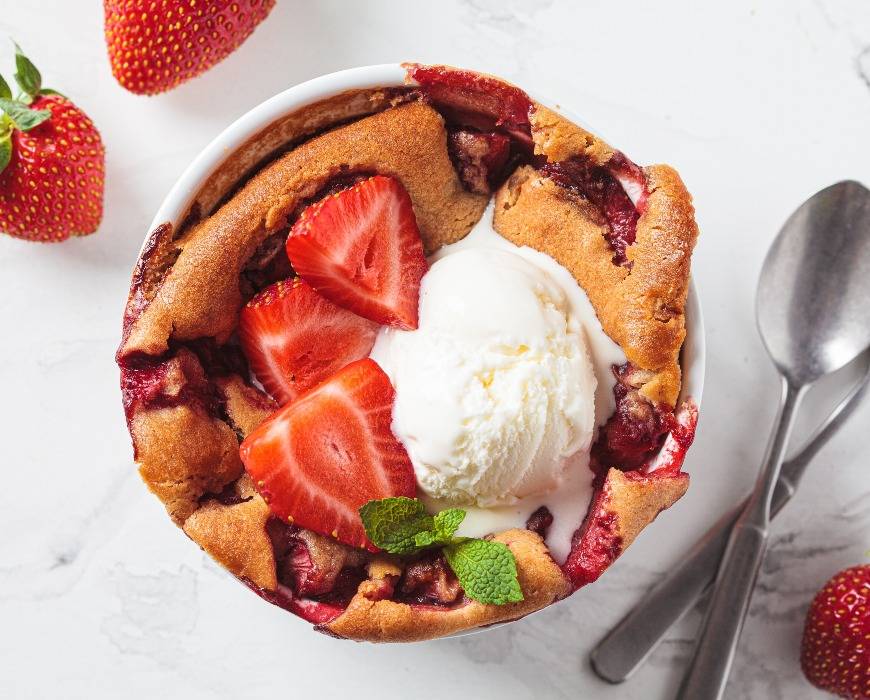 Sweet Spring Strawberries
Ever wondered how you get fresh strawberries in January? California grows 75% of our nation's strawberries, and Florida provides most of the rest. But strawberries are grown in all 50 states, so look for pints of fresh-picked, locally grown strawberries at your farmers market. They might be a little pricy, but one bite and you'll know they're worth the splurge. Strawberries are the first fruit that ripens in the spring, but their peak season only lasts 3 to 4 weeks. Get them fresh while you can!
Ancient Romans believed strawberries could alleviate symptoms of everything from melancholy, fainting, and fevers to inflammation, kidney stones, and bad breath. We're skeptical, but do think a shortcake topped with fresh strawberries and whipped cream can improve your outlook on life—at least temporarily.
Read on for more fun facts and fresh ideas about strawberries.
Did You Know?
Strawberries aren't really berries at all. Since they have seeds on the outside (about 200 per "berry"), they're considered an "accessory fruit." These bright red beauties are also card-carrying members of the rose family. So if you're walking past a strawberry patch, don't forget to stop and smell the plant's sweet fragrance.
Deliciously Healthy
One cup of sweet and scrumptious strawberries has just 55 calories. Plus, they're packed with vitamin c (more than an orange!), fiber, antioxidants, and other essential vitamins and minerals. They're naturally fat free, and they don't require any prep (beyond washing)—not even peeling. 
Fresh Idea
The easiest way to keep strawberries fresh? Just sort through the container they came in and discard any that are going bad. Return berries to the original container, stash them in the fridge, and they'll stay good for about a week. No matter how you store them, never rinse strawberries till you're ready to eat—it's the quickest way to encourage rot. 
Strawberry Fields Forever
Even if you don't have fields, you can grow strawberries. All you need is a plant (or a dozen), plenty of sunlight, and lots of water. If they don't treat you with fruit the first year, these perennials will return so you can try, try again. As long as the roots survive winter, they'll stay productive for 4 to 5 years.
Basket Case
Had your eye on a big, almost-ripe berry in the backyard, only to have it nabbed or nibbled overnight? Growing strawberries in hanging baskets can keep them out of reach of squirrels, bunnies, and deer, and safe from slugs, insects, and ground bacteria. But you might have to net plant to keep birds away.
How to Pick 'Em
Strawberries don't ripen after picking, so any with white or light green areas will stay that way.
Choose bright red berries that look firm and slightly shiny with green caps that are still perky. Finally, give them a sniff—if they smell delicious, they probably will be.
A Cut Above
If you lay strawberries on their sides and lop the top off, you're losing so much delicious fruit. Instead, pick a berry up, use a paring knife to cut a circle around the stem, then pull out the hull. And if you find a lot of white on the inside of berries (because you bought them in November), trimming it out will give you sweeter fruit.
Freeze Frame
For chocolate-dipped strawberries or summer fruit tarts, only fresh will do. But if you're blending or cooking berries when they're not in season, we think frozen is the way to go. Picked and flash frozen at their peak of ripeness, they'll taste better (and cost much less!) than the sad selection of fresh off-season berries from your local grocer.
Got Bruised Berries?
Toss any moldy berries immediately, but you don't have to let past-prime fruit go to waste. Use bruised berries in everything from smoothies and ice cream to jam, compote, pies, or cakes. And if you have the opposite problem, try pickling under-ripe berries.
Think Outside the Shortcake

We love exploring new ways to enjoy peak-of-season berries. Here are a few on our to-try list:
Strawberry-mango salsa
Strawberry Caprese salad
Strawberry balsamic crostini
BLS—bacon, lettuce, and strawberry sandwich
Slow-roasted strawberries
Strawberry butter