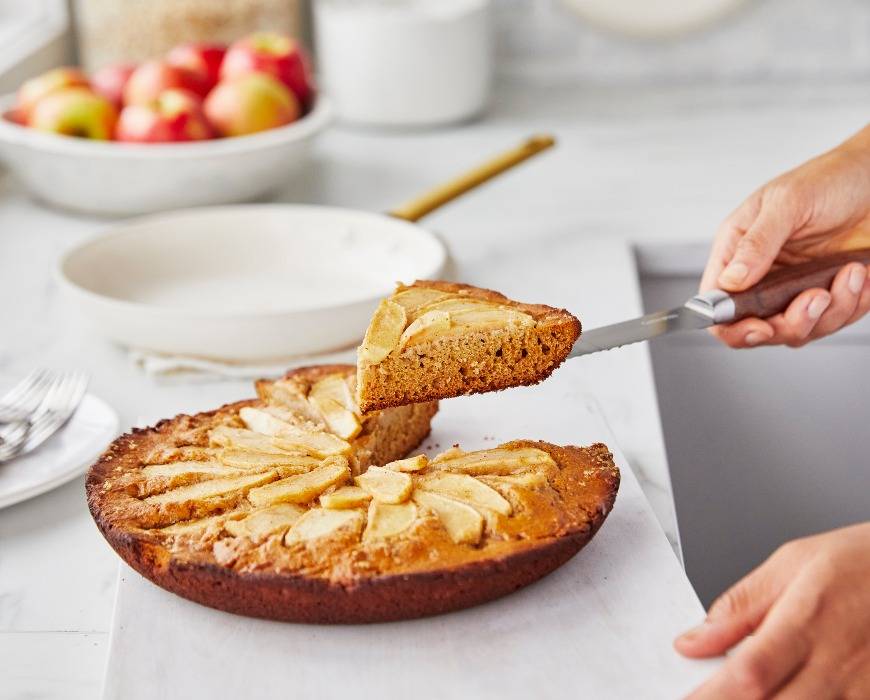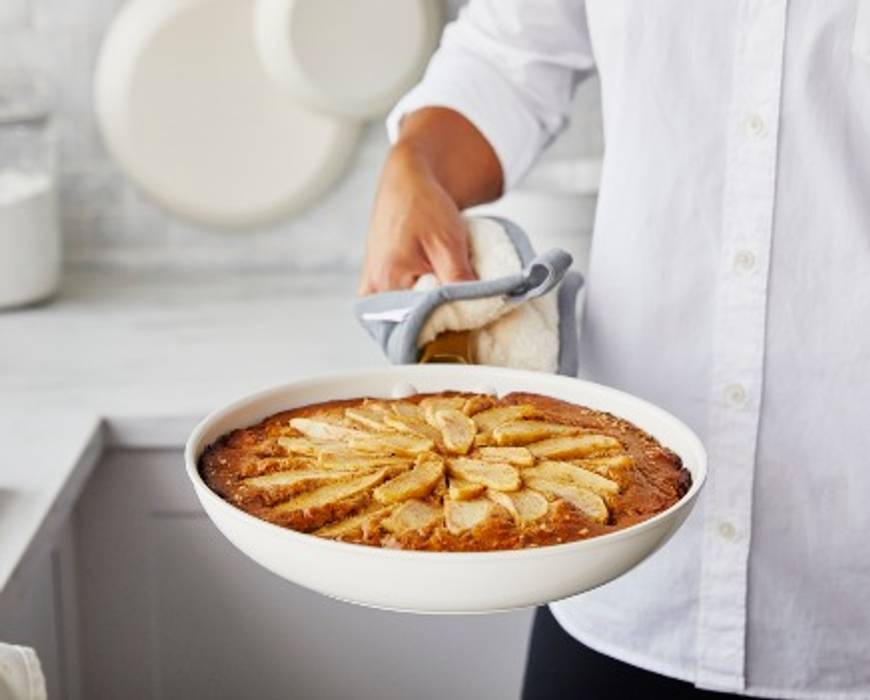 Apple and Almond Ricotta Cake
Yields: 8 to 10 servings
Time: 15 minutes prep, 1 hour baking, 1 hour 15 minutes total
INGREDIENTS:
4 large eggs
3/4 cup granulated sugar
1 cup whole milk ricotta cheese
1 teaspoon vanilla extract
3/4 cup olive oil
1/4 teaspoon salt
2 teaspoons cinnamon or apple pie spice
2 cups almond meal
1 tablespoon baking soda
2 medium apples, peeled and diced small
2 medium apples, peeled and sliced thin
4 tablespoons brown sugar
PREPARATION INSTRUCTIONS:
Prepare to bake—Preheat oven to 350°F.


Mix the wet ingredients—In a large mixing bowl, add eggs, sugar, ricotta, and vanilla and stir till everything's evenly combined. Add in oil, salt, and cinnamon and continue stirring to mix well.


Add the dry ingredients—Stir in almond flour and baking powder, mixing until well combined. Fold in diced apple till evenly distributed throughout batter.


Assemble the cake—Spread batter evenly in a 9-inch nonstick oven-safe skillet. Arrange apple slices on top of batter, then sprinkle with brown sugar.


Bake the cake—Transfer skillet to preheated oven and bake till cake is beautifully browned and a toothpick inserted into center comes out clean—about 1 hour.

TIPS:
The Best Apples for Baking—Choose firm-fleshed apples that won't fall apart in the oven. We love Granny Smith, Honeycrisp, or Braeburn—or better yet, a combo of two varieties.
Appealing Idea—Don't have the patience for peeling apples? Leave the skin on—it's packed with nutrients.
Featured Product
Reserve Ceramic Nonstick 8", 10" and 12" Frypan Set | Cream with Gold-Tone Handles
Featuring a deep, captivating finish, this frypan trio is more than good looks: the duoforged hard anodized construction makes it extra tough and scratch-resistant. The meal possibilities are endless—flavorful frittatas, seared salmon, and so much more.