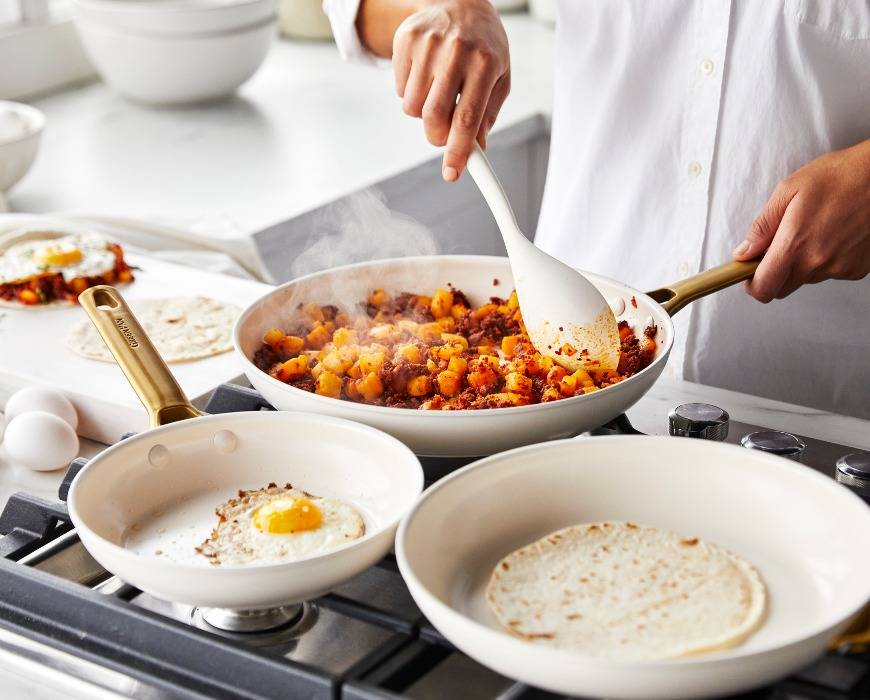 Egg and Chorizo Breakfast Tacos
Yields: 4 servings
Time: 15 minutes prep, 25 minutes cooking, 40 minutes total
INGREDIENTS:
2 tablespoons olive oil
3 medium Yukon Gold potatoes, diced small
Salt and freshly ground black pepper to taste
1 medium shallot, minced
2 to 3 garlic cloves, minced
8 ounces chorizo
Salt and pepper to taste
2 tablespoons butter, divided
4 large eggs
4 corn tortillas (5 to 6 inches)
Chopped cilantro, for serving
1 lime, cut into 8 pieces, for serving
Hot sauce, for serving
PREPARATION INSTRUCTIONS:
Prep the pan—Heat oil in a large, nonstick skillet over medium heat till shimmering.


Sauté the potatoes—Add potatoes and season with salt and pepper to taste. Sauté, stirring occasionally, till potatoes start to brown, about 5 minutes.


Sauté the aromatics—Add shallot and sauté, stirring occasionally, till translucent—about 5 minutes. Add garlic and sauté, stirring frequently for another minute.


Cook the chorizo—Add chorizo to skillet and stir till everything's evenly combined. Continue cooking until chorizo has browned and potatoes are tender when pierced with a fork—5 to 7 minutes. Remove from heat and adjust seasonings, if needed.


Meanwhile, fry the eggs—Add 1 tablespoon butter to a medium nonstick skillet over medium-high heat. When butter is melted and bubbly add 2 eggs and fry until edges are browned, whites are cooked through, and yolks are still runny—about 4 to 6 minutes. Transfer to a plate and season with salt and pepper to taste. Carefully wipe skillet, if needed, and repeat with the rest of the butter and eggs.


Meanwhile, warm the tortillas—Place a small skillet over medium heat and warm each tortilla for about 30 seconds on each side.


Assemble and serve—Place tortillas on individual plates or a large platter. Top each tortilla with 1/4 of the chorizo-potato mix, then place a fried egg on each one. Sprinkle with chopped cilantro and a squeeze of lime juice. Add hot sauce to taste and serve with extra lime wedges.

TIPS:
Get Cracking—For the prettiest presentation, crack eggs one at a time into a ramekin and gently pour each egg into the skillet, spacing them apart so the whites don't stick together (too much!).
Potato Picking—Feel free to sub in red potatoes, russets, or even sweet potatoes. Just be sure to dice them small so they'll be tender before the chorizo gets too crisp.
Featured Product
Reserve Ceramic Nonstick 8", 10" and 12" Frypan Set | Cream with Gold-Tone Handles
Featuring a deep, captivating finish, this frypan trio is more than good looks: the duoforged hard anodized construction makes it extra tough and scratch-resistant. The meal possibilities are endless—flavorful frittatas, seared salmon, and so much more.