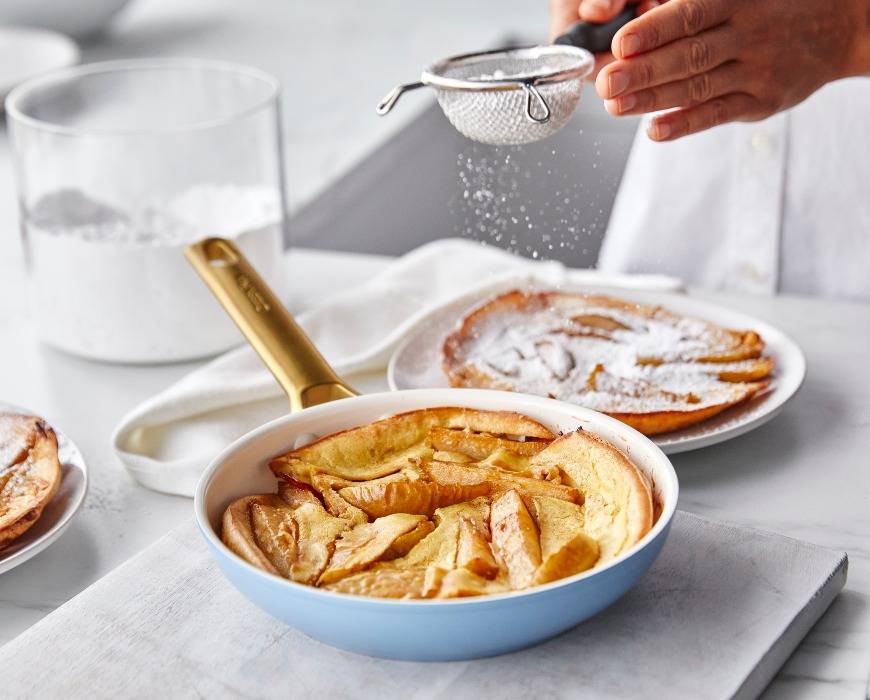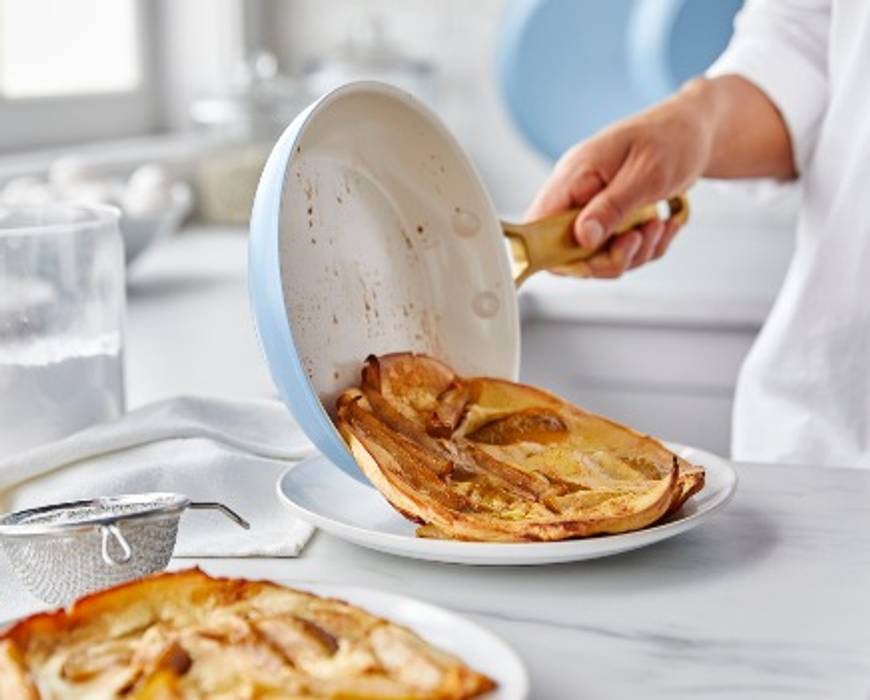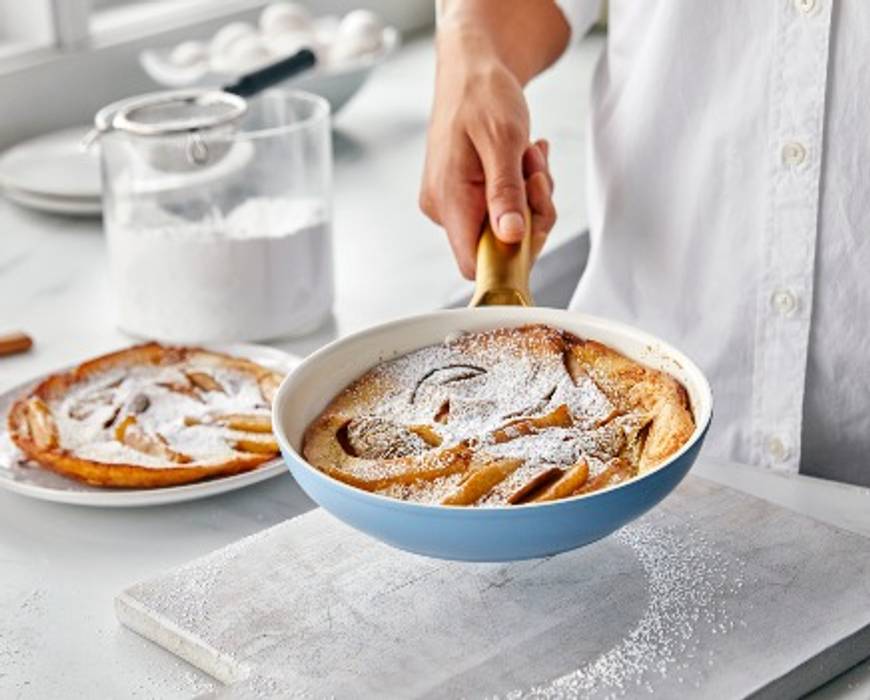 Yields: 4 to 6 servings
Time: 15 minutes prep, 25 minutes cooking, 40 minutes total
INGREDIENTS:
For the batter
4 large eggs
1 cup milk
1 teaspoon vanilla extract
1 cup all-purpose flour
Pinch of salt
For the caramelized pears
4 tablespoons butter, divided
2 tablespoons light brown sugar, firmly packed
2 to 3 medium pears, sliced thinly or peeled and diced
1/2 teaspoon ground cinnamon or pumpkin pie spice
Juice of half a lemon
For serving
PREPARATION INSTRUCTIONS:
Prepare to bake—Move the top oven rack to the lower third of the oven and preheat to 425°F.


Mix the batter—In a large bowl, whisk the eggs till lightly beaten. Add milk and vanilla and whisk till everything's evenly incorporated. Add flour along with a pinch of salt and whisk vigorously to blend well. Cover bowl and set aside.


Caramelize the pears—Add 2 tablespoons of the butter to a large oven-safe nonstick skillet and heat over medium-high until melted. Stir in brown sugar, then add pears and cook—turning occasionally—until pears are tender but still slightly crisp, about 4 minutes. Sprinkle with cinnamon and lemon juice, then stir to combine. Melt the other 2 tablespoons of butter in skillet, swirling to coat the bottom and sides of pan.


Bake the pancake—Pour batter evenly over pears in skillet and transfer to preheated oven. Bake till pancake is puffy and beautifully golden brown, about 20 to 25 minutes.


Garnish and serve—Dust top of pancake with powdered sugar and carefully slide onto cutting board, then slice and serve.
TIPS:
Spice it Up—We love using pumpkin or apple pie spice in place of cinnamon for most baked sweets. Add depth of flavor with a blend of cinnamon, ginger, nutmeg, cloves, and more.
Pick Your Favorite Fruit—Our pancake recipe also works great with everything from apples and blueberries to peaches and pineapple.
Featured Product
Reserve Ceramic Nonstick 8", 10" and 12" Frypan Set | Sky Blue with Gold-Tone Handles
Featuring a deep, captivating finish, this frypan trio is more than good looks: the duoforged hard anodized construction makes it extra tough and scratch-resistant. The meal possibilities are endless—flavorful frittatas, seared salmon, and so much more.