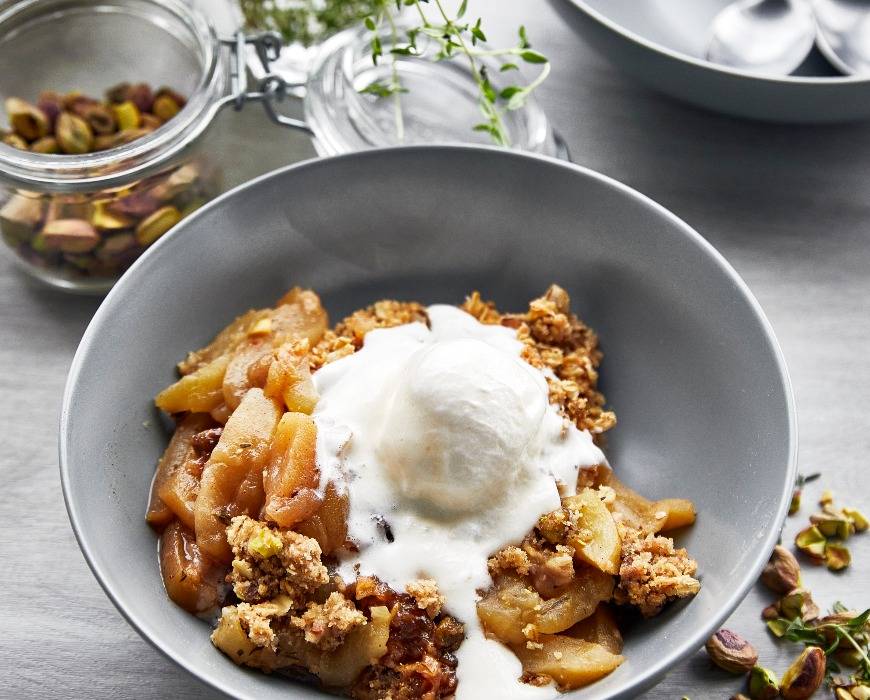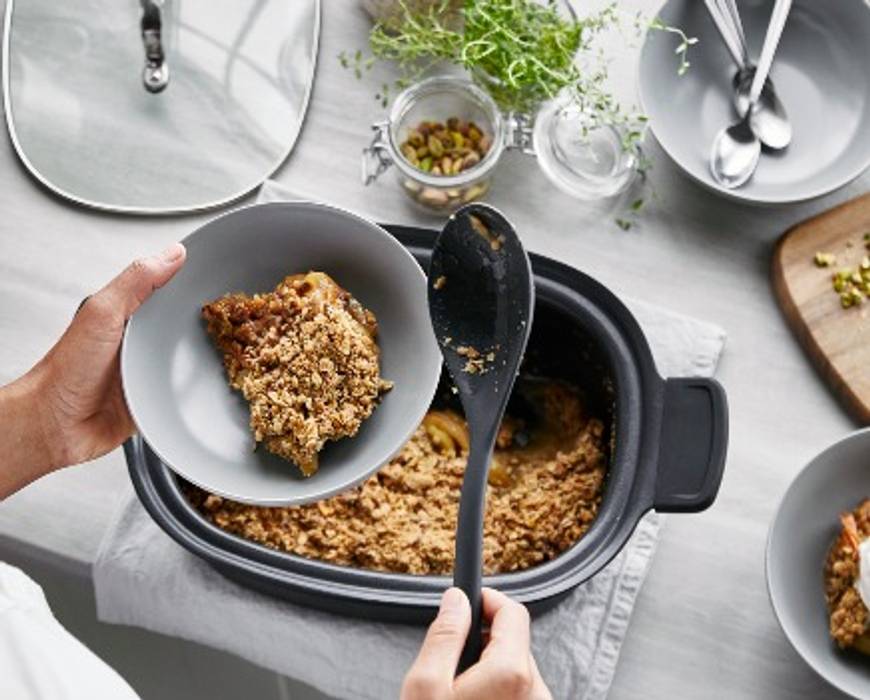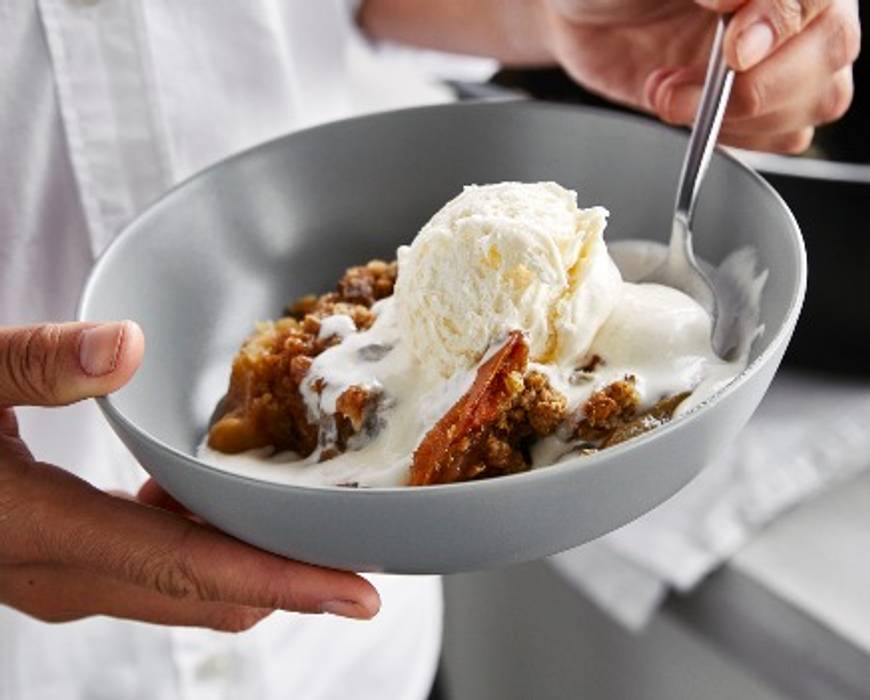 Yields: 8 to 10 servings
Time: 20 minutes prep, 4 hours cooking
INGREDIENTS:
8 to 10 firm apples (such as Honeycrisp and Granny Smith), peeled and cored, cut in 1/2" slices
1/2 cup light brown sugar
2 tablespoons honey 
1 1/2 tablespoons all-purpose flour
1 tablespoon fresh lemon juice
2 teaspoons fresh lemon zest
1 teaspoon fresh thyme, destemmed and finely chopped
3/4 teaspoon ground cinnamon
1/4 teaspoon freshly grated nutmeg
1/2 teaspoon kosher salt
For the crisp topping: 
1 1/4 cup all-purpose flour
1 cup old fashioned oats
3/4 cup pistachios, toasted and roughly chopped 
1/4 cup light brown sugar
1/4 cup granulated sugar
1/2 teaspoon ground cinnamon
1/4 teaspoon ground cardamom
1/2 teaspoon kosher salt
10 tablespoons unsalted butter, cold, cut in 1/2" cubes, plus more for prepping insert
Whipped cream or vanilla ice cream, for serving.  
PREPARATION INSTRUCTIONS:
In a large mixing bowl combine all the apples, brown sugar, honey, flour, lemon juice and zest, thyme, cinnamon, nutmeg, and salt. Stir until evenly combined. Taste and adjust as desired.  


In a medium mixing bowl combine the flour, oats, pistachios, both sugars, cinnamon, cardamom and salt. Stir until evenly combined. Add the butter to the bowl and lightly mix or toss. Using a pastry blender or your hands, quickly rub and cut the butter into the dry ingredients until it looks like large breadcrumbs. (The crisp will have better texture if there is varied sizes.)   


Lightly grease the insert of the Slow Cooker with butter, select the Low Temperature Slow Cook Mode and set the timer for 3 hours. Pour the apple mixture into the slow cooker and spread into one even layer. Evenly sprinkle the topping over the top of the apples and gently press it down to make good contact with the apples. Cover and cook for 2 hours, or until the apples are starting to soften. Uncover and cook another hour or until the topping is nicely browned and the apples are cooked through.  Serve warm with whipped cream or vanilla ice cream.  
TIPS:
To ensure the crisp topping doesn't get too soft, uncover occasionally during the first two hours of cooking and remove any condensation from the bottom of the lid so that it doesn't drip back down on the crisp.  
To make this crisp even more special, mix in up to a cup of blueberries, blackberries or cranberries into the apples before sprinkling the crisp topping over the fruit.    
Featured Product
Elite 6-Quart Slow Cooker | Premiere Stainless Steel
With our advanced slow cooker, you can sear meat and veggies in the pot, then go low and slow to finish the job. Take your time while cooking, then clean up quickly with Thermolon™ Volt, a healthy, PFAS-free ceramic nonstick...