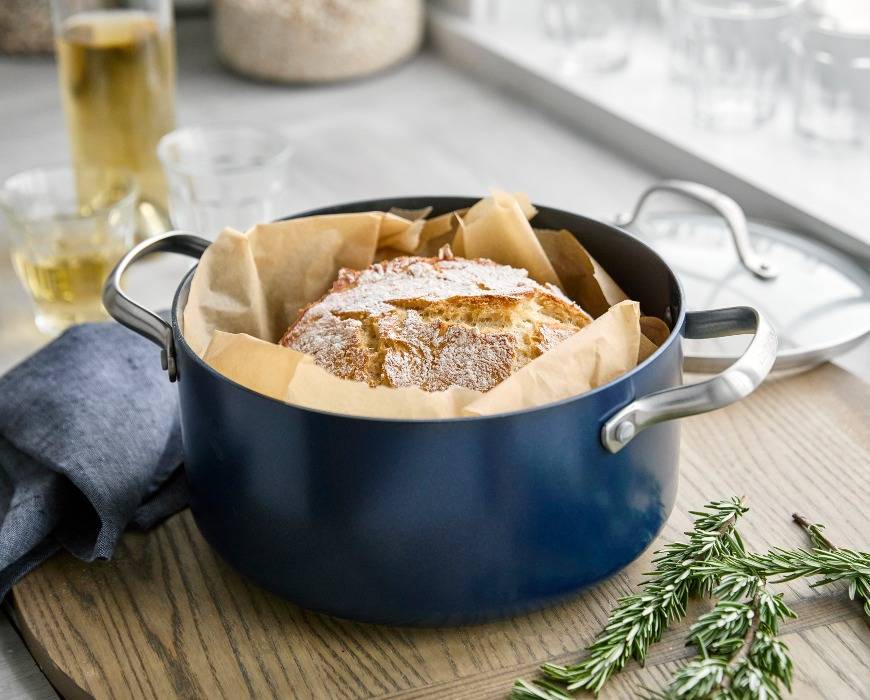 Yields: 1 loaf
Time: 10 minutes prep, 3 hours 30 minutes rising, 40 minutes baking, 4 hours 20 minutes total
INGREDIENTS:
3 cups bread flour or all-purpose flour, plus extra for dusting
1/4 teaspoon instant yeast
1 teaspoon salt
1 1/2 cups hot water—not boiling
PREPARATION INSTRUCTIONS:
Mix the dough—In a large bowl, whisk together flour, yeast, and salt. Stir in hot water until dough is evenly combined. It will be very sticky.
Proof the dough—Cover bowl with plastic wrap and let sit at room temperature until dough is puffy and dotted with bubbles—about 3 hours.
Shape the dough—Turn dough out onto a well-floured surface and sprinkle flour on top. Use a bench scraper to fold dough over about a dozen times to shape into a rough ball. Transfer dough to a bowl lined with parchment paper and cover with a kitchen towel. Let dough rest for about half an hour.
Prepare to bake—Place a covered Dutch oven on the middle shelf of oven and preheat to 450°F.
Bake the bread—When oven is heated to 450°, take out the Dutch oven. Remove lid—don't forget to wear oven mitts—and transfer parchment paper and dough into the Dutch oven. Cover and bake for 30 minutes. Remove lid and parchment paper and return to oven for another 10 to 15 minutes. Let bread cool completely before slicing.
TIPS:
DIY Proofing Box—Place bowl of dough on the center rack of your (turned-off!) oven with a baking pan in the bottom of oven. Add a few cups of boiling water to pan and close the oven door.
How to Tell When Bread is Done—Give the underside of the loaf a thump with your thumb. If it sounds hollow, you're good to go.
Featured Product
Performance Pro Ceramic Nonstick 5.5-Quart Stockpot with Lid
This spacious stockpot is a standalone meal master—make mouthwatering chilis, complex stews, and classic seafood boils with healthy nonstick ease.