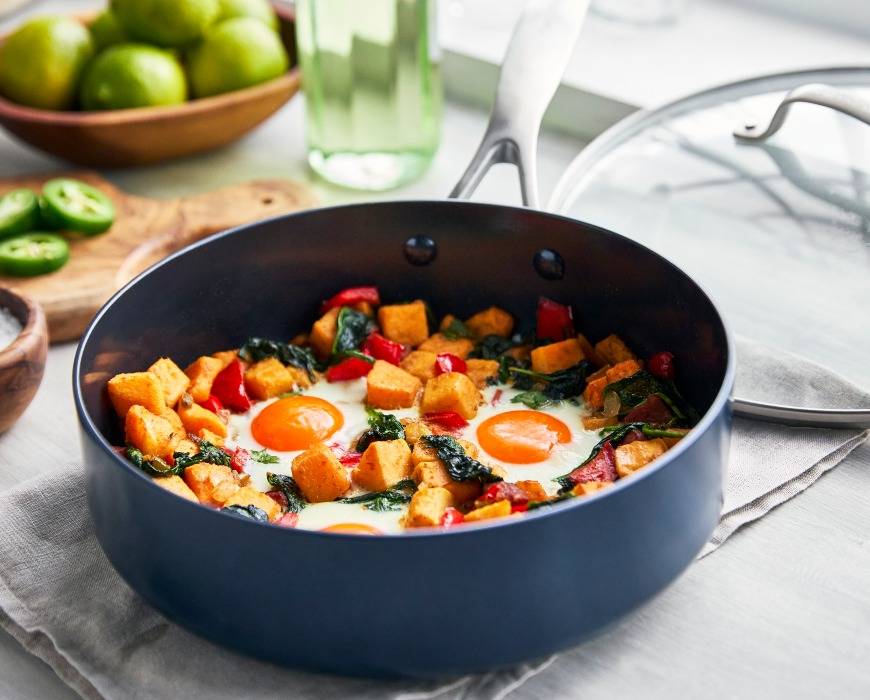 Yields: 3 servings
Time: 15 minutes prep, 40 minutes cooking, 55 minutes total
INGREDIENTS:
1 small butternut squash, peeled, seeded, and cut into cubes
2 tablespoons olive oil
2 teaspoons ground cumin
1/2 teaspoon smoked paprika
Pinch of salt
1/2 cup chopped chorizo
1 red bell pepper, chopped
1/2 onion, diced
1 tablespoon finely diced jalapeño pepper
1 1/2 cups spinach
1 teaspoon lime juice
3 eggs
1 to 2 tablespoons chopped cilantro
1 avocado, sliced
1 lime, cut into wedges
PREPARATION INSTRUCTIONS:
Prepare to cook—Preheat oven to 350°F.
Prep the butternut squash—In a medium bowl, add butternut squash cubes along with olive oil, ground cumin, smoked paprika, and a generous pinch of salt. Toss with hands until everything is coated evenly. Place on baking sheet in a single layer and roast until tender—about 20 minutes.
Meanwhile, start the hash—In a large, oven-safe skillet over medium-high heat, sauté the chorizo, for a couple of minutes then add red bell pepper, onion, and diced jalapeño. Sauté, stirring frequently, until onion softens—about 5 minutes. Add in spinach, sprinkle with lime juice, and sauté for another minute or so.
Add the squash—Stir roasted squash into skillet mixture until evenly combined. Create 3 wells in mixture and crack an egg into each.
Cook the hash—Transfer skillet to oven and cook until whites of eggs are set—about 8 minutes.
Garnish and serve—Remove from oven and sprinkle with chopped cilantro. Serve with avocado slices and lime wedges.


TIPS:
Don't Get Burned—When cutting hot peppers like jalapeños, always wear gloves to prevent contact with capsaicin, which can make your hands feel like they're on fire.  
Create Your Own Signature Hash—Swap butternut squash for sweet potatoes or skip the chorizo and eggs for a vegan version. Plus, mix and match herbs and spices to suit your taste.
Featured Product
Performance Pro Ceramic Nonstick 3.25-Quart Sauté Pan with Lid
This versatile 3.25-quart sauté pan contains plenty of space for one-pan meals, frying, searing, and more. Plus, the duoforged armored body provides extra strength and scratch resistance, so you can use it day after day.