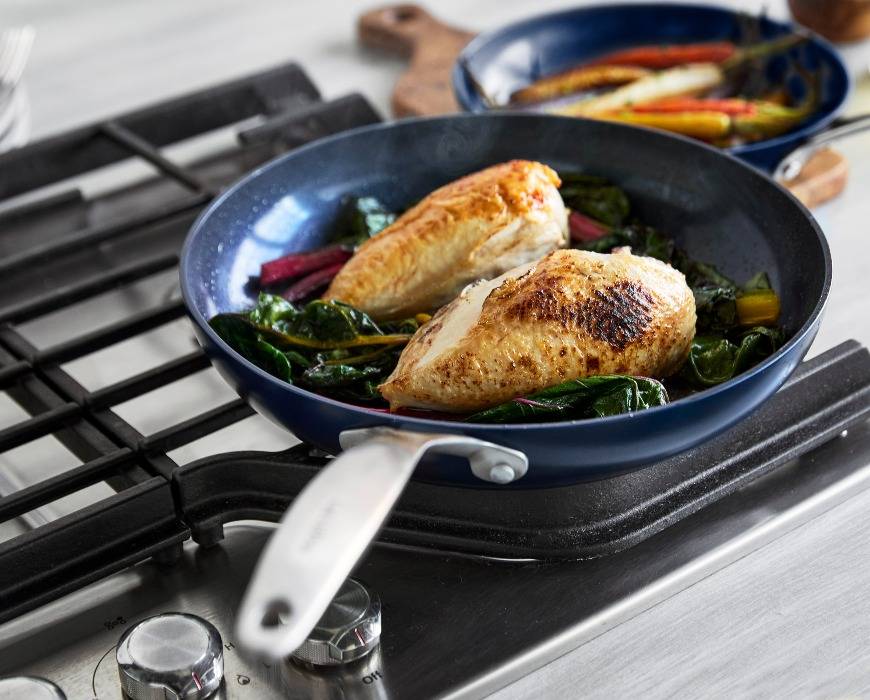 Pan-Seared Chicken with Sautéed Swiss Chard
Yields: 2 servings
Time: 15 minutes prep, 30 minutes cooking, 45 minutes total
INGREDIENTS:
For the chicken
2 bone-in, skin-on chicken breasts
1 to 2 tablespoons olive oil
1 to 2 tablespoons butter
Salt, pepper, and garlic powder to taste
For the Swiss chard
2 tablespoons olive oil
1 large bunch fresh Swiss chard (about 8 large leaves)
2 cloves garlic, minced
Pinch of crushed red pepper, or more to taste
1/2 teaspoon lemon zest
Salt and freshly ground black pepper
PREPARATION INSTRUCTIONS:
Prepare to cook—Preheat oven to 425°F.
Prep the chicken—Pat chicken dry with paper towels and season generously on both sides (and under skin) with salt, freshly ground pepper, and garlic powder.
Sear the chicken—Heat oil and butter in a medium oven-safe skillet over medium-high heat. When butter is melted and bubbling, place chicken breasts in the skillet, skin side down. Cook without disturbing until the skin begins to brown—about 4 minutes. Use tongs to flip chicken.
Bake the chicken—Transfer skillet to oven and bake for about 25 to 30 minutes, until the internal temperature reaches 165°F. Remove from heat and let rest for about 5 minutes.
Meanwhile, prep the Swiss chard—While chicken bakes, rinse chard leaves thoroughly and pat dry. Remove and discard thick stems. Cut or tear leaves from inner ribs. Cut ribs into 2-inch pieces and leaves into 2-inch ribbons. Keep leaves and ribs separate.
Sauté the garlic—When chicken has been in the oven for about 20 minutes, heat oil in a medium skillet over medium-high heat. Add minced garlic and sauté, stirring constantly, for 1 minute.
Sauté the chard—Add chard ribs and reduce heat to low. Cover and cook for 3 to 4 minutes. Add the chard leaves, tossing to coat with the oil in pan. Cover and cook another 3 to 4 minutes or until leaves are softened and ribs are crisp-tender. Remove from heat. Stir in lemon zest and season with salt and pepper to taste.
Finish and serve—When chard is done to your liking and chicken has rested for about 5 minutes, transfer to individual plates and enjoy.
TIPS:
Get Scrappy—Many recipes use only the Swiss chard leaves and discard the ribs, but they're tasty too! We love how they add a textural contrast—plus bonus points for reducing food waste!
Give it a Rest—After baking, chicken needs time for moisture to redistribute throughout the meat. Cut too soon and all the liquid will escape, leaving you with an incredibly dry bird.
Featured Product
Performance Pro Ceramic Nonstick 12" Frypan
Made for just about everything, this versatile 12" frypan has plenty of room and features our healthy ceramic nonstick coating. Start searing steaks, sautéing veggies, and delivering family classics with (healthy) ease.