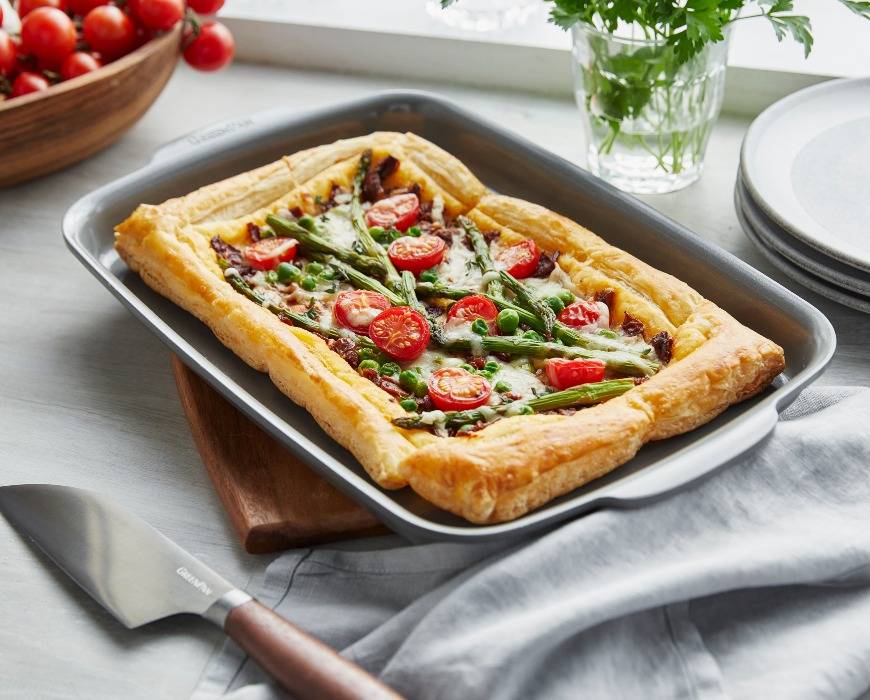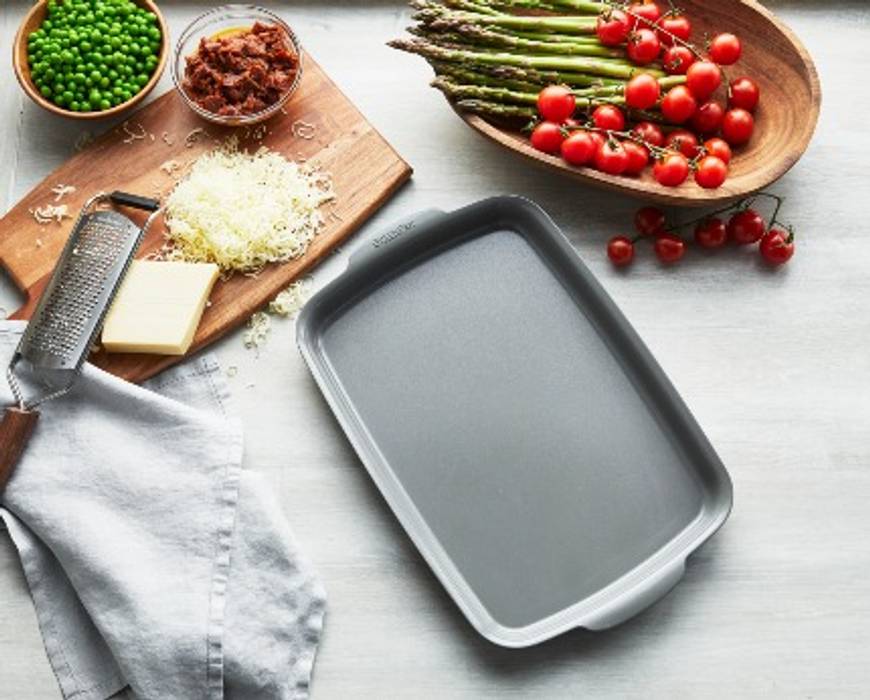 Asparagus & Spring Pea Tart
Yields: 4 servings
Time: 15 minutes prep, 20 minutes cooking, 35 minutes total
INGREDIENTS:
1 sheet puff pastry, thawed
3 to 4 tablespoons sun-dried tomato pesto or basil pesto
1 bunch asparagus spears, rough ends removed
8 to 10 cherry tomatoes, halved
1/4 cup fresh spring peas
1/2 cup freshly grated gruyere
1 to 2 tablespoons finely chopped fresh herbs (basil, oregano, thyme, or a mix)
1 egg, beaten (optional)
PREPARATION INSTRUCTIONS:
Prepare to bake—Preheat oven to 400°F. Get out a non-stick half-sheet baking pan.


Prep the crust—On a gently floured work surface, roll puff pastry into a rectangle about 16 inches by 12 inches. No need to be exact here—basically, you want to fit the bottom of your baking sheet so adjust accordingly. Transfer puff pastry to baking pan. To create a raised edge, use a sharp knife to score a 1/2-inch border all the way around.


 Add toppings—Spread the pesto across the top of puff pastry. Arrange asparagus and tomato halves on top and sprinkle peas all over. Cover evenly with cheese. Brush edges of puff pastry with beaten egg to add shine and ensure beautiful browning. (Feel free to skip this step if you're not planning to post tart pics on Instagram.)


 Bake the tart—Transfer half sheet pan to preheated oven and bake till pastry is beautifully browned and cheese is bubbly, about 15 to 20 minutes. Remove from oven and let rest for a few minutes.


 Slice and serve—Carefully transfer tart to a cutting surface and sprinkle fresh herbs over the top. Slice into rectangles and serve hot.

TIPS:
A Tart for All Seasons—Fresh out of spring peas? Feel free to use frozen…or swap asparagus for artichoke hearts…or trade cherry tomatoes for red bell peppers. It's all good!
Choosing a Different Cheese? Pick something that melts easily like Swiss or provolone. We also love this tart with brie or burrata, but add it at the end of cook time to keep cheese intact.