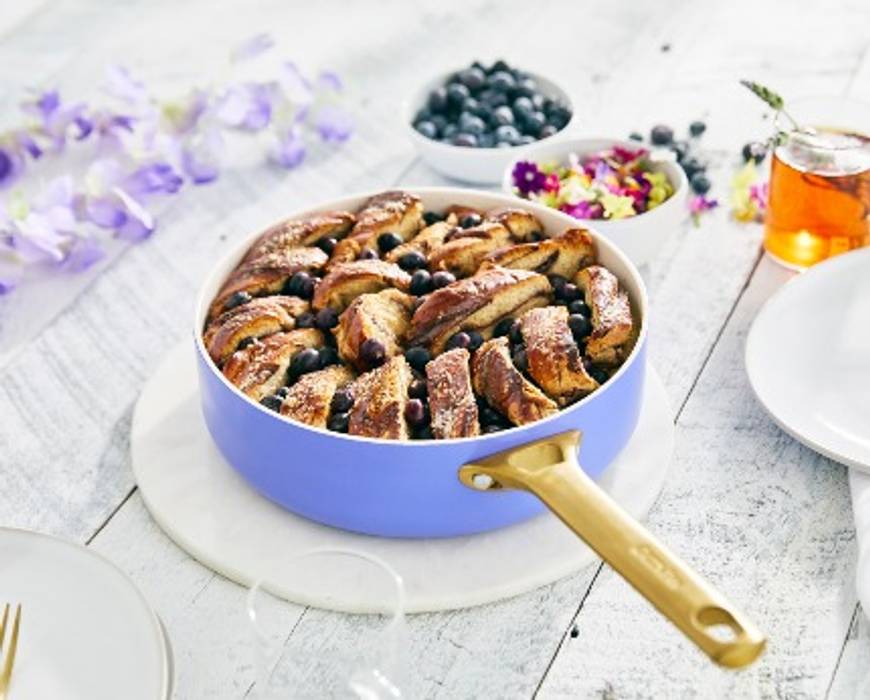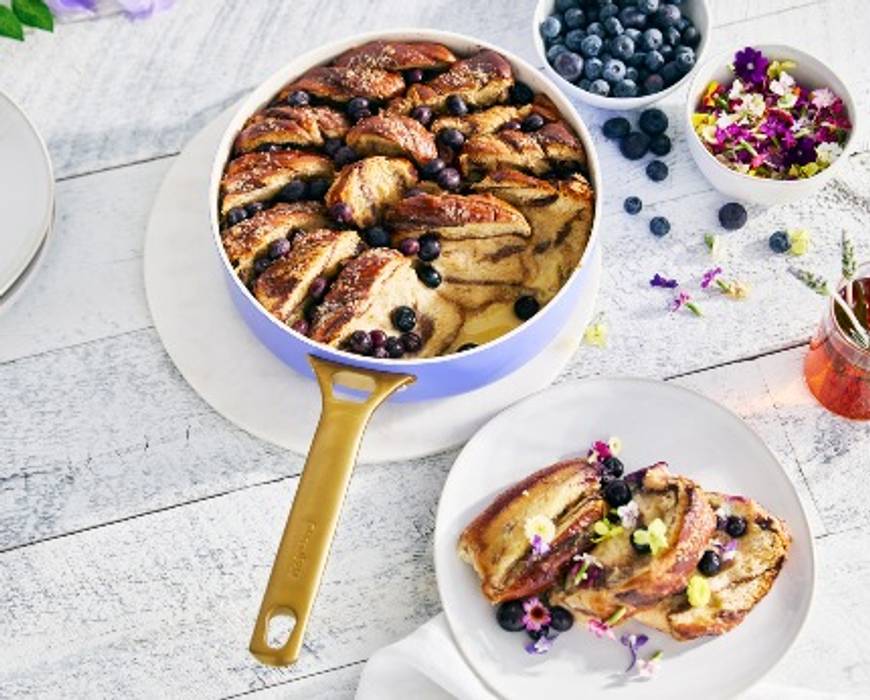 Skillet Cinnamon Swirl French Toast
Yields: 6 to 8 servings
Time: 10 minutes prep, 30 minutes resting, 50 minutes baking, 1 hour 20 minutes total
 
INGREDIENTS:
1 loaf cinnamon swirl bread, cut into 1/2-inch slices
2 1/2 cups whole milk
5 large eggs
2 teaspoons vanilla extract
1 cup fresh blueberries, for serving
Maple syrup, for serving

PREPARATION INSTRUCTIONS:
Prep the bread—Arrange bread slices in a 3-quart, oven-safe, nonstick sauté pan, overlapping as needed.
Make the custard—In a medium bowl, whisk together milk, eggs, and vanilla extract.
Soak the bread—Pour custard evenly over bread slices. You may need to move slices around to make sure each one is coated. Cover skillet and let rest for 30 minutes to 1 hour. At this point, you can also cover, refrigerate overnight, and bake in the morning.
Bake the French Toast—Preheat oven to 350°F. Place skillet in oven and bake till the top is beautifully browned and center is moist, but not wet—about 45 to 50 minutes.
TIPS:
Make it Ahead
Give bread and custard an overnight rest in the fridge, then just pop it in the oven when you wake up. Your future self will thank you (profusely!).
Dry Wit
Drier bread soaks up custard more easily, so now's the time to use those day-old (week-old?) loaves. If you only have fresh on hand, dry slices in a 275-degree oven for about 10 minutes. Then let cool before soaking in custard.
Featured Product
Reserve Ceramic Nonstick 10-Piece Cookware Set | Wisteria with Gold-Tone Handles
World-class performance meets eye-catching contrast in GreenPan Reserve. But it's more than good looks: the duoforged hard anodized construction makes this set extra tough. This set makes it simple to find your style at home.