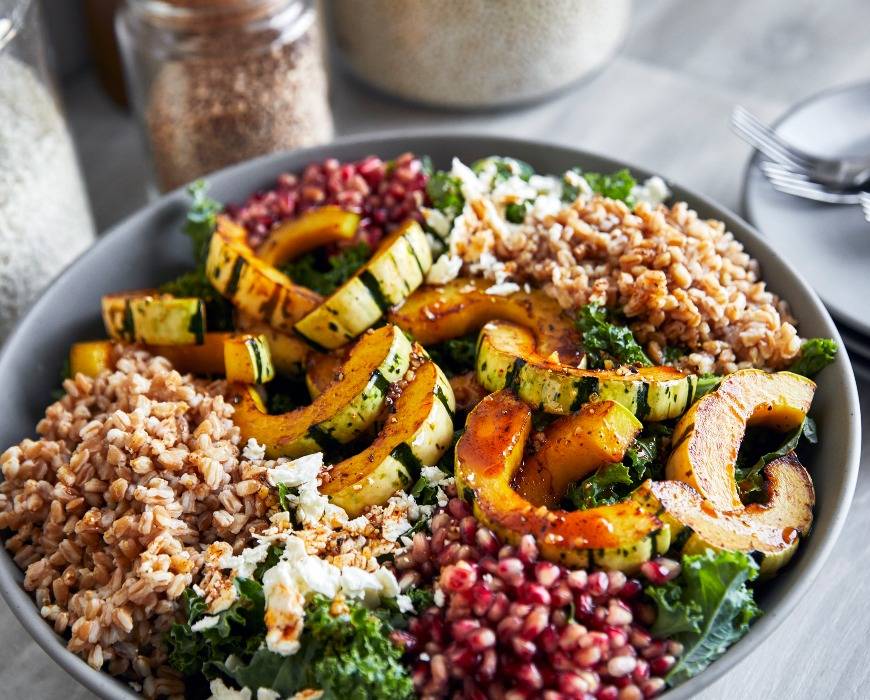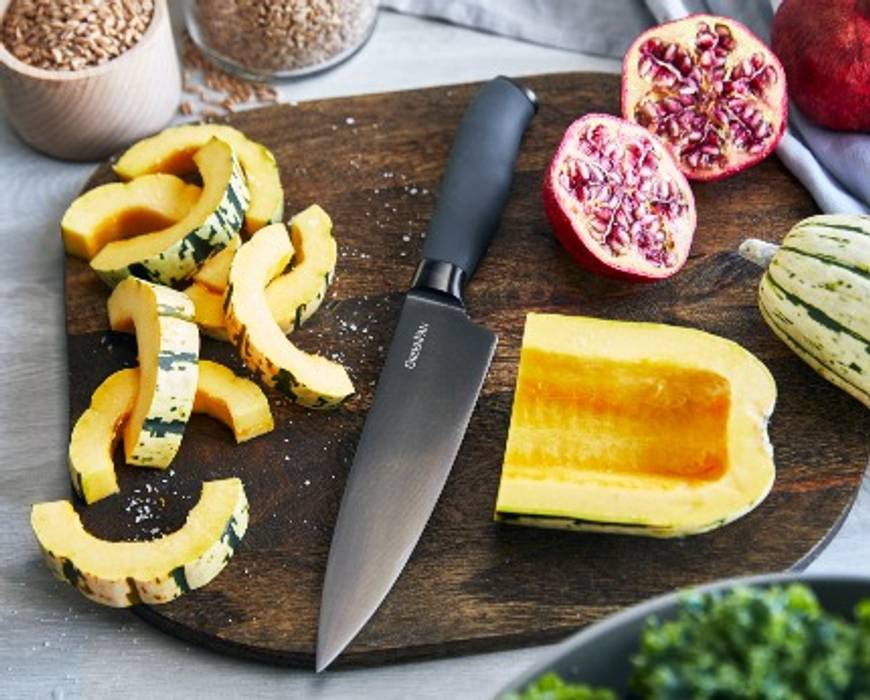 Yields: 4 servings
Time: 15 minutes prep, 15 minutes cooking, 30 minutes total
INGREDIENTS:
For the squash
1 delicata squash, seeded and cut into half moons
2 tablespoons olive oil
1/2 teaspoon ground cayenne pepper or chili powder
Salt and freshly ground pepper
For the dressing
1/3 cup olive oil
1/4 cup apple cider vinegar
1 tablespoon maple syrup
1 clove garlic, minced
1 teaspoon Dijon mustard
Salt and pepper to taste
For the salad
1 large bunch kale, ribs removed and torn into small pieces
1 cup cooked farro, quinoa, cous cous, or risotto
4 ounces goat cheese
1 cup pomegranate arils (from 1 pomegranate)
PREPARATION INSTRUCTIONS:
Prepare to cook—Preheat oven to 400°F.
Prep the squash—Place squash in a large bowl and drizzle with olive oil. Add cayenne pepper and season generously with salt and pepper. Toss to coat evenly. Place squash on a single layer on a nonstick baking sheet.
Roast the squash—Transfer squash to preheated oven and roast till golden and tender, about 15 to 20 minutes. Remove from oven and set aside.
Make the dressing—In a small bowl, whisk together all the dressing ingredients until thoroughly combined.
Assemble the salad—Place kale in a large bowl and top with squash, farro, goat cheese, and pomegranate arils. Drizzle on desired amount of dressing and toss to coat. Serve and enjoy!
TIPS:
Can't find delicata squash? Sub in butternut or acorn squash or other root veggies like carrots, beets, sweet potatoes, or turnips. Roasting time may vary, but it's all good!
Shake it up—Try adding dressing ingredients to a jar, putting on the lid, and shaking vigorously to emulsify. Bonus? You can use the same jar to stash leftovers in the fridge for about a week.
Featured Product
Titanium Cutlery 12-Piece Knife Block Set
Our 12-piece knife set is the key to preparing every meal with precision. Heat treated and hand sharpened for fatigue-free cutting, every knife is built to last so you can enjoy perfect meals every day.