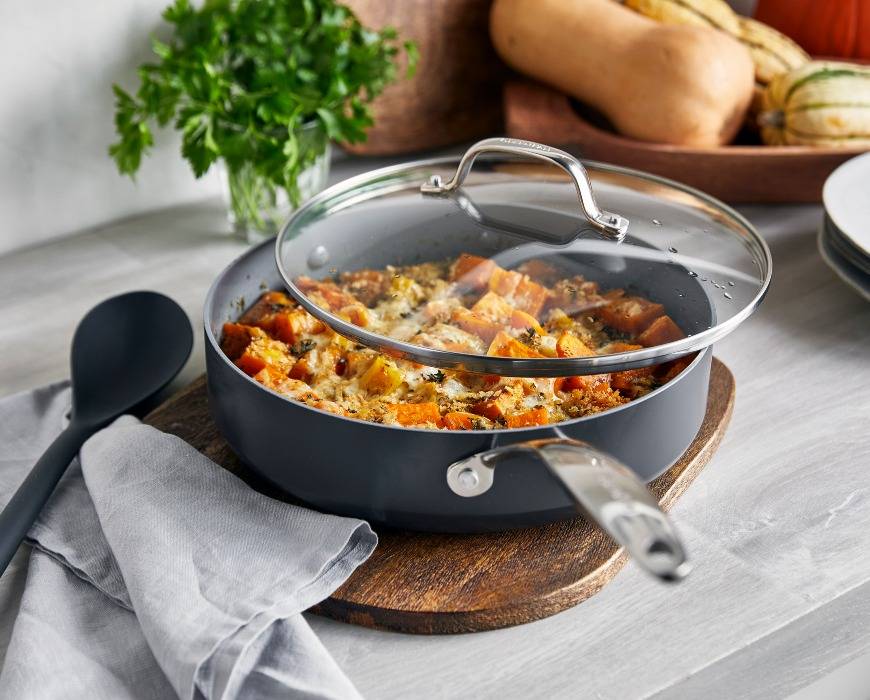 Yields: 6 to 8 servings
Time: 15 minutes prep, 55 minutes cooking, 1 hour 10 minutes total
INGREDIENTS:
For the squash
2 tablespoons butter
1 medium onion, chopped
1 tablespoon chopped fresh thyme
1 small butternut squash; peeled, seeded, and cut into 1/2-inch cubes
1 small kabocha or acorn squash; peeled, seeded, and cut into 1/2-inch cubes
2 cloves garlic, minced
1/4 teaspoon ground mace
Salt and freshly ground pepper to taste
1 cup low-sodium vegetable broth
1/2 cup heavy cream
For the topping
1 tablespoon butter
1/4 cup breadcrumbs
2 tablespoons grated Parmesan cheese
2 tablespoons chopped fresh parsley
1/2 cup grated gruyere cheese
PREPARATION INSTRUCTIONS:
Prepare to cook—Preheat oven to 400°F.
Sauté the onions—Place a large, oven-safe nonstick sauté pan over medium high heat and add 2 teaspoons butter. When butter is melted and bubbly, add onion and thyme. Sauté, stirring frequently until onion softens, about 5 minutes.
Meanwhile, par-cook the squash—In a large, microwave-safe bowl, add all squash pieces with 1 cup water. Cover with plastic wrap and microwave on high until squash is just starting to get tender, about 5 minutes. Be careful not to overcook at this stage or squash will turn to mush.
Start the casserole—Drain squash and transfer to sauté pan with onions. Add garlic and mace, along with a teaspoon or so of salt and a few grinds of pepper. Cook, stirring frequently, for 3 minutes.
Add the liquids—Add broth and continue cooking, stirring occasionally, for 5 minutes or until it's mostly absorbed. Stir in heavy cream and continue cooking until mixture thickens slightly, about 2 minutes.
Add the topping—Place butter in a small bowl and melt in microwave. Add breadcrumbs, Parmesan, and parsley, then stir till evenly combined. Sprinkle mixture over squash and add gruyere evenly over the top.
Bake the gratin—Transfer sauté pan to the preheated oven and bake until golden and bubbly, about 30 minutes. Let gratin rest about 5 minutes before serving, if you can wait that long!
TIPS:
Save the seeds! Rinse and dry seeds, then toss in a little melted butter, and sprinkle with salt. Roast on a sheet pan in a 275°F oven till golden—about 15 to 20 minutes. Great for topping salads and soups or just snacking. 
Love butternut squash but hate its nearly impenetrable peel? Try this trick: poke holes all over squash with a fork and microwave for about 3 minutes. Once it's cool enough to handle, you can easily remove peel with a sharp knife or vegetable peeler.
Featured Product
Valencia Pro Ceramic Nonstick 4.5-Quart Sauté Pan with Lid
Ready to sear fish, braise veggies, or cook a tender pot roast at a moment's notice, this endlessly versatile pan is a valuable go-to any time of the day. Plus, it's made of ultra-tough hard anodized aluminum, for years of...