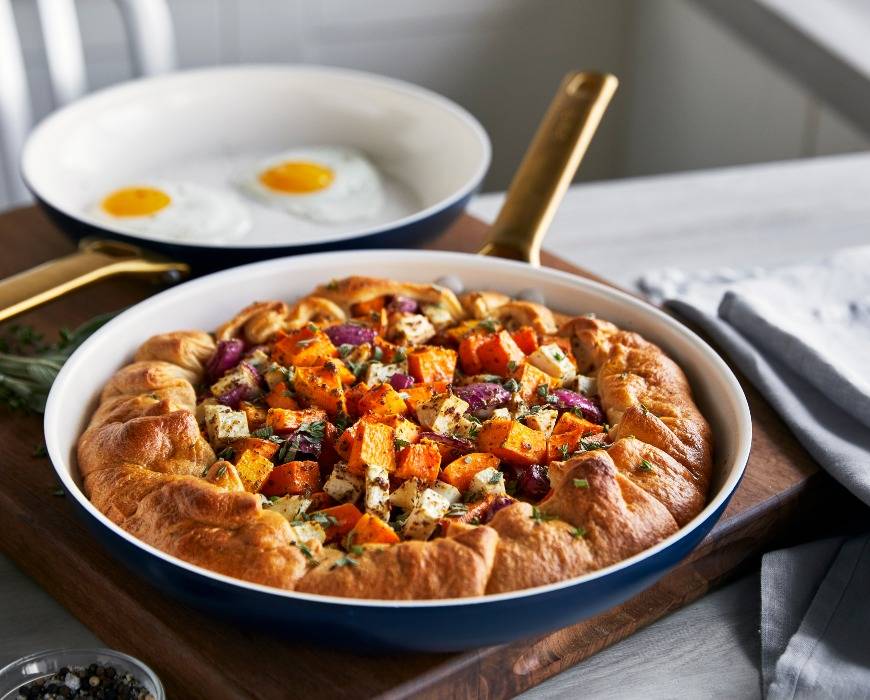 Fall Vegetable and Herb Galette
Yields: 1 galette
Time: 15 minutes prep, 45 minutes cooking, 1 hour total
INGREDIENTS:
1 pie crust—homemade or the refrigerated, pre-rolled kind
16 ounces frozen root vegetables
1 small apple (or 1/2 large), peeled, cored & diced
3 tablespoons butter, melted
2 teaspoons fresh chopped thyme
2 teaspoons fresh chopped sage
Salt and freshly ground black pepper
2 tablespoons whole grain mustard
2 tablespoons apple cider vinegar
1 large egg, beaten
PREPARATION INSTRUCTIONS:
Prepare to bake—Preheat oven to 400°F.
Shape the galette dough—Place dough on a lightly floured work surface and roll into a circle about 12 inches in diameter and 1/8 inch thick. Transfer to an oven-safe, nonstick 10-inch skillet and set aside.
Mix the filling—Place frozen root vegetables in a large bowl along with diced apple, melted butter, mustard, apple cider vinegar, thyme, and sage. Toss to coat evenly. Season generously with salt and pepper and toss again.
Assemble the galette—Spread vegetable mixture evenly in prepared crust. Fold the edges of dough over the filling, overlapping as needed. Don't worry about making it pretty—galettes are meant to be rustic. Brush crust with the beaten egg.
Bake the galette—Transfer skillet to preheated oven and bake until vegetables are caramelized and crust is beautifully golden brown, about 45 to 55 minutes. Remove from oven and let rest about 10 minutes before slicing—if you can wait that long.
TIPS:
Have it your way—Whether you prefer to prep fresh root vegetables and make pie dough from scratch or take shortcuts with frozen veggies and a store-bought crust, your galette will surely be a crowd pleaser.
Pick your favorite vegetables—Any combo of root veggies works great in our versatile galette, sweet potatoes to parsnips, beets to butternut squash.
Featured Product
Reserve Ceramic Nonstick 8", 10" and 12" Frypan Set | Twilight with Gold-Tone Handles
Featuring a deep, captivating finish, this frypan trio is more than good looks: the duoforged hard anodized construction makes it extra tough and scratch-resistant. The meal possibilities are endless—flavorful frittatas, seared salmon, and so much more.