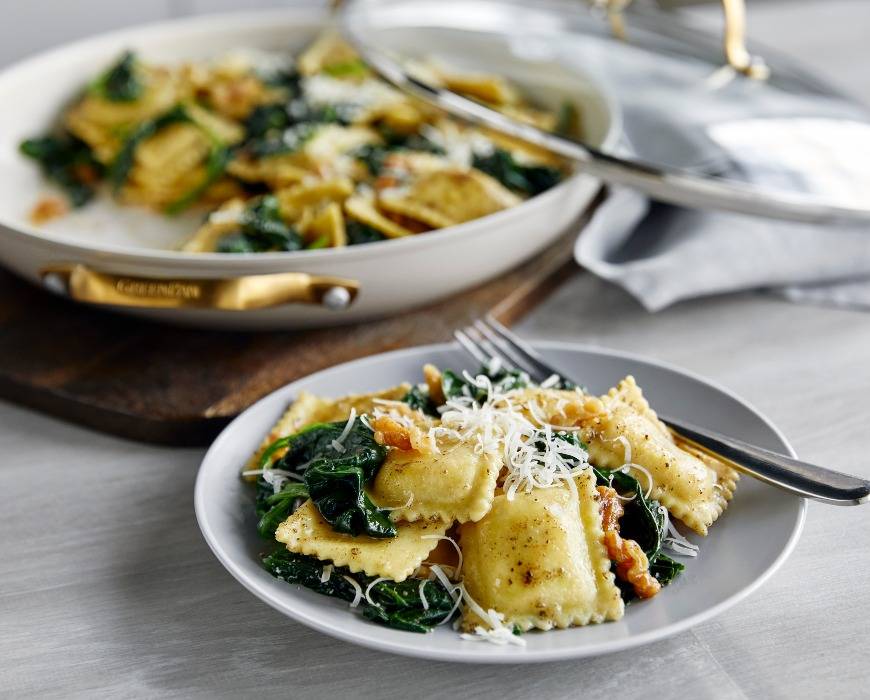 Autumn Ravioli with Sage Butter Sauce
Yields: 4 servings
Time: 10 minutes prep, 15 minutes cooking, 25 minutes total
INGREDIENTS:
20 ounces butternut squash or pumpkin ravioli
2 cloves garlic, minced
1/2 cup walnuts, chopped
1 stick butter
1 tablespoon fresh chopped sage
8 ounces fresh spinach
Salt to taste
2 tablespoons grated Parmesan
Freshly ground black pepper
PREPARATION INSTRUCTIONS:
Cook the ravioli—Bring a pot of well-salted water to boil over high heat. Cook ravioli according to package directions. Reserve about a cup of cooking water, then drain.
Meanwhile, start the sauce—Heat butter in a large skillet over medium-low heat. Once butter starts to sizzle and foam, stir in the garlic and walnuts. Continue cooking, stirring frequently, until butter browns and has a nutty aroma—about 5 minutes. Remove skillet from heat and stir in sage.
Finish the sauce—Add spinach, along with about 1/2 cup of pasta water to skillet. Place skillet over low heat and sauté spinach till wilted, about 2 minutes. Taste spinach and season with salt, as needed.
Add the ravioli—Stir ravioli into sauce until evenly coated. If sauce seems too thick, add a little extra pasta water to loosen.
Garnish and serve—Divide ravioli between individual plates and sprinkle with grated Parmesan and freshly ground black pepper.
TIPS:
Not a squash fan? Our sage brown butter sauce also works great with cheese, mushroom, or chicken ravioli. 
Grate idea—One of the easiest ways to up the flavor factor of any pasta dish is to grate your own Parmesan cheese. Bonus: Save the rinds to add extra depth to soups and sauces.
Featured Product
Reserve Ceramic Nonstick 12" Frypan with Helper Handle and Lid | Taupe
Featuring a lush, velvety exterior, this frypan and lid combo looks as good as it cooks. The duoforged hard anodized body makes it extra tough, which is great because you'll want to use it for everything.