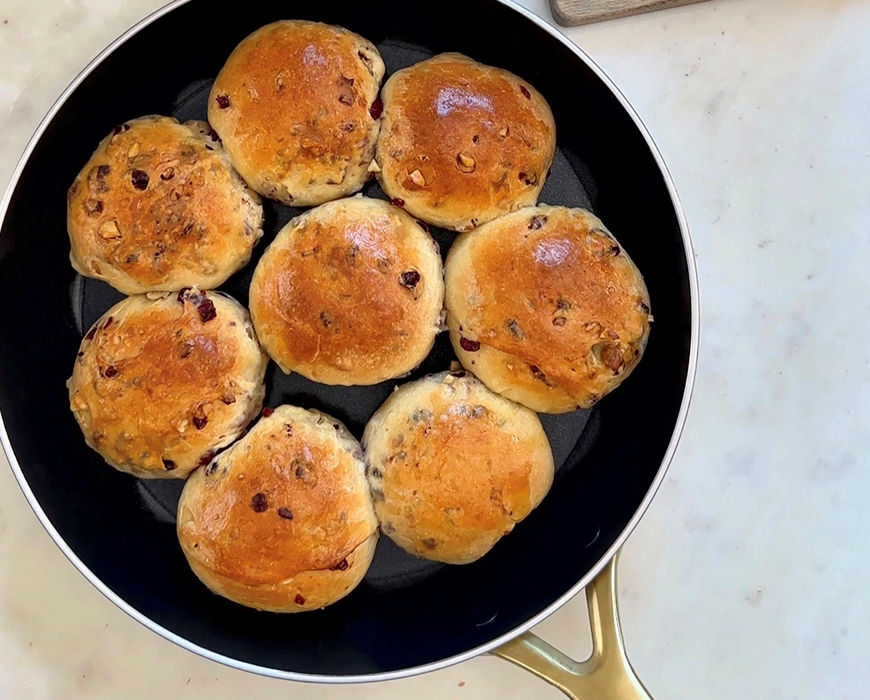 Yields: 8 servings
Time: 3 hours prep, 30 minutes cooking 
INGREDIENTS:
3 tablespoons warm water, 95-100 F 

 

1 ½ teaspoons active dry yeast

 

1 ½ tablespoons granulated sugar, divided 

 

1/2 cup whole milk, room temperature 

 

1 large egg, beaten 

 

2 ½ cups all purpose flour 

 

1 ½ teaspoons fine kosher salt 

 

1/4 cup unsalted butter, cubed, room temperature 

 

1/2 cup toasted walnuts, roughly chopped 

 

1/2 cup dried cranberries, roughly chopped 

 

1 egg plus 2 teaspoon water, beaten, for brushing rolls 

 

Softened butter, for serving

 

Flakey sea salt, for serving 

 
PREPARATION INSTRUCTIONS:
In a large mixing bowl stir to combine the water, yeast and a third of the sugar. Allow it to sit until the yeast has started to bubble and froth, about 10 minutes.  
Add the milk, egg and remaining sugar to the bowl and stir until well combined.

 
Add half the flour to the bowl and stir until it's roughly combined, followed by the remaining flour. At this point a shaggy, rough dough should just start to come together – if its looking very dry, add in a tablespoon or two of milk. Stir in the salt, then transfer everything to a clean countertop. Knead the dough by hand for 3 to 4 minutes until a rough ball forms. Add the butter, a few cubes at a time, and continue kneading until all the butter is incorporated. Continue kneading the dough until it's smooth, slightly tacky, and quite elastic, about 10 minutes in total. (If the dough is a bit too sticky while kneading, sprinkle a bit of extra flour on the countertop as needed.) 
Lightly coat a new mixing bowl with oil. Form the dough into a tight ball and transfer it to the bowl, turning it a few times to evenly coat it in the oil, ending with the smooth top of the dough facing up. Cover with plastic wrap or a clean towel and set it aside in a warm place to rise until doubled in size, about 90 minutes to 2 hours.  
Once the dough has doubled in size, transfer it back to a clean countertop and flatten it into a rectangle ½" thick.  Sprinkle the chopped walnuts and cranberries evenly over the top, then roll the dough into a long tube and pinch the seam closed with your fingers. Flatten it again, repeat the roll and sealing, and flatten it once more. The goal is to work the dough enough to evenly distribute all the filling.  
Portion the dough into 8 even pieces. To form each piece into a ball, work your way around the edges folding the outsides to the center, then pinch to seal. Flip the rough ball over so the pinched seam is on the countertop, and using cupped hands gently press down and roll the dough against the countertop to form a tight ball with a smooth top.  (It's ok if some walnuts and cranberries peak out in places.). Repeat the process until all 8 rolls are formed.  
Transfer the rolls to a baking sheet or 10" GreenPan frypan, leaving a half inch of space between each roll. Loosely cover and again set aside in a warm place to rise, about 45 minutes to an hour, or until they look puffed and rounded and hold a slight dimple when lightly pressed. Preheat the oven to 350 F.  
Uncover the rolls and lightly brush the tops and sides with the egg wash. Transfer to the oven and back until deeply golden brown and baked through, about 25 to 30 minutes. Transfer to a wire rack to cool slightly. Serve with softened butter and flakey sea salt.  
TIPS:
You can make great pull apart rolls with this recipe too! Instead of leaving a small space between the rolls before the second rise, instead place them on the sheet or in the pan so they are just touching edges. After their rise and the bake, they'll be pressed together with soft edges when separated!  
This recipe is also great made in a stand mixer with a dough hook. It will take a bit less kneading time though, so keep an eye on it, still looking for that smooth, glossy and stretchy dough before putting in the bowl for the first rise!    
Featured Product
GP5 Stainless Steel 10" Frypan | Champagne Handle
Experience the groundbreaking performance and eye-catching style of GP5 with this frypan. It's the perfect size for just about everything, and our cutting-edge Infinite8 ceramic nonstick ensures it always delivers.