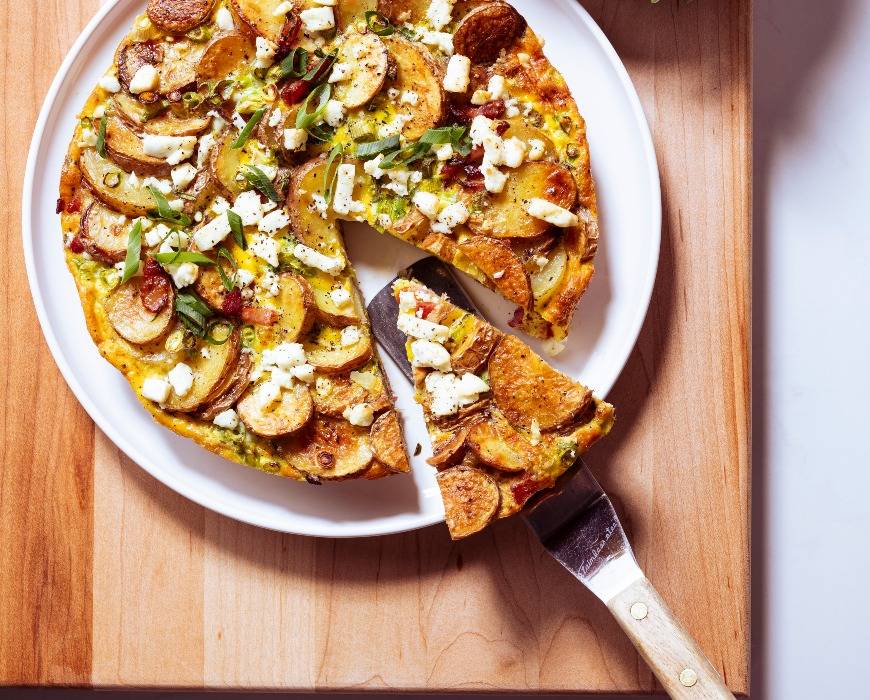 Bacon and Potato Frittata
Yields: 3 to 4 servings
Time: 15 minutes prep, 1 hour cooking, 1 hour 15 minutes total
INGREDIENTS:
1 3/4 pounds red potatoes, scrubbed and sliced thin
2 tablespoons olive oil
Salt and freshly ground black pepper to taste
4 slices bacon, cut into 1/2-inch pieces
4 green onions, sliced into 1/4-inch pieces
3 1/2 ounces crumbled feta
5 large eggs
2 tablespoons milk
1/2 teaspoon salt
PREPARATION INSTRUCTIONS:
Prepare to bake—Preheat oven to 400°F.
Roast the potatoes—Place potato slices on a nonstick cookie sheet and drizzle with olive oil. Sprinkle generously with salt and freshly ground black pepper and toss to coat evenly. Spread potatoes out in pan and cook for 15 minutes. Flip potatoes and cook until fork tender, another 15 to 20 minutes. Remove from oven and set aside. (Leave the oven on.)
Meanwhile, fry the bacon—In a large, oven-proof skillet over medium-high heat, fry bacon until slightly crisp. Drain bacon on paper towels, and reserve about 3 tablespoons of bacon grease in skillet.
Assemble the frittata—Add potato slices to skillet and stir to coat with bacon grease. Sprinkle potatoes with bacon pieces, green onions, and feta. In a medium bowl, whisk together the eggs, milk, and salt and pour the egg mixture over the potatoes.
Bake the frittata—Cover skillet with aluminum foil and bake in the preheated oven for 15 minutes. Remove foil and continue baking for another 15 minutes or until eggs are set.
TIPS:
Whip it Good! Try using a blender (immersion or regular) to mix eggs until extra foamy—the extra air delivers a fluffier, creamier frittata.
Potato, Potahto—Feel free to sub in your favorite tubers, from Yukon Golds or fingerlings to russet. Just be sure to slice them thin (think potato chips) so they crisp up evenly.