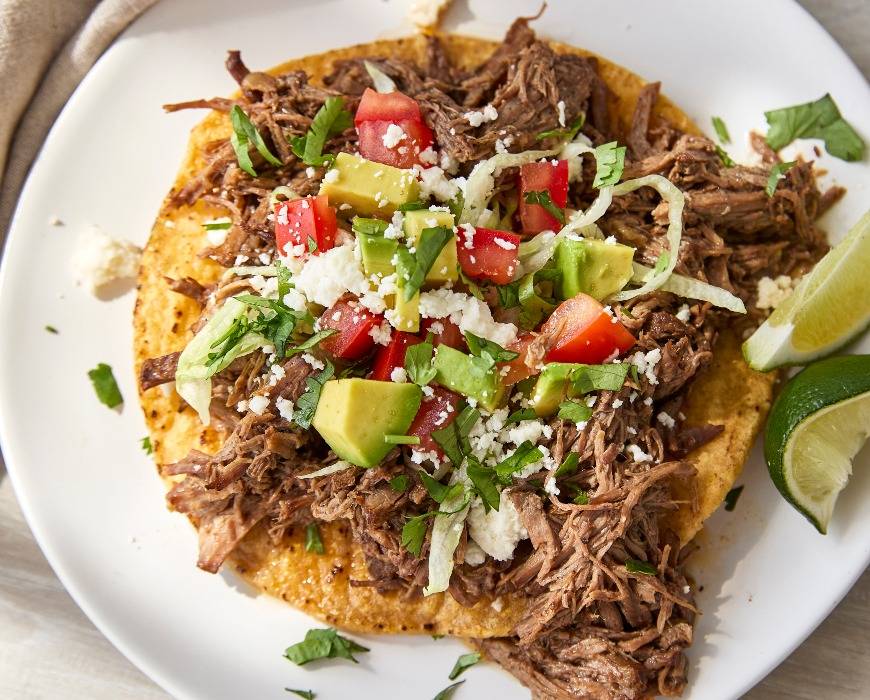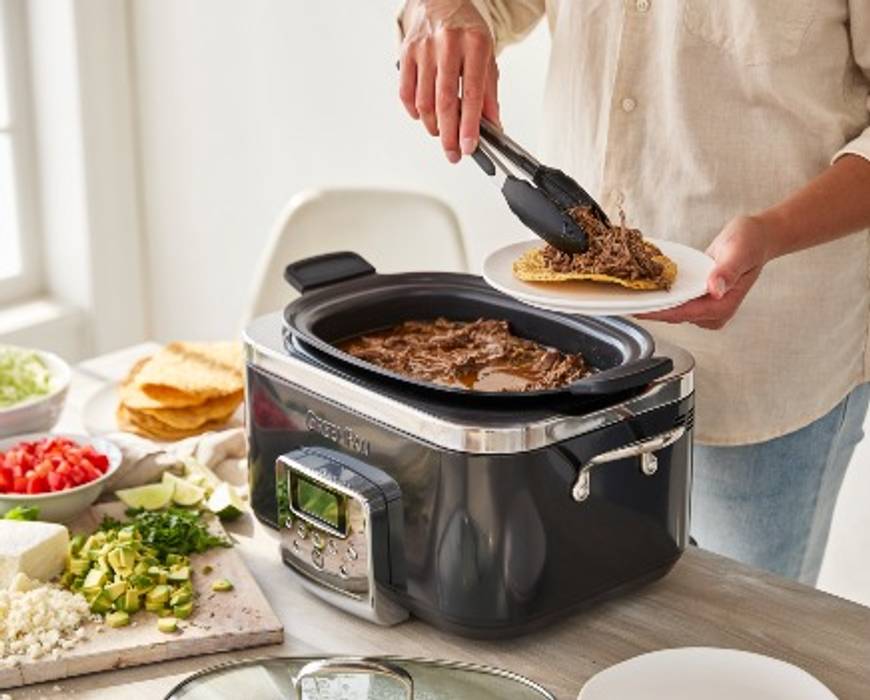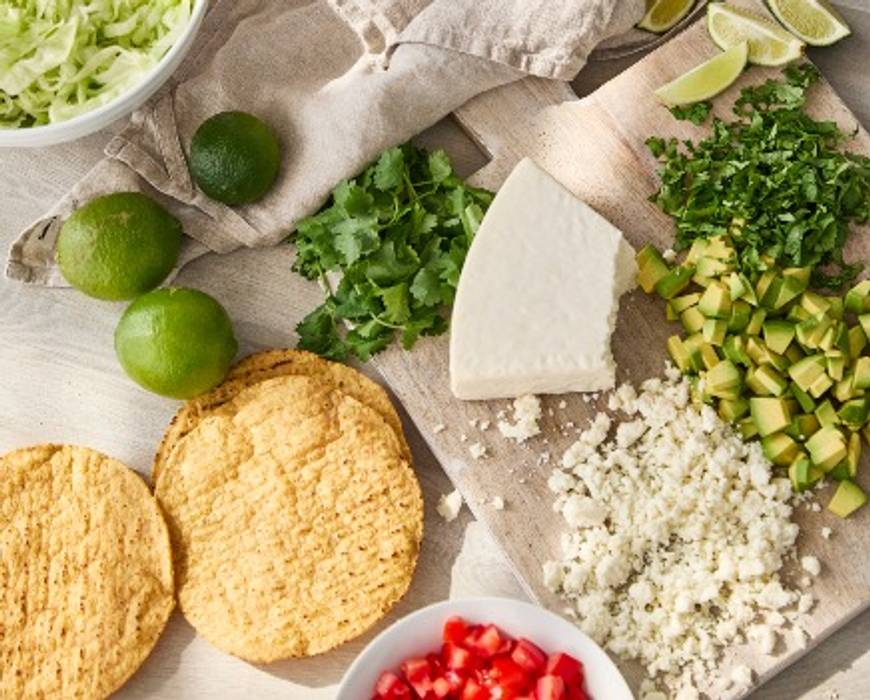 Yields: 8 to 10 servings
Time: 30 minutes prep, 4 hours 30 cooking
INGREDIENTS:
For the spice rub: 
2 teaspoons ground ancho chili
2 teaspoons smoked paprika
2 teaspoons dried oregano
1 teaspoon ground cayenne
1 teaspoon garlic powder
1 teaspoon cumin
1 1/2 teaspoons kosher salt
1 teaspoon freshly ground black pepper
For the beef: 
2 1/2 pounds chuck roast, cut in four large pieces 
2 tablespoons avocado oil
2 tablespoons tomato paste
1 tablespoon red wine vinegar
2 1/2 cups low sodium beef stock
1 medium white onion, peeled, cut in 1/4" dice 
4 cloves garlic, peeled and lightly crushed 
1 jalapeño, deseeded, minced 
1 cinnamon stick, broken in two pieces
1/4 cup fresh cilantro, leaves and stems, finely chopped
For the tostadas:
1 (13-ounce) package store bought tostadas (about 20) 
2 cups shredded lettuce
1 large tomato, deseeded, finely chopped
1 avocado, peel and pit removed, cut in 1/4" dice 
1 cup cotija cheese, crumbled 
1 cup Mexican crema (or sour cream)
PREPARATION INSTRUCTIONS:
In a large mixing bowl add all the spice rub ingredients and stir or toss until evenly combined. Add the beef to the bowl and use your hands to rub the spices evenly over each piece until all the sides are well coated.  


Select the Brown/sauté mode on the Slow Cooker, set the temperature to 350°F and the timer to 30 minutes. Pour the oil into the slow cooker and allow it to come to temperature. Add the beef to the slow cooker and sear for 4 to 5 minutes per side until every piece is deeply browned all over. Remove the beef from the slow cooker and transfer it back to the spice rub bowl and reserve.  


Add the tomato paste to the slow cooker and cook 2 to 3 minutes, stirring regularly, until very aromatic and darkened in color. Stir in the vinegar, beef stock, onion, garlic and jalapeño until well combined. Add the beef back to the slow cooker, along with any accumulated liquid and drop in the cinnamon.  


Select the High Temperature Slow Cook Mode on the Slow cooker and set the timer for 4 hours. Cover and cook for 4 hours, or until the beef is tender enough to easily shred into small pieces.  Uncover and discard the garlic and cinnamon. Shred the beef into bite sized pieces and stir it into the sauce along with the cilantro until everything is well combined. Taste and adjust as desired with salt, pepper, and vinegar. Serve the beef warm on top of a crispy tostada, drizzled with a bit of sauce, along with any desired toppings.  
TIPS:
For a bit of extra spice and smokiness, we love adding 1 to 2 chipotle peppers in adobo to the sauce. Simply chop them up finely and add them to the sauce right before adding the beef! 
You can make fresh tostadas at home by using fresh corn tortillas. Pour a thin layer of high heat neutral oil in the bottom of your favorite GreenPan skillet over medium heat. Cook the tortillas 1-2 minutes per side until nicely crisped, and transfer to a paper towel lined tray or wire rack to drain!  
Featured Product
Elite 6-Quart Slow Cooker | Black
With our advanced slow cooker, you can sear meat and veggies in the pot, then go low and slow to finish the job. Take your time while cooking, then clean up quickly with Thermolon™ Volt, a healthy, PFAS-free ceramic nonstick...