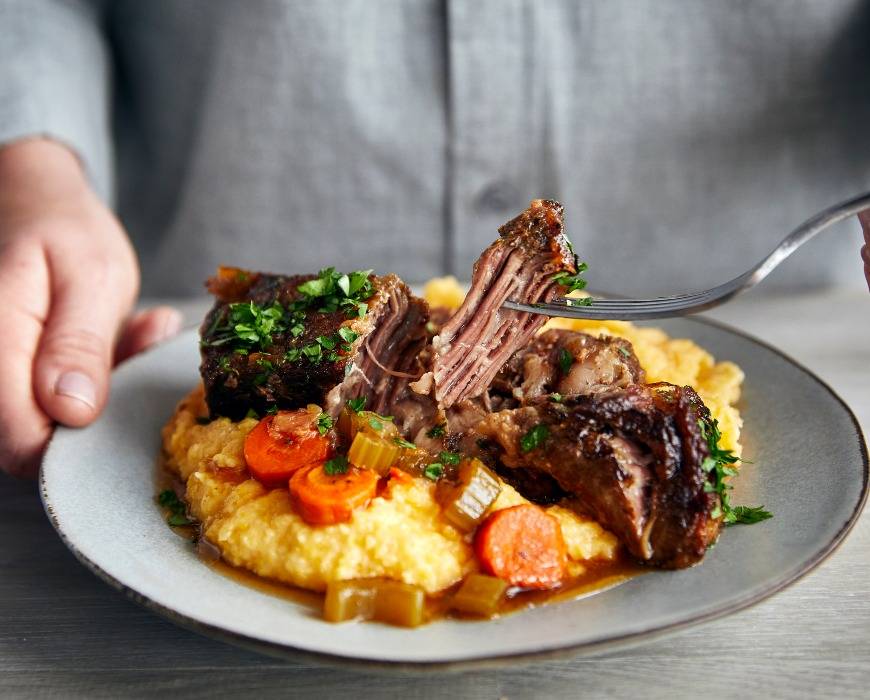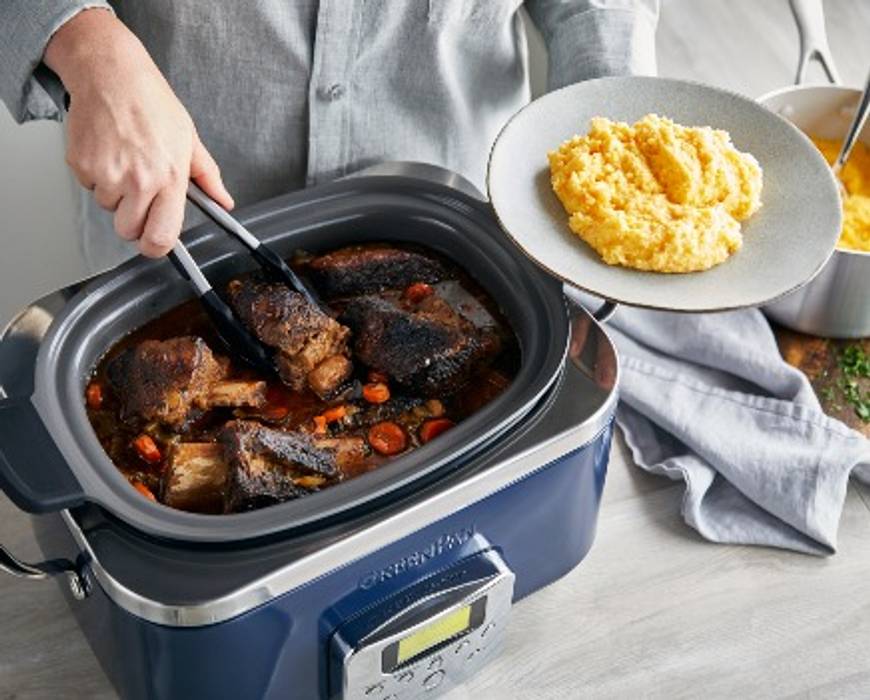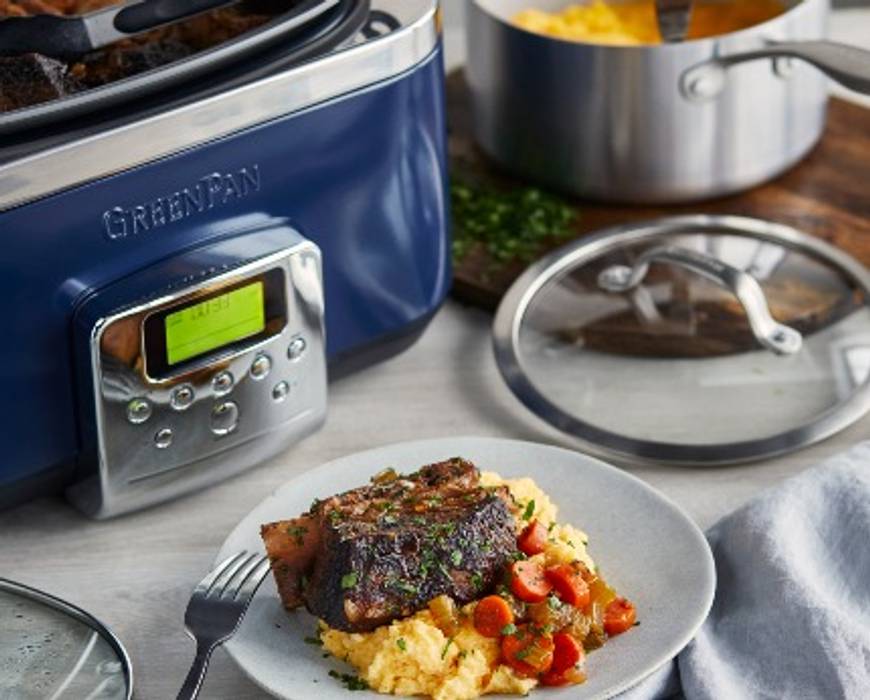 Bourbon Short Ribs with Grits
Yields: 6 servings
Time: 30 minutes prep, 8 hours cooking
INGREDIENTS:
For the short ribs:
1/2 cup all-purpose flour
1 1/2 teaspoons kosher salt
1/2 teaspoon freshly ground black pepper
4 pounds bone-in beef short ribs (6 large or 12 small) 
2 tablespoons avocado oil 
1 small yellow onion, peeled, cut in 1/2" dice 
2 stalks celery, cut in 1/2" dice 
2 large carrots, peeled, cut in 1/4" rounds 
2 cloves garlic, peeled and lightly smashed 
2 tablespoons red wine vinegar
2 cups low sodium beef stock
1/4 cup bourbon
3 tablespoons honey
2 tablespoons Worcestershire sauce
1 tablespoon tomato paste 
3 sprigs fresh thyme 
2 bay leaves, fresh preferred 
1/4 cup fresh parsley, destemmed and finely chopped, for serving 
Coarse ground yellow corn grits, prepared to package instructions, for serving 
PREPARATION INSTRUCTIONS:
Select the Brown/Sauté mode on the Slow Cooker, set the temperature to 350°F and the timer to 30 minutes.  In a large mixing bowl combine the flour, salt and pepper.  Add in the short ribs and toss until well coated on all sides.  Pour the oil into the slow cooker and allow it to come to temperature.  Working in batches to ensure not to overcrowd the slow cooker, sear the short ribs until they are deeply browned on all sides, then transfer to a large plate or platter and set aside.  


Add the onion, celery, carrot and garlic to the slow cooker and cook, stirring regularly, until the vegetables have softened slightly and lightly browned, about 6 to 8 minutes.  Pour in the vinegar and stir to combine, cooking for 1 minute more.  Stir in the beef stock, bourbon, honey, Worcestershire sauce, tomato paste, thyme and bay leaves.  Taste and adjust as desired.  Return the short ribs and any accumulated liquids back to the slow cooker.  If needed, add a bit more broth (or water) to make sure the cooking liquid is coming almost to the top of the short ribs.
  
Select the Low Temperature Slow Cook Mode on the Slow Cooker and set the timer for 8 hours.  Cover and cook the short ribs until very tender, the bone will be slightly loose when you lightly pull on it.  Remove the short ribs to a platter and cover with foil to keep warm. 
Select the Brown/Sauté mode on the Slow Cooker, set the temperature to 350°F and the timer to 30 minutes.  Cook the braising liquid, uncovered, for 20 to 30 minutes until it has reduced and thickened slightly.  Taste and adjust as desired with vinegar, honey, salt and pepper.  Place the short ribs back in the slow cooker and coat them with the sauce. 


To serve, place some of the prepared grits on the bottom of a shallow bowl or dinner plate.  Top with one large, or two small, short ribs.  Spoon a generous amount of the sauce over the top (strained if you'd like), and garnish with a bit of the fresh parsley.  
TIPS:
To add another layer of flavor to this recipe, make your grits cheesy!  Simply add in 1/2 cup or more of shredded cheddar, parmesan or gruyere and stir until melted.  Then add in a bit more water or stock to adjust the consistency until you have the perfect, creamy, cheesy grits! 
These short ribs would be equally delicious served over fluffy mashed potatoes or shredded and served in a sandwich! 
Featured Product
Elite 6-Quart Slow Cooker | Oxford Blue
With our advanced slow cooker, you can sear meat and veggies in the pot, then go low and slow to finish the job. Take your time while cooking, then clean up quickly with Thermolon™ Volt, a healthy, PFAS-free ceramic nonstick...