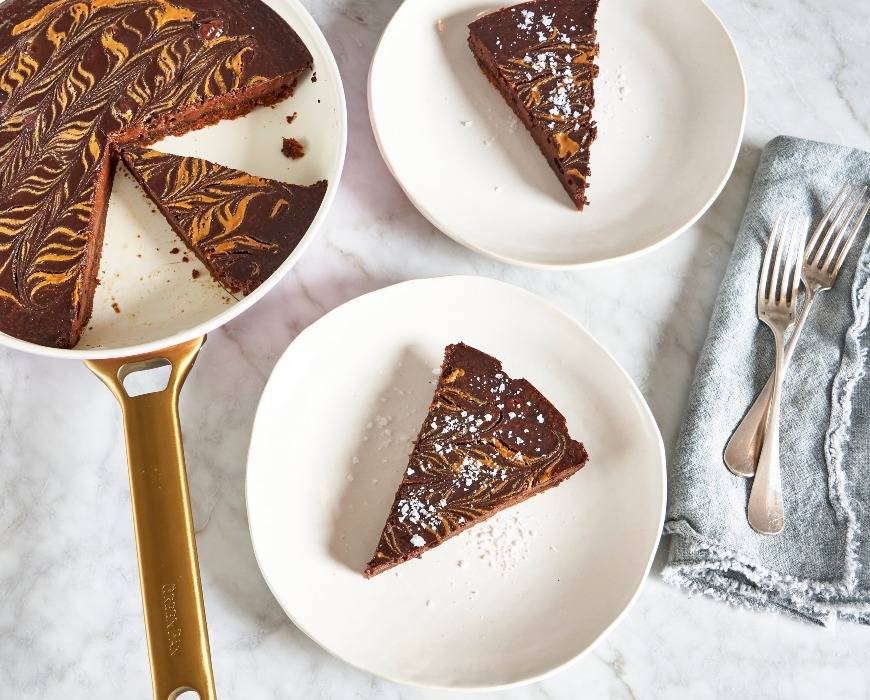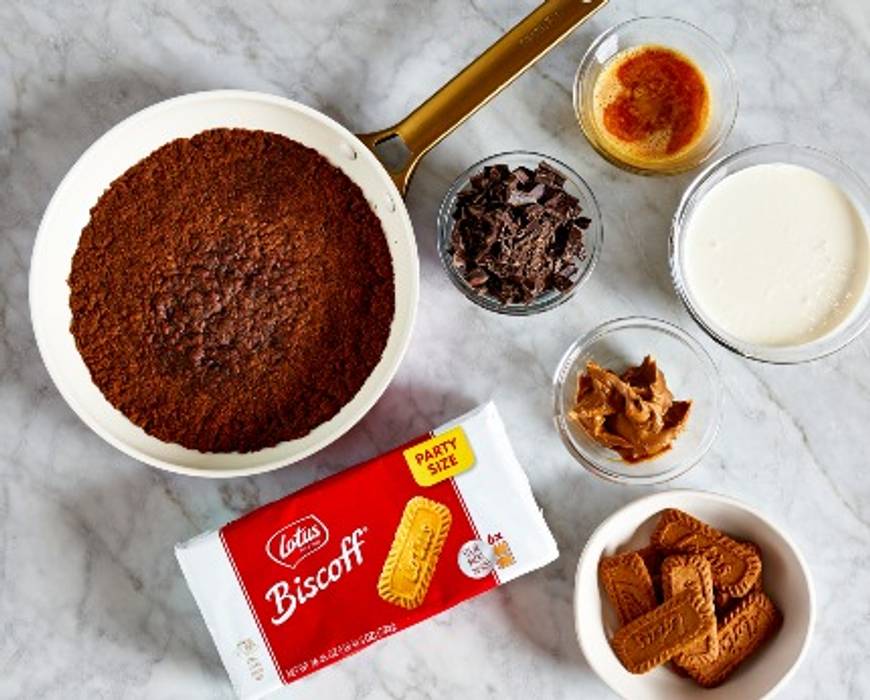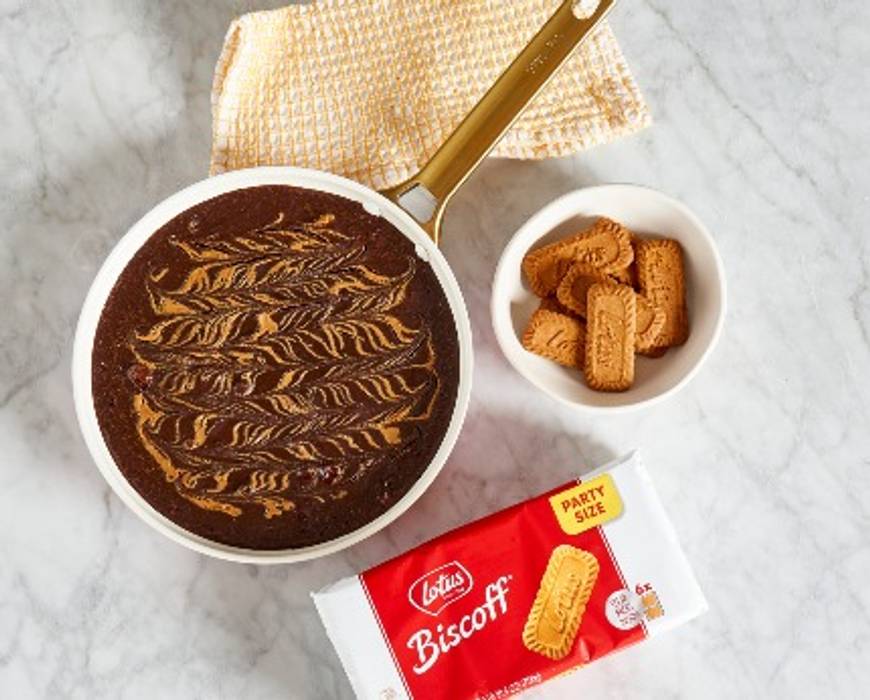 Bittersweet Chocolate Tart with Biscoff Crust and Cookie Butter Swirl
Yields: 8 to 10 servings
Time: 20 minutes prep, 20 minutes cooking, 2 hours cooling, 2 hours 40 minutes total
INGREDIENTS:
For the crust
1 8.8-ounce package of Lotus Biscoff Cookies (about 32)
6 tablespoons salted butter, melted
For the filling
1 cup cream
2 tablespoons granulated sugar
Pinch of salt
7 ounces bittersweet or semi-sweet chocolate, chopped
1 teaspoon vanilla bean paste or extract
1 large egg, lightly beaten
1/3 cup Biscoff Cookie Butter
Flaky sea salt, for serving
PREPARATION INSTRUCTIONS:
Prepare to bake—Preheat oven to 350°F.
Make the crust—Crush cookies in a blender or food processor to create fine crumbs. Transfer crumbs to a medium bowl, add butter, and mix until crust is the consistency of wet sand. You may need to add a little extra melted butter if mixture seems too dry to hold together.
Bake the crust—Press the crust mixture into a 10-inch ovenproof skillet. Start by pressing crumbs up about 1 inch or so up the side of skillet, then tightly pack the crust into the bottom. Bake in preheated oven on center rack for 10 minutes.
Meanwhile, make the filling—Add cream, sugar, and salt to a small saucepan and bring to a simmer over medium heat. (Watch carefully to ensure it doesn't boil.) Remove from heat, add vanilla and chocolate and stir with a whisk until chocolate is melted and silky smooth.
Assemble the tart—Remove skillet from oven and set on cooling rack. Reduce oven temperature to 300°F. Whisk egg into the chocolate mixture until completely incorporated. Pour chocolate filling into tart crust. Microwave the cookie butter in a heat-proof measuring cup in 20-second intervals until melted. Drizzle cookie butter on top of chocolate filling, then use a toothpick to swirl the chocolate and cookie butter together.
Bake the tart—Place skillet on center rack of preheated oven and bake until filling is set at edges, but still a bit jiggly in the middle—about 10 to 15 minutes. Place skillet on cooling rack and allow tart to cool completely to ensure that it's set in the middle. Sprinkle tart with flaky sea salt right before serving. Enjoy!
TIPS:
How the Cookie Crumbles—No blender or food processor? Simply place cookies in a zip-top plastic bag and crush with a rolling pin.
Better with Biscoff: We love spicing up everything from pie crusts to strudel by using Biscoff cookies in place of graham crackers.