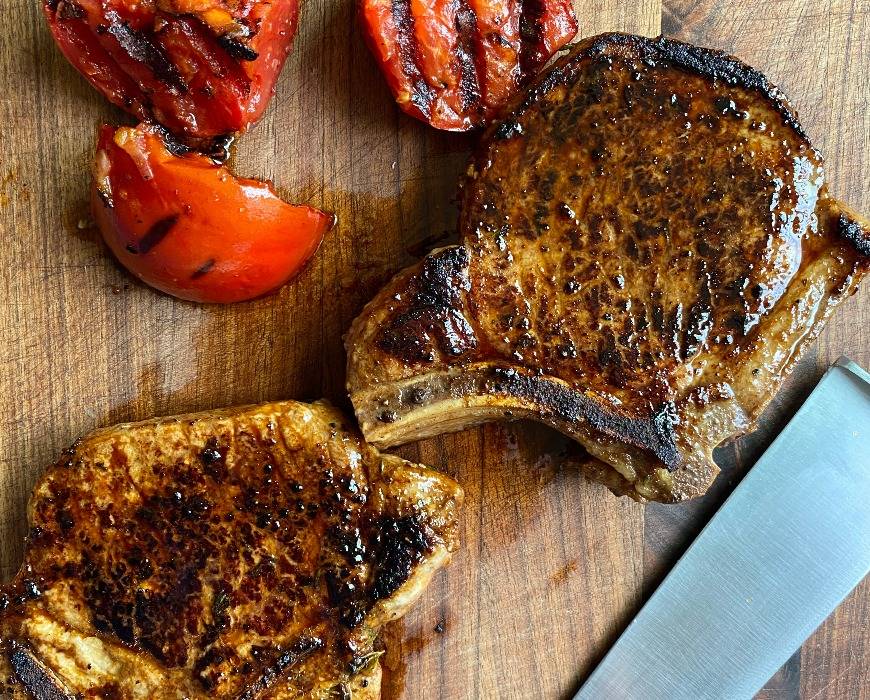 Black Pepper and Molasses Marinated Pork Chops with Grilled Tomatoes
Yields: 2 servings
Time: 20 minutes prep, 1hr to 24 hrs marinading time, 15 minutes cooking
INGREDIENTS:
3 tablespoons extra virgin olive oil 
2 tablespoons molasses (not blackstrap) 
1 tablespoon apple cider vinegar 
1 teaspoon Dijon mustard 
1 teaspoon kosher salt 
1 teaspoon coarsely ground fresh black pepper (less if desired) 
2 bone-in pork chops, 1 inch thick (about 1 pound total) 
2 medium heirloom or large plum tomatoes, well ripened and cut into 2" wedges 
2 teaspoons extra virgin olive oil 
1 small shallot, peeled and minced 
1 clove garlic, peeled and finely grated or pressed 
1 sprig fresh thyme, destemmed and finely chopped 
Pinch of kosher salt 
 Cooked yellow corn grits, for serving
2 tablespoons finely chopped fresh parsley, stems removed
PREPARATION INSTRUCTIONS:
To marinate the pork, whisk together the olive oil, molasses, vinegar, mustard, salt and pepper in a medium mixing bowl until equally combined.  Transfer the marinade to a zip top bag and place the pork chops inside.  Seal the bag and move the pork chops around to get them evenly coated in the marinade.  Place the bag in the refrigerator for at least one hour or up to 24.  
When ready to cook the pork remove the bag from refrigerator and allow the chops to sit at room temperature for 20 minutes – this will ensure they cook more evenly throughout.  
In a medium mixing bowl, gently toss the tomatoes with the olive oil, shallot, garlic thyme and salt.  Remove the chops from the marinade and place them on a small plate.  Use a paper towel to wipe any excess marinade from the chops – a little bit on them is ok, but if there is too much the molasses will burn while cooking. 
Preheat the Premiere XL Smoke-less Grill & Griddle on the PORK setting on one side with a griddle plate, and 425 F on the other side with a grill plate.
Place the pork chops on the griddle plate and cook 3 to 4 minutes until deeply golden brown.  Flip and cook on the other side another 3 to 4 minutes, or until they reach an internal temperature of 145 F.  Once cooked, transfer them to a cutting board and cover with foil to rest for 5 to 10 minutes before serving.  
At the same time the pork chops are cooking place the tomatoes on the grill plate, taking care to spread them out as evenly as possible and not over crowd the grill.  Grill the tomatoes for 8 to 10 minutes until well charred and softened, turning with kitchen tongs every few minutes so they get grill marks on multiple sides.  Remove them from the grill and transfer to a clean bowl.  
To serve, spoon a good portion of grits on the bottom of a plate or in shallow bowl.  Top with half of the tomatoes along with any of their released juices.   Remove the bone from the pork chops and cut the meat into 1/4" slices, placing them on top of the tomatoes.  Garnish with parsley and serve warm immediately.  
TIPS:
If pork isn't your preference, this marinade pairs wonderfully with chicken or thinner cuts of steak!  Just choose cuts that will cook quickly to ensure you keep the wonderful flavor of the molasses intact.  
Try to find tomatoes that are as ripe as possible but still are firm to the touch.  This will make sure they release a lot of juices after grilling but will still be solid enough to handle and move on the grill while cooking.