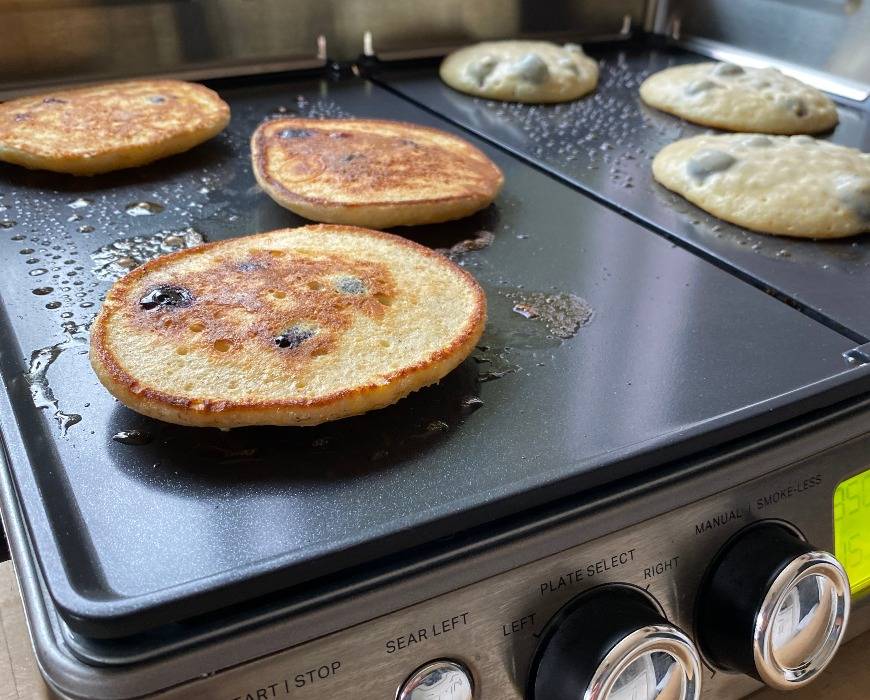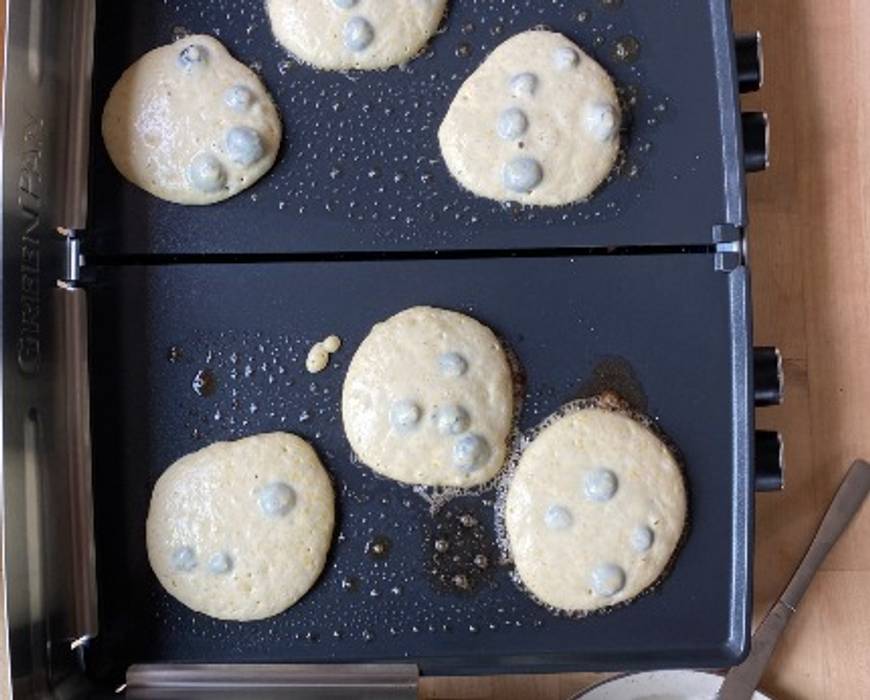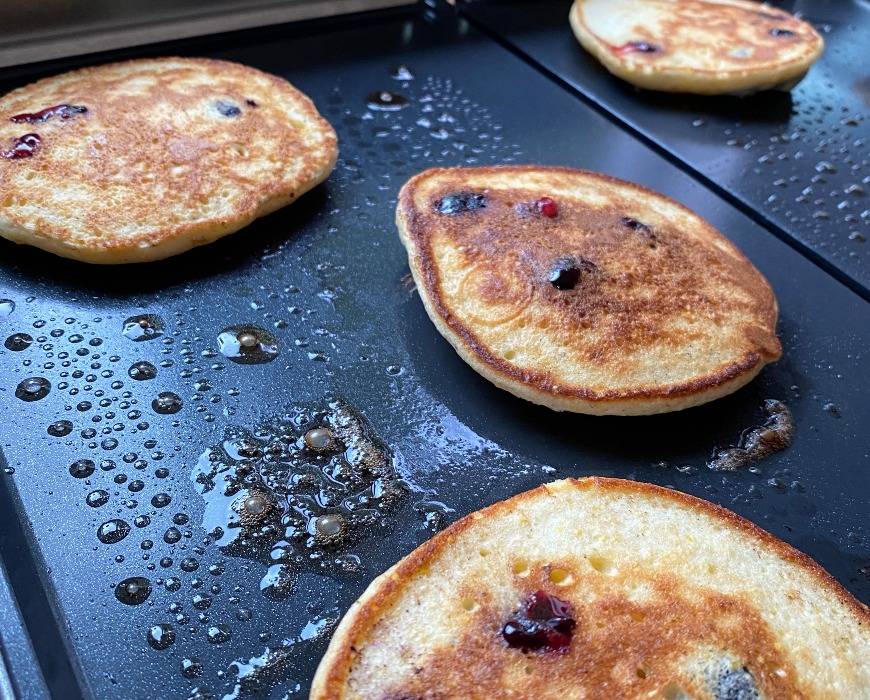 Cornmeal and Ricotta Blueberry Pancakes
Yields: 12 to 16 pancakes
Time: 20 minutes prep, 15 minutes cooking 
INGREDIENTS:
1 1/4 cups all-purpose flour
1/2 cup medium ground cornmeal
1 teaspoon baking powder
1 teaspoon kosher salt
2 tablespoons granulated sugar
1 1/4 cups whole milk, plus more if needed to thin batter 
3 large eggs, room temperature, separated 
1/2 cup whole milk ricotta cheese, drained of excess liquid
1 teaspoon vanilla extract
1 1/2 cups fresh blueberries (or frozen, thawed and liquid drained)
Butter, for cooking 
Pure maple syrup, warmed, for serving
PREPARATION INSTRUCTIONS:
In a large mixing bowl whisk the flour, cornmeal, baking powder, salt and sugar until evenly combined. 
In a separate medium bowl whisk together the milk, egg yolks, ricotta and vanilla extract, ensuring that the yolks are completely broken down and the mixture is as smooth as possible. Add the wet mixture into the dry ingredients and stir until just combined.  If the mixture seems especially thick, add 1 tablespoon of milk at a time to loosen it slightly - allowing the folding in of the whipped egg whites.   
In a clean, large stainless-steel bowl beat the egg whites with a balloon whisk until stiff peaks form (they should be slightly shiny and hold their shape well when you remove the whisk from the bowl). Using a silicone spatula gently fold the egg whites into the batter, taking care to be as delicate as possible so you don't lose any air bubbles. Gently fold in the blueberries.  
Preheat the Premiere XL Smoke-less Grill & Griddle to 350 F on both sides, with two griddle plates.  Melt 1 tablespoon of butter on each griddle plate.  Depending on the size of the pancakes you'd like, scoop 1/4 to 1/3-cup mounds of batter onto the plates (ensuring you get some blueberries in each one), allowing about an inch of space in between.  Cook the pancakes until the edges just set and small bubbles appear on the surface, about 3 minutes. Flip and cook until the pancakes are golden brown on the bottom and cooked through, about 2 to 3 minutes more.   Repeat with more butter and batter until all the pancakes are cooked.  Serve with warmed maple syrup.  
TIPS:
Egg whites will whip best when at room temperature and with no fats lingering anywhere.  So take care not to have any yolks in the whites, ensure your whisk and bowl are very clean, and allow the eggs to come up to room temperature for the best results! 
If you aren't a fan of blueberries, this recipe is great without them!  Or try it with chocolate chips, strawberries, raspberries or even… small diced apples you've cooked ahead of time with a little cinnamon and sugar?  Yes please!