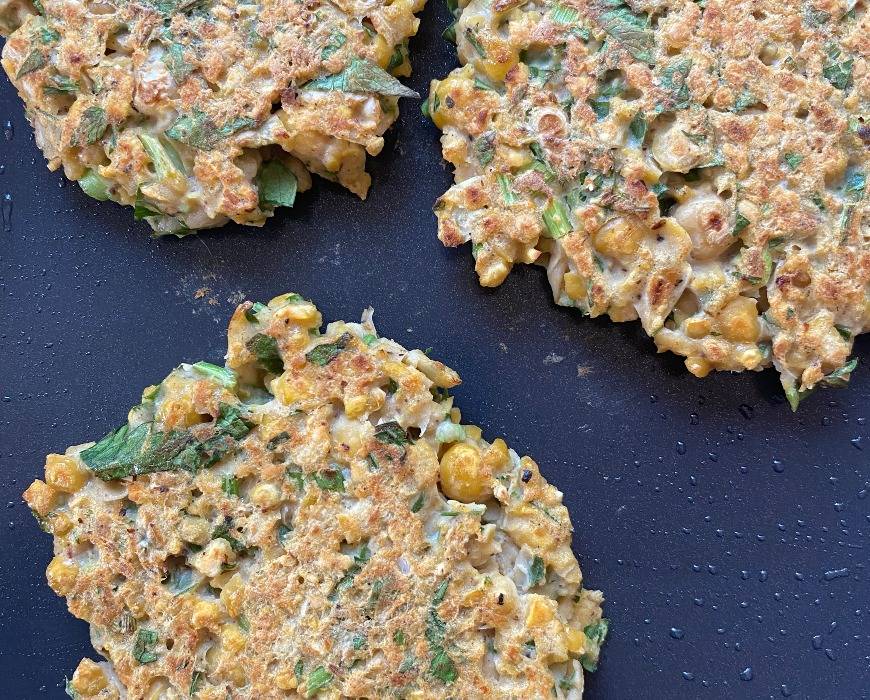 Harissa Smashed Chickpea Breakfast Sandwich
Yields: 4 servings
Time: 10 minutes prep, 15 minutes cooking 
INGREDIENTS:
 For the chickpeas: 
1 (15-ounce) can low sodium chickpeas, drained and rinsed
1/4 cup fresh cilantro, finely chopped
2 tablespoons fresh mint, finely chopped 
2 scallions, green parts only, thinly sliced 
1 1/2 tablespoons cornstarch
1 tablespoon harissa
1/2 teaspoon ground cumin
1/2 teaspoon sumac
2 teaspoons lemon zest 
1 teaspoon lemon juice 
1 teaspoon kosher salt
1/2 teaspoon fresh cracked black pepper
1 egg
2 tablespoons extra virgin olive oil, divided 
For the breakfast sandwich:
2 tablespoons extra virgin olive oil 
4 English muffins 
4 large eggs 
1 tomato, sliced in 1/4" rounds 
1 cup baby arugula 
PREPARATION INSTRUCTIONS:
Preheat the Premiere XL Smoke-less Grill & Griddle to 350 F on both sides, with two griddle plates.   
In a large mixing bowl smash the chickpeas with a potato masher or a fork until mostly smooth but with small, lentil sized pieces of chickpeas remaining.  (If preferred, pulse the chickpeas in a food processor, taking care not to overprocess into a paste.)  Stir in all the remaining ingredients, reserving 1 tablespoon of the olive oil, until everything is well combined.  Depending on your chickpeas, you may need to add a little bit of water to make the mixture just scoopable.   
Pour the remaining 1 tablespoon of olive oil on one side of the griddle.  Scoop four even portions of the chickpeas onto the griddle, lightly pressing them down to make patties about the size of the English muffins.  Cook for 3 to 4 minutes on the first side, until nicely crisp and brown.  Flip, cooking for another 3 to 4 minutes on the second side.  Remove the chickpea patties to a plate.  
To make the sandwiches, add the olive oil evenly to both sides of the griddle.  On the half of the griddle the chickpea patties were cooked on place the English muffins cut side down and toast until golden brown, 3 to 4 minutes or until desired doneness.  On the other half of the griddle crack four eggs and season each with a pinch of salt and pepper.  Cook the eggs for 2 to 3 minutes until the whites are set, flip, and finish cooking until desired doneness.  
Place four halves of the English muffins on a plate, with the cut and toasted side up.  Place one slice of tomato on each, followed by a chickpea patty, egg and arugula – drizzling with a bit more olive oil if desired.  Top each with the remaining halves of the English muffins and serve warm.    
TIPS:
The chickpea patties are great made ahead and frozen!  Simply microwave on high for 1 to 2 minutes in the morning while preparing the English muffin and egg for a quick and easy breakfast.
Depending on how much spice you like, the harissa can be doubled or omitted entirely.