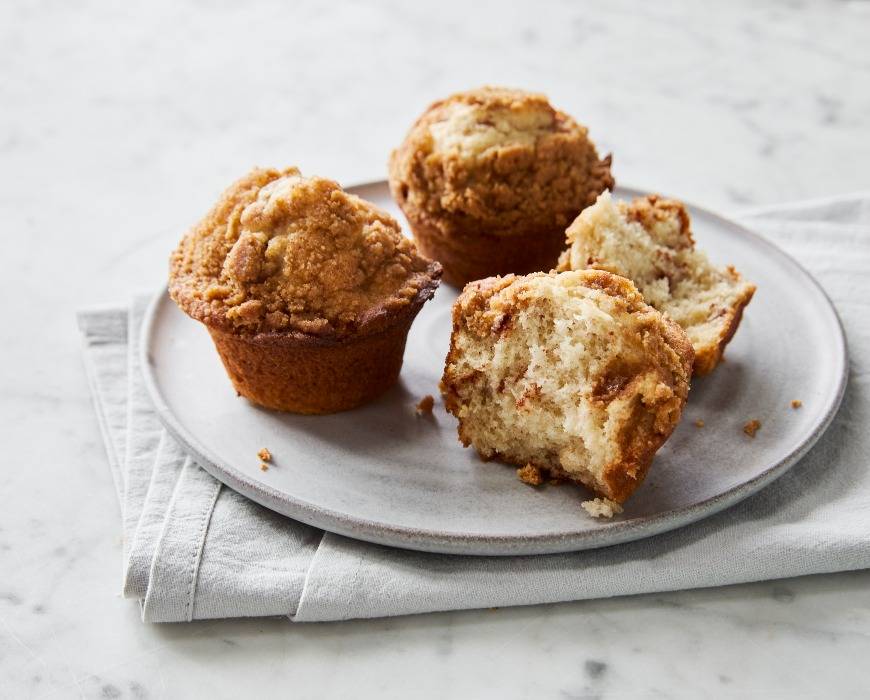 Cinnamon Streusel Muffins
Yields: 12 muffins
Time: 20 minutes prep, 20 minutes baking, 40 minutes total
INGREDIENTS:
For the streusel topping 
1/2 cup granulated sugar

 

1/3 cup all-purpose flour

 

1/4 cup butter, melted

 

1 teaspoon ground cinnamon

 

Pinch of salt 

 
For the muffins 
2 cups all-purpose flour

 

2 teaspoons ground cinnamon 

 

1 teaspoon baking powder

 

1 teaspoon baking soda

 

1/2 teaspoon kosher salt

 

1 stick unsalted butter, softened

 

1 cup granulated sugar

 

2 large eggs

 

1/2 cup milk

 

2 teaspoons vanilla bean paste or extract

 
PREPARATION INSTRUCTIONS:
Prepare to bake—Preheat oven to 375° F.
Make the streusel topping—In a small bowl, stir together sugar, flour, melted butter, cinnamon, and salt until well blended and crumbly. Place in refrigerator. 
Start the muffin batter—Whisk together flour, cinnamon, baking powder, baking soda, and salt in a medium mixing bowl. Set aside. Using a handheld or stand mixer, cream butter and sugar in a large bowl until light and fluffy. Beat in eggs, one at a time, until fully incorporated.
Finish mixing the muffins—Use a spatula or wooden spoon to stir in milk and vanilla. Add dry ingredients and stir until just combined. Batter will be lumpy, but resist the urge to overmix.
Bake the muffins —Scoop batter into a nonstick muffin pan, dividing evenly between muffin cups. Sprinkle generously with streusel topping and press into batter to make sure it sticks. Bake in preheated oven for 20 to 22 minutes or until a toothpick inserted in center comes out clean. Allow muffins to cool for 5 minutes in pan, then transfer to a cooling rack or serve warm.
TIPS:
The Inside Scoop—Looking for a mess-free way to fill muffin cups? Your ice-cream scoop does double duty as a mini ladle. 
Spice it Up! Add depth of flavor with a mix of spices like cinnamon, ginger, nutmeg, clove, and allspice—simply swap cinnamon for your favorite pumpkin pie spice blend. 
Featured Product
GreenLife Ceramic Nonstick Muffin Pan | Pink
Made of heavy-duty steel for quick and even heating, this muffin pan is built to last through countless baking sessions. This healthy ceramic muffin pan offers effortless release for everything from sticky buns to pineapple upside-down cupcakes.