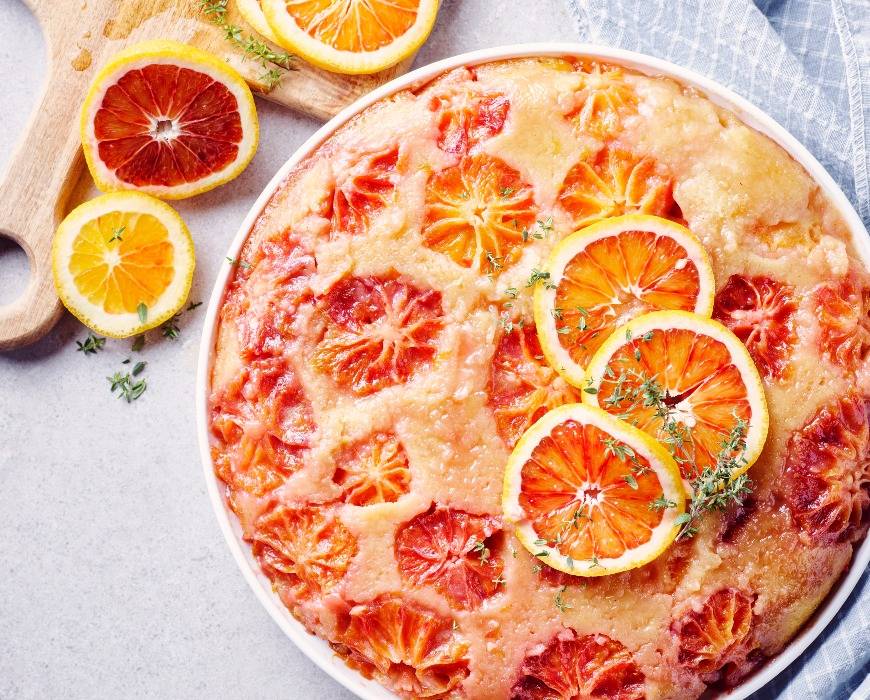 Blood Orange Upside Down Cake
Yields: 6 servings
Time: 15 minutes prep, 45 minutes cooking, 1 hour total

INGREDIENTS:
For the topping
3 tablespoons butter
1/2 cup brown sugar
Pinch of salt
3 blood oranges, ends removed and thinly sliced
For the cake
1 stick butter, softened
3/4 cup granulated sugar
2 large eggs, at room temperature
1 tablespoon blood orange zest
2 tablespoons blood orange juice
1 teaspoon vanilla extract
1 1/2 cups all-purpose flour
1 teaspoon baking powder
1/4 teaspoon salt
1/2 cup whole milk
PREPARATION INSTRUCTIONS:
Prepare to bake—Preheat oven to 350° F.


Make the topping—Melt butter, brown sugar, and a pinch of salt in a medium skillet over medium heat. When sugar has almost dissolved, remove skillet from heat and cool for a minute or two. Arrange blood orange slices in skillet, overlapping to fill the whole pan. Set aside.


Start the cake batter—Use an electric mixer to cream butter and sugar in a large bowl until light and fluffy—about 5 minutes. Add eggs one at a time, blending well after each addition. Add orange zest, juice, and vanilla and mix until well combined.


Finish the cake batter—Add flour, baking soda, salt, and whole milk and mix until just combined. Scrape down sides of bowl with spatula and give batter another stir to make sure everything's incorporated.


Bake the cake—Pour batter over the top of blood oranges in skillet and bake in preheated oven until a toothpick inserted in center of cake comes out clean—about 45 to 50 minutes.


Finish and serve—Let cake rest for about 10 minutes. Place a cake pan on top of skillet and flip skillet upside down—be sure to use oven mitts or pot holders to protect hands. Lift skillet to release cake and admire your creation before slicing and serving.
TIPS:
Pick Your Favorite Citrus—Swap blood oranges for navel oranges, mandarins, grapefruit, tangerines, or even kumquats. Or try a mix of two or three different fruits. Yum!
Don't Flip Out—Nervous about turning your cake upside down? Grasp the skillet and plate firmly and flip in one quick motion. As Julia Child said, "When you flip anything, you just have to have the courage of your convictions."
Featured Product
Chatham Stainless 8" and 10" Frypan Set
This endlessly versatile duo is a great addition to any cook's arsenal. The 8" is great for eggs, sides, and the million other little things that need a quick cook, and the 10" is a do-everything size for just about...