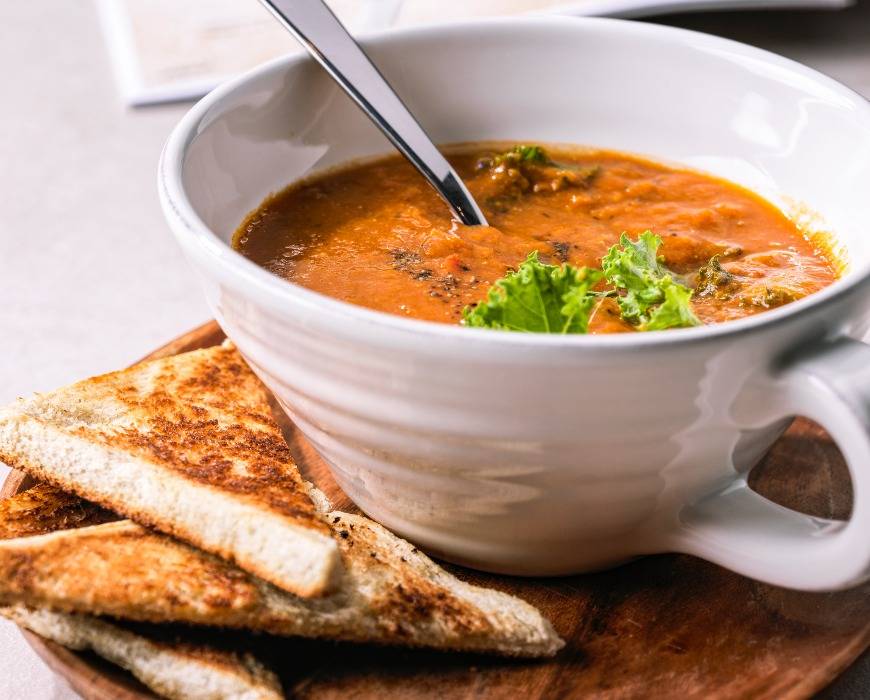 Yields: 4 to 6 servings
Time: 20 minutes prep, 40 minutes cooking, 1 hour total

INGREDIENTS:
3 tablespoons olive oil
3 medium carrots, cut into 1/4-inch pieces
1 medium onion, diced
1 large celery stalk, cut into 1/4-inch pieces
Salt and freshly ground black pepper
2 tablespoons tomato paste
2 cloves garlic, minced
1 1/2 cups dried brown lentils
4 cups vegetable stock
4 cups water
1 teaspoon fresh thyme leaves (from about 7 sprigs)
1 bay leaf
1/2 teaspoon dried oregano
1/4 teaspoon crushed red pepper flakes
1 teaspoon lemon zest
2 tablespoons fresh lemon juice (from about 1/2 lemon)
1/2 cup flat-leaf parsley leaves, plus more for garnish, roughly chopped
PREPARATION INSTRUCTIONS:
Sauté the mirepoix—Heat olive oil in a soup pot or Dutch oven over medium-high heat. Add carrot, onion, and celery along with about 1 teaspoon of salt. Sauté, stirring occasionally, until vegetables start to caramelize and your kitchen smells amazing—about 8 to 10 minutes.
Start the soup—Stir tomato paste and garlic into mirepoix and cook for a minute or 2, scraping up any brown bits in the pot. Add in lentils, stock, water, thyme, bay leaf, oregano, red pepper flakes, lemon zest, 2 teaspoons salt, and plenty of fresh-ground black pepper. Bring to a boil.
Simmer the soup—Reduce heat to low, then cover and simmer for about 25 to 30 minutes or until lentils are slightly softened, but not mushy. Remove the bay leaf.
Blend the soup—Use an immersion blender (or carefully work with batches in a regular blender) and blend until smooth. Stir in lemon juice and parsley.
Garnish and serve—Ladle soup into individual bowls and garnish with extra parsley. Serve hot.
TIPS:
Skip the Soak—Unlike other dried legumes and beans, lentils cook quickly so there's no need to soak them.
Love Your Lentils! Packed with fiber and nutrients—12 grams of protein in 1/2 a cup!—lentils make a healthy (and budget-friendly) meat substitute.
Featured Product
Valencia Pro Ceramic Nonstick 5.5-Quart Stockpot with Lid
Ready for stews, pastas, and so much more, this spacious stockpot is crafted from hard anodized aluminum for strength and scratch resistance. Plus, the Magneto™ base ensures top-notch performance on any stovetop.