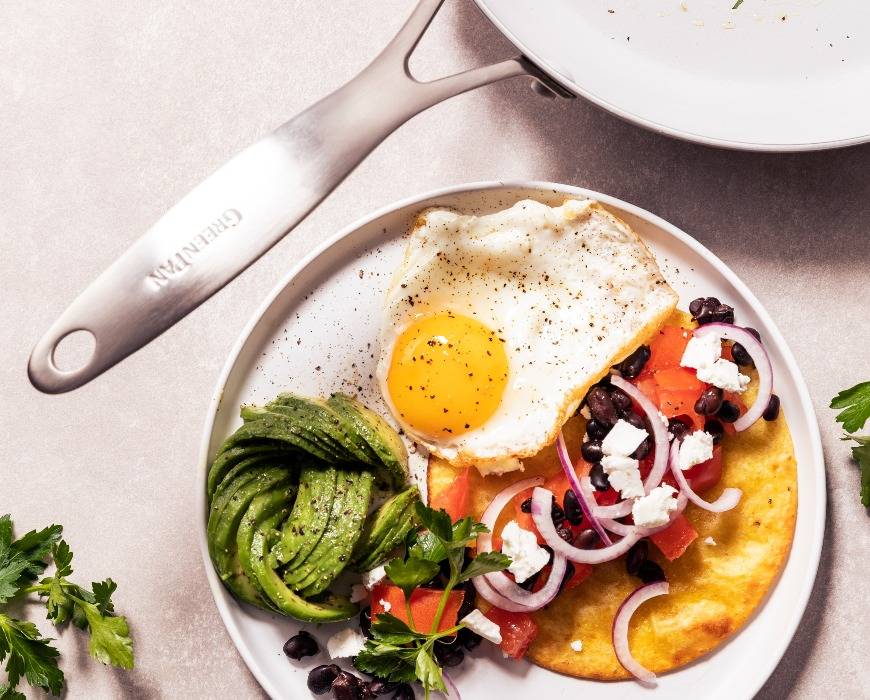 Yields: 1 serving
Time: 5 minutes prep, 5 minutes cooking, 10 minutes total
INGREDIENTS:
1 corn tortilla (6-inch)
1 tablespoon butter
1 egg
1/4 cup canned black beans, drained
2 tablespoons diced tomatoes
2 tablespoons finely chopped cilantro
1 to 2 tablespoons crumbled cotija cheese
1/4 avocado, sliced
Salt and pepper to taste
Hot sauce to taste
PREPARATION INSTRUCTIONS:
Heat the tortilla—Heat a small nonstick skillet over medium heat. Add tortilla and warm until it's slightly crispy on both sides, about 30 seconds per side. Place tortilla on plate.
Fry the egg—Add butter to the same skillet and return to medium heat. When butter melts, crack 1 egg into skillet and fry until white is set, about 3 minutes.
Assemble the heuvos rancheros—Place tortilla on a plate. Top with the fried egg and black beans. Sprinkle on the tomato, cilantro, and cheese. Top with avocado slices and season with salt and pepper. Add a splash of hot sauce and serve immediately.
TIPS:
Hate Cilantro? Some folks have a gene that picks up on the scent of aldehyde chemicals, which are also found in soap. Avoid the sudsy flavor by subbing in parsley instead.
Feed the Family—When serving more than one, you can wrap a stack of tortillas in foil and heat in a 350°F oven for about 5 to 10 minutes.
Featured Product
Venice Pro Ceramic Nonstick 10" Frypan
Crafted from ultra-tough, multilayer stainless steel, this 10" pan will be your everyday go-to—from sautés to bakes, fluffy scrambled eggs to fall-apart tender salmon, it will make everything simple.