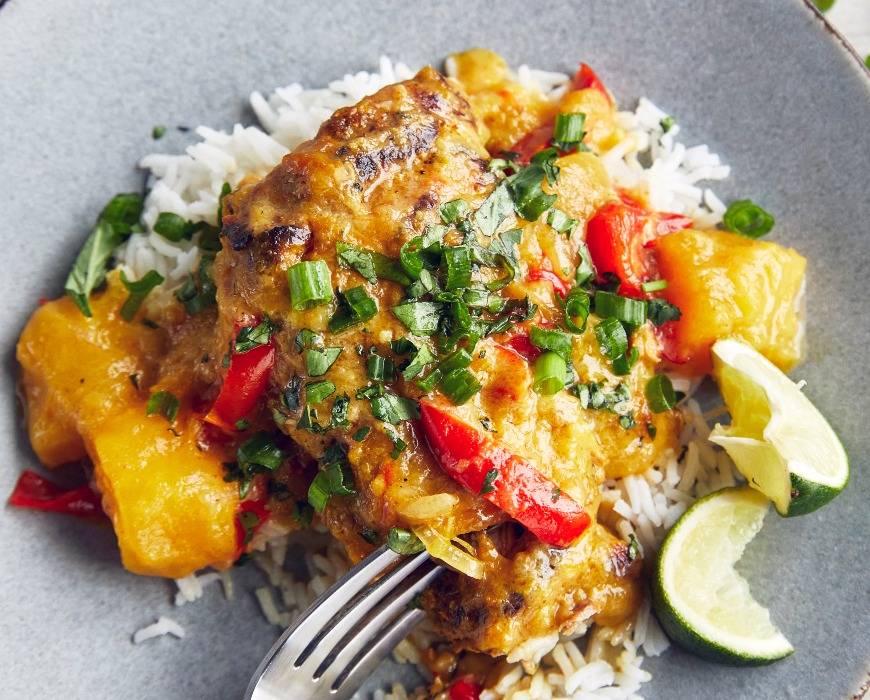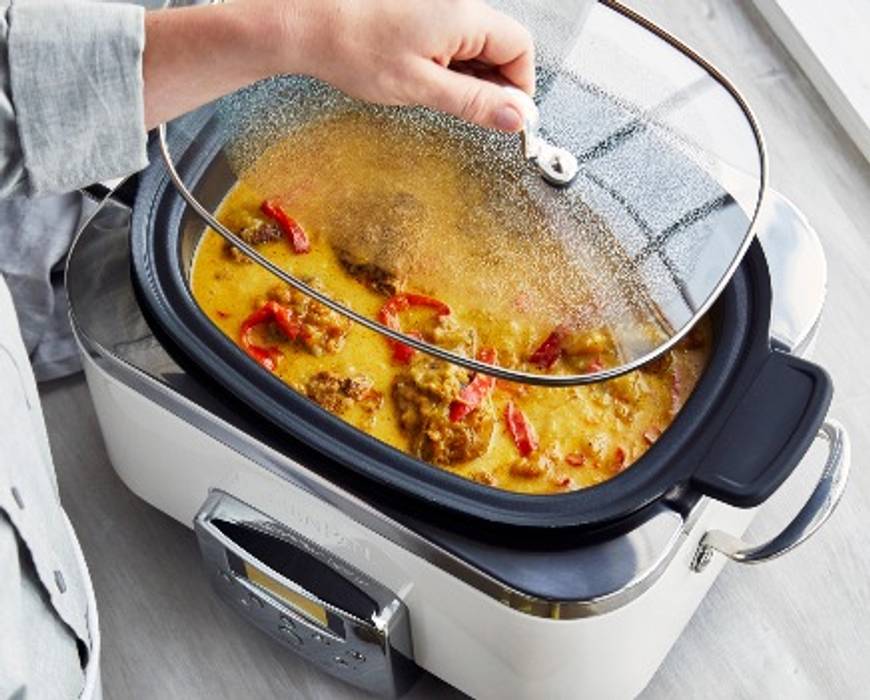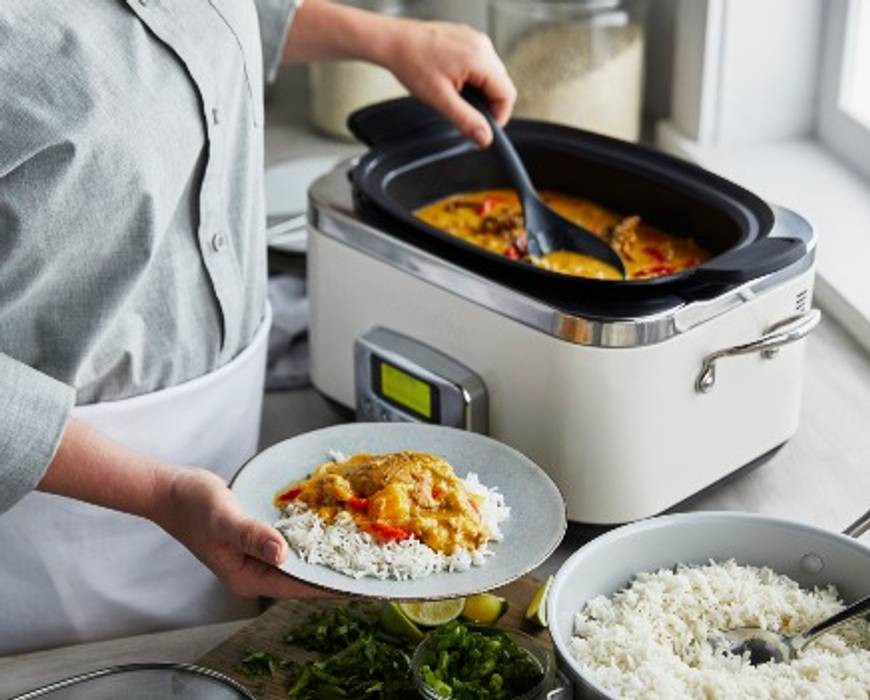 Yields: 6 servings
Time: 15 minutes prep, 3 hours cooking
INGREDIENTS:
3 tablespoons yellow curry paste
1 1/2 tablespoons lemongrass paste
1 1/2 teaspoon ground turmeric
1 teaspoon fish sauce 
6 large boneless skinless chicken thighs 
1 tablespoon avocado oil
1 pound frozen mango chunks, partially thawed, divided 
2 medium shallots, peeled and thinly sliced 
1 1/2 tablespoon fresh ginger, grated
3 garlic cloves, peeled and minced
2 small red bell peppers, seeds removed, cut in 1/2" strips 
1 cup water, more as needed  
1 (14 ounce) can coconut milk 
1 1/2 tablespoon brown sugar
1 to 3 Thai chiles, thinly sliced (1 for mild, 2 for medium, 3 for hot) 
3 scallions, thinly sliced
2/3 cup fresh cilantro, leaves and stems, roughly chopped
1/3 cup fresh basil, thinly sliced 
Lime wedges, to serve
Steamed rice, to serve
PREPARATION INSTRUCTIONS:
In a large mixing bowl combine the curry paste, lemongrass paste, turmeric, fish sauce and chicken and toss use your hands to mix until the chicken is evenly coated. Select the Brown/Sauté mode on the Premiere Slow Cooker, set the temperature to 350°F and the timer to 20 minutes.  Pour the oil into the slow cooker and allow it to come to temperature.  Place the chicken in the slow cooker, smooth side down, and cook for 3 to 4 minutes or until nicely golden brown. Flip and cook another 2 to 3 minutes per side.  (Depending on the size of the chicken thighs, you may need to work in batches to not overcrowd the pan.) Transfer the chicken to a large plate and set aside.  


Add half of the mango to the slow cooker along with the shallots, ginger and garlic. Cook, stirring regularly, until the mangos are softened enough to mash. Using a spoon, break the mango up into very small pieces.  Stir in the bell peppers and water, then add the chicken and any accumulated juices back to the slow cooker.  


Select the Low Temperature Slow Cook Mode on the Slow Cooker and set the timer for 3 hours. Cover and cook 2 to 2 1/2 hours, or until the chicken is cooked through and very tender, adding more water if needed if the pan becomes dry.  


Uncover and stir in the coconut milk, brown sugar and as many Thai chilis as you choose. Select the High Temperature mode and cook uncovered for 30 minutes or until the sauce thickens slightly. Stir in the remaining mango just to heat through. Taste and adjust as desired with fish sauce, brown sugar, and chili. Serve warm topped with scallions and herbs, with the rice and lime wedges on the side.  

TIPS:
Fresh lemongrass is great in this recipe as well!  Simply chop the lower 2/3rds of one stalk (the more tender part), into small chunks and puree in a blender with ¼ cup of water until very smooth.  
This curry is equally delicious with soy, tamari or salt in place of fish sauce if desired! 
Featured Product
Elite 6-Quart Slow Cooker | Cloud Cream
With our advanced slow cooker, you can sear meat and veggies in the pot, then go low and slow to finish the job. Take your time while cooking, then clean up quickly with Thermolon™ Volt, a healthy, PFAS-free ceramic nonstick...