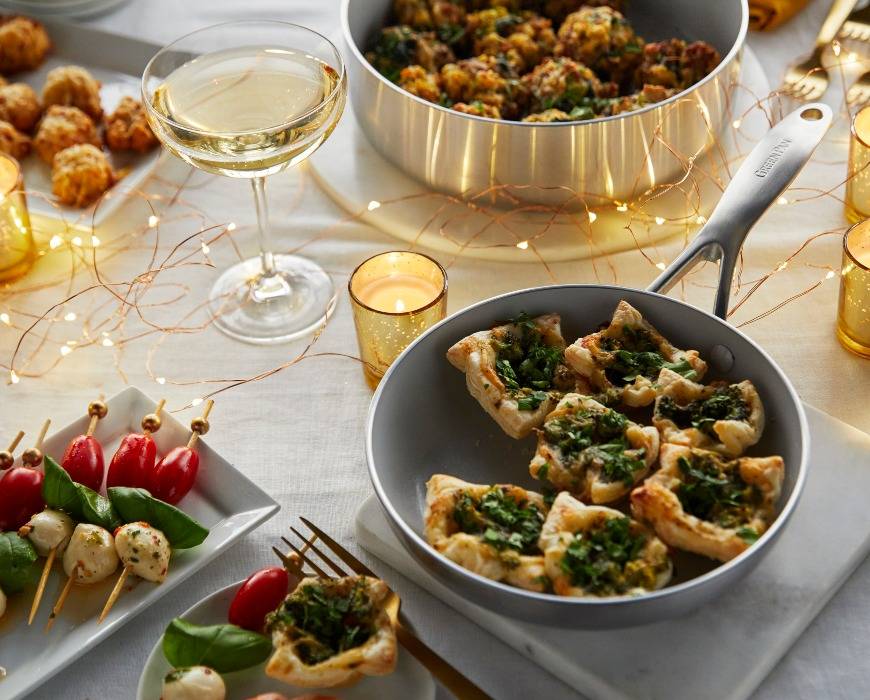 Broccoli and Béchamel Puff Pastry Bites
Yields: 12 pastry bites
Time: 15 minutes prep, 30 minutes cooking, 45 minutes total
INGREDIENTS:
1 medium broccoli bunch
2 tablespoons butter
2 tablespoons all-purpose flour
3/4 cup whole milk
1/4 cup grated Parmesan cheese
1/4 teaspoon Dijon mustard
Salt and freshly ground black pepper to taste
1 sheet puff pastry, thawed
2 to 3 tablespoons chopped fresh parsley
PREPARATION INSTRUCTIONS:
Prepare to bake—Preheat oven to 350°F.
Prep the broccoli—Rinse broccoli, trim away stalks, and chop florets into small pieces. Add to a medium bowl and set aside.
Make the béchamel—Melt butter in a small saucepan over medium heat. Whisk in flour to get a smooth paste—about 1 minute. Slowly pour in milk and cook, stirring constantly, until sauce thickens—about 2 minutes. Remove from heat and stir in Parmesan and Dijon. Season with salt and pepper to taste.
Mix the filling—Add béchamel to bowl with broccoli and stir till everything's evenly combined. Set aside.
Prep the puff pastry—Unfold the puff pastry on a lightly floured surface. Dust the top with a little flour and gently roll it out across seams and bumps to make the pastry even. With a sharp knife, cut the pastry into 12 even triangles.
Assemble the pastry bites—Gently stretch one of the rectangles into a square shape and place it in a cup of a nonstick muffin pan. Repeat with the rest of the rectangles. Divide the broccoli béchamel evenly between pastry bites.
Bake the pastry bites—Transfer pan to preheated oven and bake until puff pastry is beautifully golden (and puffed, hence the name)—about 15 to 20 minutes.
Garnish and serve—Transfer to serving platter and sprinkle each pastry bite with chopped parsley. Enjoy!
TIPS:
Smooth Operator
A simple way to ensure a silky, smooth béchamel is to heat the milk in the microwave or on the stovetop before adding it to the butter and flour.
Save the Stalks
Broccoli stalks are just as tasty (ok, almost) as their fancier floret siblings. Add them to everything from soup and veggie stock to stir fries and salads. Or roast them—yum!
Featured Product
Venice Pro Ceramic Nonstick 10" Frypan
Crafted from ultra-tough, multilayer stainless steel, this 10" pan will be your everyday go-to—from sautés to bakes, fluffy scrambled eggs to fall-apart tender salmon, it will make everything simple.