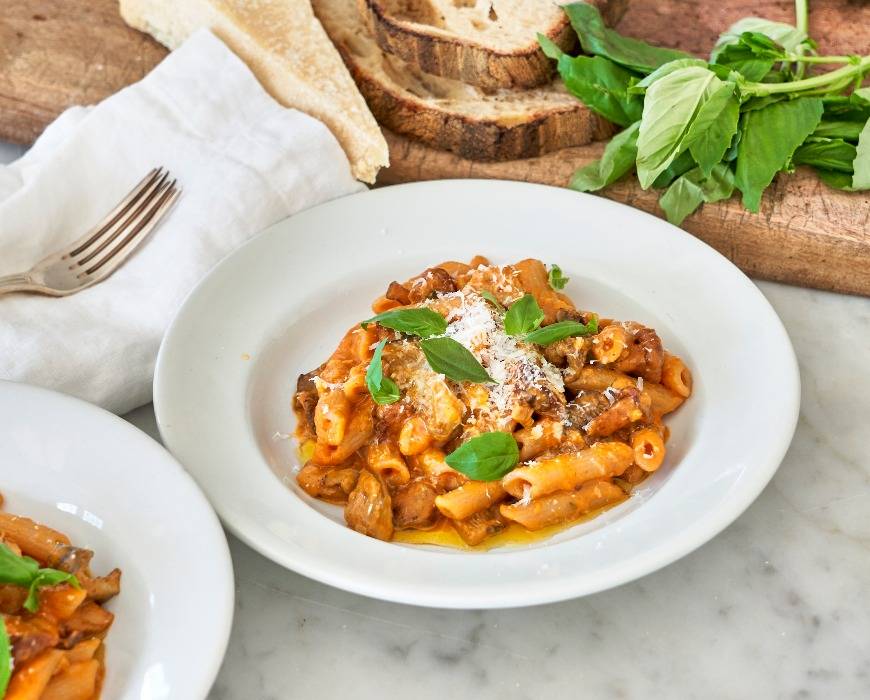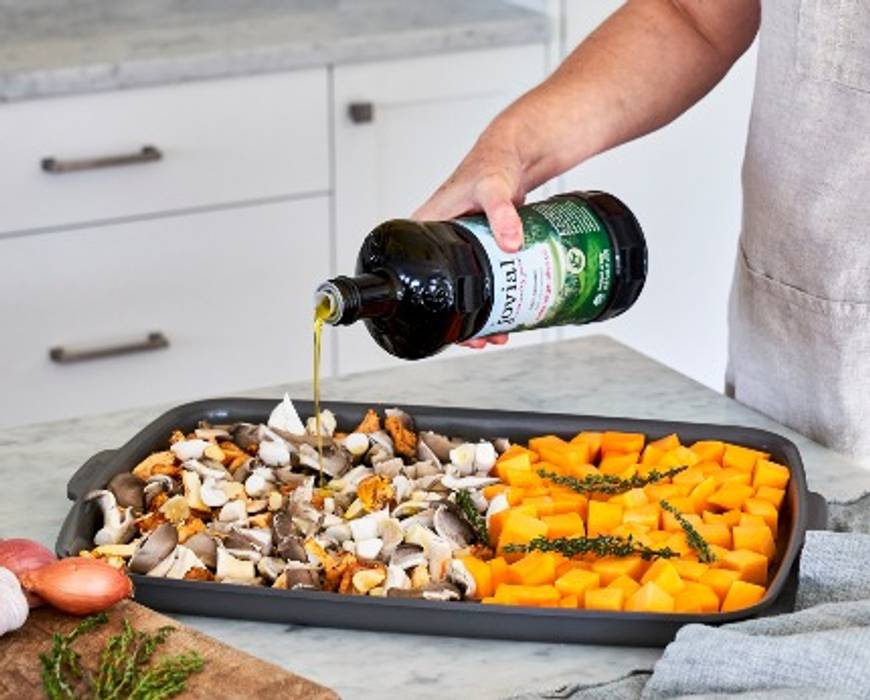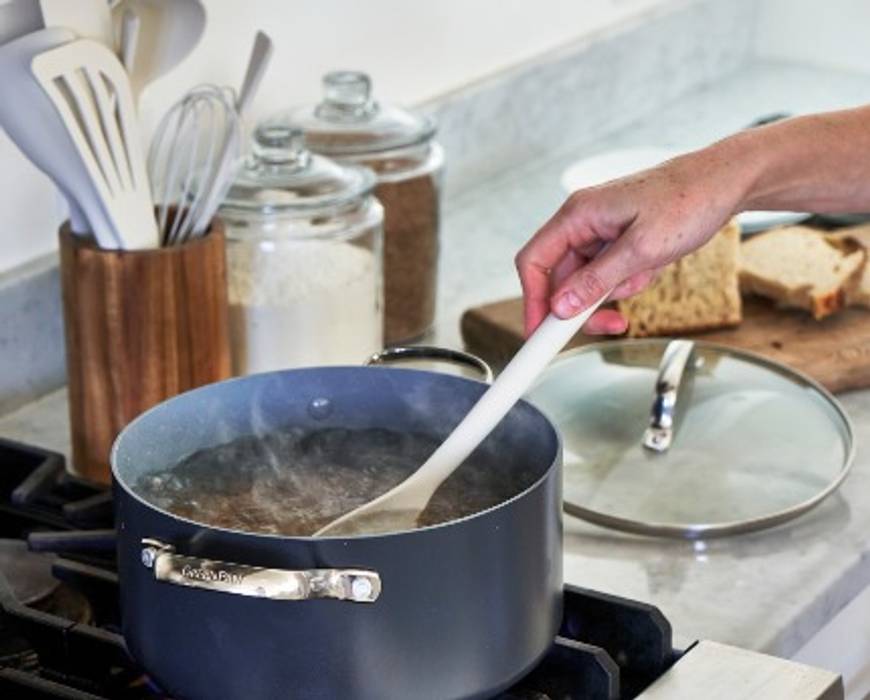 Cassava Penne alla Butternut Squash Vodka
Yields: 4
Time: 15 minutes prep, 45 minutes cooking
INGREDIENTS:
3 tablespoons Jovial 100% Organic Extra-Virgin Olive Oil, divided
1 pound mixed wild mushrooms, stems removed, brushed clean and cut in ¼" slices
3 cups peeled and cubed butternut squash (about 1 small squash)
4 sprigs fresh thyme, destemmed and finely chopped
kosher salt, to taste
fresh ground black pepper, to taste
12 ounces Jovial Grain Free Cassava Penne
2 medium shallots, minced
3 garlic cloves, minced
4 tablespoons tomato paste
½ teaspoon crushed red pepper flakes, or more to taste
1 tablespoon balsamic vinegar
1/2 cup vodka
1/2 cup low sodium vegetable or chicken broth
3/4 cup heavy cream
1/4 cup freshly grated parmesan, plus more for serving
1/4 cup fresh basil leaves, for serving
PREPARATION INSUTRCTIONS:         
Preheat the oven to 425 degrees F. On a large-rimmed baking sheet, toss together 2 tablespoons of Jovial 100% Organic Extra-Virgin Olive Oil along with the mushrooms, butternut squash, thyme, and a pinch each of salt and pepper. Separate the mushrooms onto one half of the baking sheet and the squash on the other and transfer to the oven to roast for 25-30 minutes or until the mushrooms are nicely roasted with golden brown color and the squash is tender.


Transfer the squash to the bowl of a food processor and puree until very smooth. Taste, adjust with salt and pepper as desired and set aside. Taste the mushrooms and adjust with salt and pepper as well before setting aside while preparing the remaining ingredients.


Bring a large GreenPan stockpot filled with water to a boil and add in 2 heaping tablespoons of salt. Add the Jovial Grain Free Cassava Penne and cook until just al dente, about 11-12 minutes. The pasta should be only 90% cooked as it will finish cooking in the sauce.  Drain the pasta and set aside. Reserve 1 ½ cups of the pasta water for adding to the sauce later. 


Place a 12" GreenPan skillet on the stovetop over medium heat and add in the remaining 1 tablespoon of Jovial 100% Organic Extra-Virgin Olive Oil. Add the shallots to the pan and cook, stirring occasionally, for 2 to 3 minutes until softened and translucent. Stir in the garlic and cook another minute or 2 more until the garlic is very aromatic.


Add the tomato paste and red pepper flakes, stirring to combine with the shallots and garlic. Cook the tomato paste for 2 to 3 minutes, stirring regularly, until it has become a deeper and more intense red color and smells very fragrant.  Stir in the balsamic vinegar and vodka, reduce the heat to medium low, and cook until the liquid has reduced by half. 


Add the squash puree, broth and ¾ cup of the reserved pasta water to the pan and stir until everything is evenly combined.  Simmer the sauce for 7 to 8 minutes or until it thickens slightly, taking care to stir occasionally to ensure it cooks evenly.  If needed, add more of the reserved pasta water to loosen the sauce consistency. 


Reduce the heat to low, stir in the heavy cream and simmer while stirring regularly, another minute or two. The consistency should be thin enough to stir the cooked pasta and mushrooms into, but thick enough to cling to them well. Taste the sauce and adjust with salt and pepper as desired.


Stir the reserved cooked Jovial Grain Free Cassava Penne, roasted mushrooms and 1/4 cup of cheese into the sauce until it is well combined. Cook, stirring occasionally, for another 2 minutes until the pasta is just cooked through and the mushrooms are warmed. Remove the pan from the heat and, if needed, adjust the consistency of the sauce with a bit more water. Taste the finished dish and adjust one final time with salt and pepper as desired.  


Divide the pasta among plates and top with a bit more parmesan cheese, hand torn pieces of basil, and a drizzle of Jovial 100% Organic Extra-Virgin Olive Oil.
TIPS:
To get perfectly roasted squash and mushrooms, make sure not to overcrowd the baking sheet!  If the ingredients are piled up on top of each other when they go in the oven, you'll steam them instead of roasting them to a beautiful golden-brown color.  If you can't spread them out in an even layer on one baking sheet, feel free to use two! 
You can make this an alcohol-free dish if you choose by replacing the vodka with a bit more water or broth! 
If mushrooms aren't your favorite, try roasting another cup of squash to set aside without pureeing so that you can stir that in at the end instead!  Or a few handfuls or lightly sauteed greens like kale or spinach would be delicious! 
Featured Product
Valencia Pro Ceramic Nonstick 11-Piece Cookware Set
Our bestselling collection, Valencia Pro is crafted from hard anodized aluminum for maximum strength and scratch resistance while the Magneto™ base delivers fantastic performance on any stovetop.