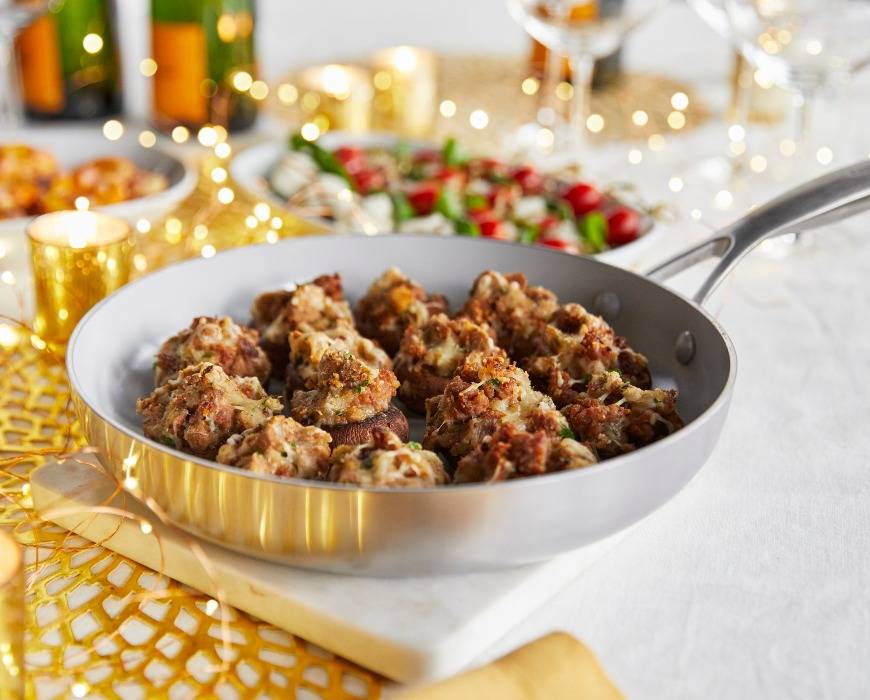 Gougères with Garlic and Bacon
Yields: ~30 gougères
Time: 25 minutes prep, 40 minutes cooking, 1 hour 5 minutes total
INGREDIENTS:
7 slices bacon, cooked and crumbled into small pieces
Bacon grease or olive oil
4 garlic cloves, minced
1/3 cup butter, cut into pieces
1 cup water
1 cup all-purpose flour
3 large eggs
6 ounces grated Gruyere cheese, plus extra for topping (optional)
1 large egg yolk
1 tablespoon water
PREPARATION INSTRUCTIONS:
Prepare to cook—Preheat oven to 400°F. Get out 2 large nonstick baking sheets.


Sauté the garlic—Heat a bit of bacon grease or olive oil in a small pan over medium heat. Add garlic and sauté, stirring constantly, for about 1 minute. Transfer to a small bowl and set aside.


Make the dough—Add butter and water to a large saucepan and bring to a boil over medium heat, stirring occasionally. When all butter has melted, remove from heat and add flour. Stir till all the flour has been incorporated. Return pan to medium heat and stir vigorously with a wooden spoon for about 4 minutes. First dough will form a ball and stop sticking to the sides—keep stirring like you mean it until you see a dry film on the bottom of the pot and dough is no longer sticky. Remove from heat and let dough cool for about 5 minutes.


Mix the gougères—Add eggs to dough, one at a time, stirring until fully incorporated before adding the next. Add Parmesan along with cooked garlic and bacon. Stir till everything's evenly combined.


Shape the gougères—Using a cookie scoop or spoon, drop about 1 tablespoon dough on a nonstick baking sheet. Continue until all the dough is distributed evenly (more or less) on baking sheets. Gently roll each scoop of dough into a ball, spacing the gougères about 2 inches apart.


Add the egg wash—In a small bowl, whisk egg yolk with 1 tablespoon water. Brush mixture over the top of each gougè Sprinkle a little extra Parmesan over the tops of gougères, if desired. Why not?


Bake the gougères—Transfer baking sheets to preheated oven. Bake until gougères puff up and brown beautifully, about 20 to 25 minutes. To ensure even baking, you may want to rotate pans halfway through bake time.


Cool and enjoy—Remove pans from oven and allow gougères to cool for 5 to 10 minutes before serving. They're best served warm, but not piping hot.
TIPS:
Pipe Down!
Save time by scraping dough into a piping bag fitted with a 1/2-inch tip. Pipe gougères onto pans in mounds about 1 1/2 inches round, then smooth down any pointy tips with a moistened finger.
Add Your Favorite Mix-Ins
Our versatile recipe works great with any combo of cheese and pre-cooked meat. Think sausage and cheddar, ham and Swiss, or even pepperoni and mozzarella.
Featured Product
Venice Pro Ceramic Nonstick 10" Frypan
Crafted from ultra-tough, multilayer stainless steel, this 10" pan will be your everyday go-to—from sautés to bakes, fluffy scrambled eggs to fall-apart tender salmon, it will make everything simple.