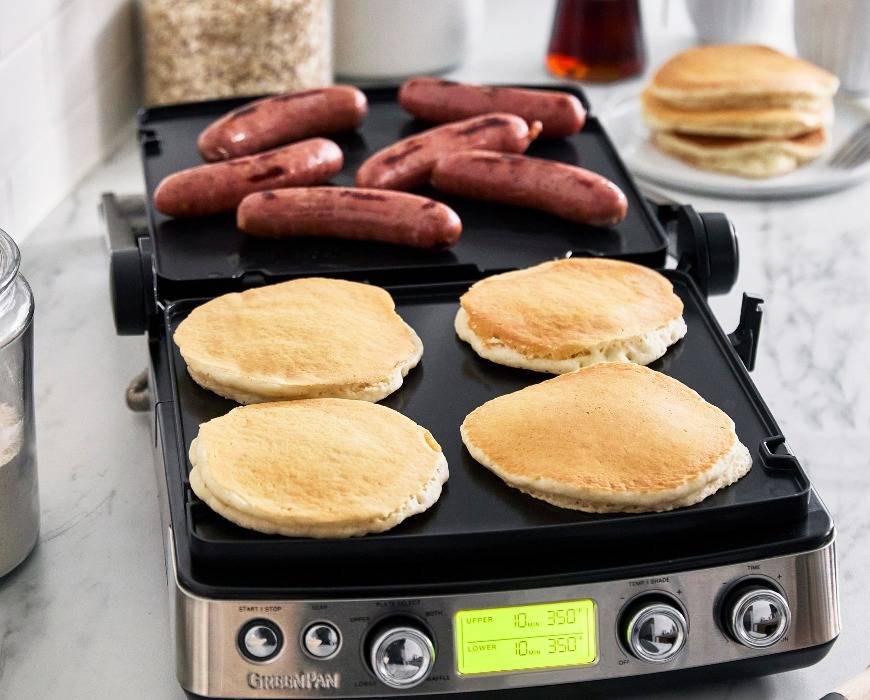 Buttermilk Pancakes and Sausage Links
Yields: 4 servings
Time: 10 minutes prep, 20 minutes cooking, 30 minutes total
INGREDIENTS:
For the pancakes
2 cups all purpose flour
1/4 cup granulated sugar
2 teaspoons baking powder
1/2 teaspoon baking soda
1/2 teaspoon salt
2 large eggs (room temperature)
2 cups buttermilk (room temperature)
1/4 cup butter, melted and slightly cooled
For the sausages
8 pork or chicken sausage links
For serving
Butter, room temperature for easier spreading
Warm maple syrup
PREPARATION INSTRUCTIONS:
Mix the pancake batter—In a large bowl, whisk together flour, sugar, baking powder, baking soda, and salt. In a separate bowl, beat together buttermilk and eggs, then whisk in melted butter. Pour wet mixture into dry mixture and blend with wooden spoon or spatula. Batter will be lumpy—resist the urge to over-mix. Set aside to rest.
Prepare to cook—Fit your GreenPan Multi Grill, Griddle & Waffle Maker with griddle plates in the flat position. Turn dial to "Both" and preheat to 375°F. (Note: Preheat oven to 200°F, if you want to keep pancakes warm between batches.)
Cook the sausage—Working in batches, if needed, place sausage links on one side of the griddle. Cook, turning occasionally, until all sides are evenly browned—about 12 to 15 minutes.
Meanwhile, make the pancakes—Ladle 4 scoops of batter onto the other side of the griddle—be sure to leave room in between as the pancakes will spread out. When the batter bubbles all over and edges turn brown, flip pancakes, and cook for an additional minute or two. Serve immediately or transfer to preheated oven to keep warm.
Serve and enjoy—Divide pancakes and sausages between individual plates. Serve with butter and warm maple syrup.
TIPS:
Marvelous Mix Ins—Dress up pancakes with everything from chocolate chips and toasted nuts to mashed bananas and candied ginger. For delicate ingredients like blueberries, press into pancakes after ladling onto griddle, rather than mixing into batter.
How the Sausage Gets Made—Raw sausage will take more time than fully cooked varieties, so vary your griddling time accordingly.
Featured Product
Elite Multi Grill, Griddle & Waffle Maker | Premiere Stainless Steel
Discover a world of flavor on your counter with the Multi Grill, Griddle & Waffle Maker. The three plate options offer an endless array of possibilities—from classic paninis to perfect Belgian waffles, so you'll always have the right plate ready.