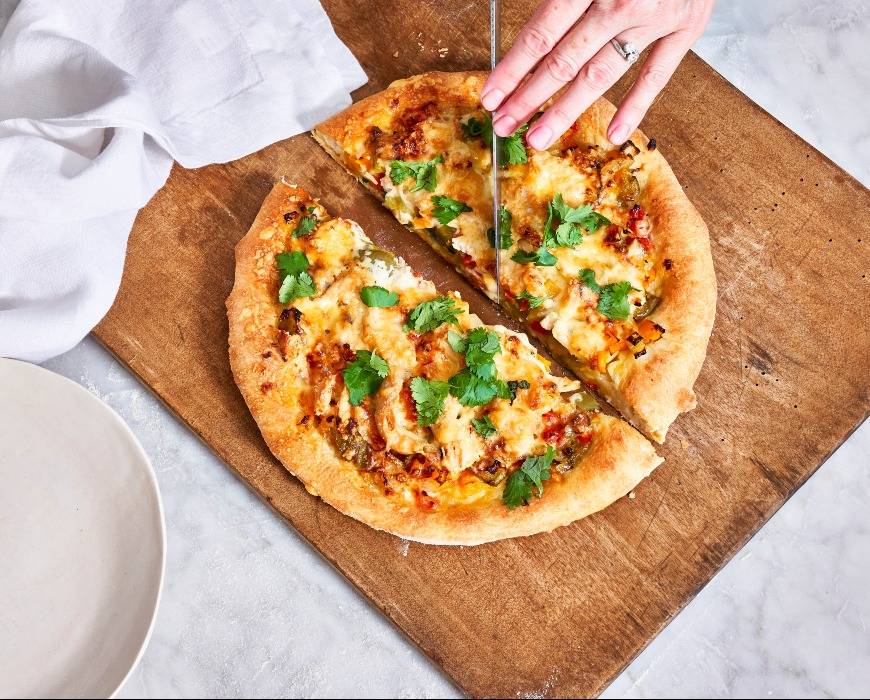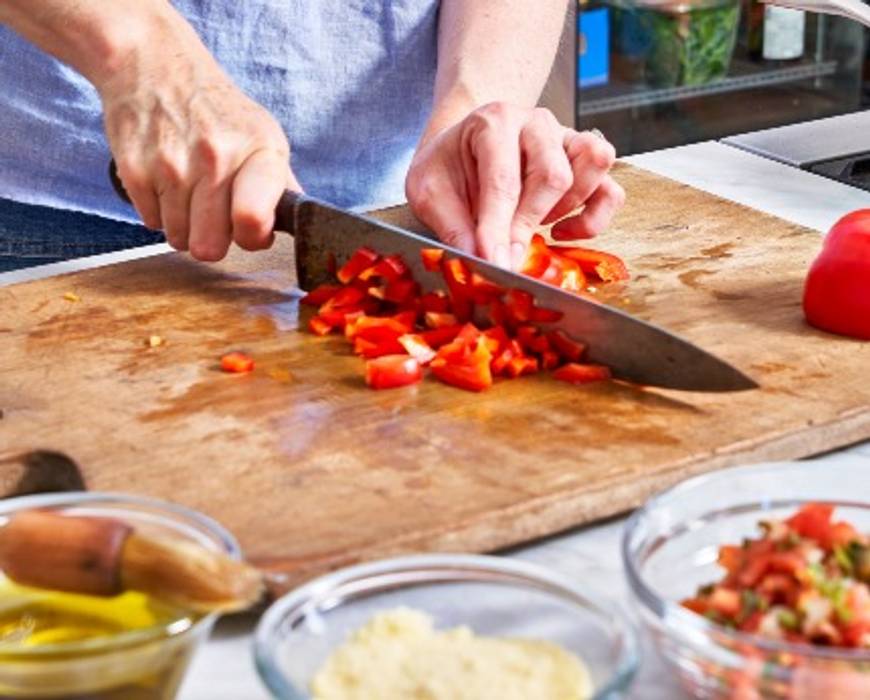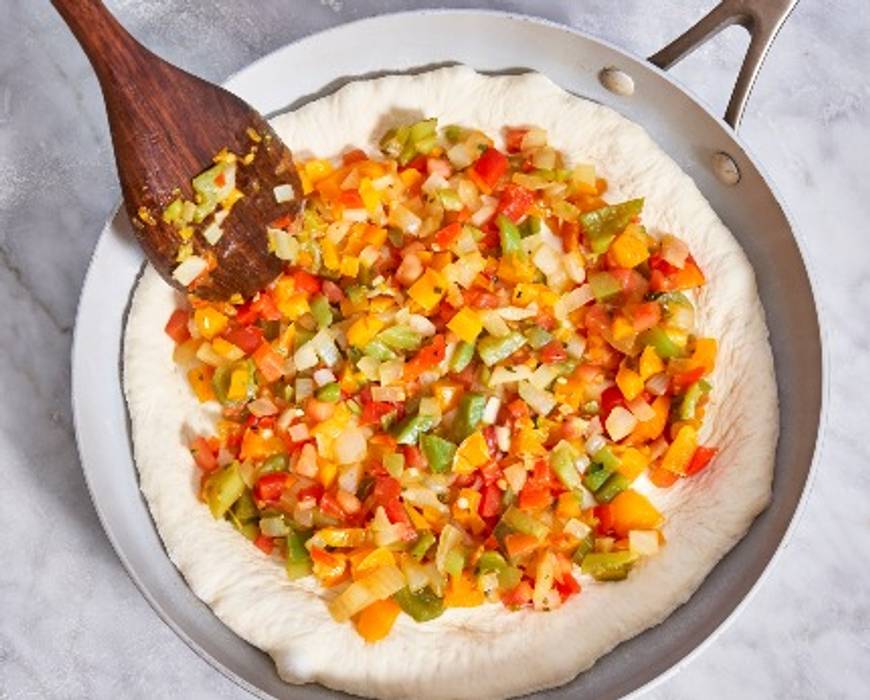 Southwest Skillet Pizza with Chicken and Pepper Jack Cheese
Yields: 3 to 4 servings
Time: 10 minutes prep, 25 minutes cooking, 35 minutes total
INGREDIENTS:
2 tablespoons olive oil
1/2 medium onion, chopped
3 medium bell peppers (red, green, yellow or all three!), cored, seeded, and diced
1/2 cup salsa
1 pound pizza dough, homemade or store bought
1 1/2 cups shredded rotisserie chicken (or other cooked chicken), optional
6 ounces Rumiano Organic Shredded Pepper Jack Cheese
2 ounces Rumiano Organic Shredded Parmesan Cheese
1/4 cup chopped fresh cilantro for garnish
PREPARATION INSTRUCTIONS:
Prepare to cook—Place a 12-inch nonstick, oven-safe skillet in oven and preheat to 450°F. 
Sauté the veggies—Heat 1 tablespoon olive oil in a large skillet over medium heat. Add onion and sauté, stirring frequently until onion begins to soften, about 3 minutes. Stir in diced bell peppers and continue sautéing, stirring frequently, until they're slightly tender but still crisp—about 5 minutes. Stir salsa into sautéed veggies and set aside.
Shape the dough—Turn dough out onto a lightly floured surface and roll or stretch to a 13-inch circle.
Assemble the pizza—Carefully remove skillet from oven and drizzle with about 2 tablespoons olive oil. Carefully transfer dough to the skillet, pressing gently into the edges of pan. Spread salsa mixture evenly over crust. Top evenly with shredded chicken and sprinkle cheeses over the top. Brush any exposed crust with olive oil. 
Bake the pizza—Carefully transfer skillet back to preheated oven. Bake until crust is beautifully golden and cheese is melted and bubbly, about 10 to 15 minutes.
Garnish and serve—Remove skillet from oven and transfer pizza to cutting board. Sprinkle with fresh cilantro. Let pizza rest for about 2 minutes before slicing, then serve warm.
TIPS:
Mix it Up—Use our recipe as a starting point for creating your signature Southwest pizza with ingredients like black beans, corn, diced Hatch chiles, taco meat, etc. Or punch up the salsa with a little chili powder and cumin.
Why We Love Rumiano Cheese—First and foremost, it melts beautifully and delivers incredible flavor. Bonus points for being organic and non-gmo—made with milk from grass-fed cows and with vegetarian-friendly enzymes instead of rennet. All from a family company that's been making incredible cheeses since 1919.
Featured Product
Venice Pro Ceramic Nonstick 12" Frypan
Designed to stay shiny for years, this 12" frypan is a stunning and spacious addition to any kitchen. Finished with our signature healthy ceramic nonstick coating, it's safe for all cooking surfaces (ovens, too).